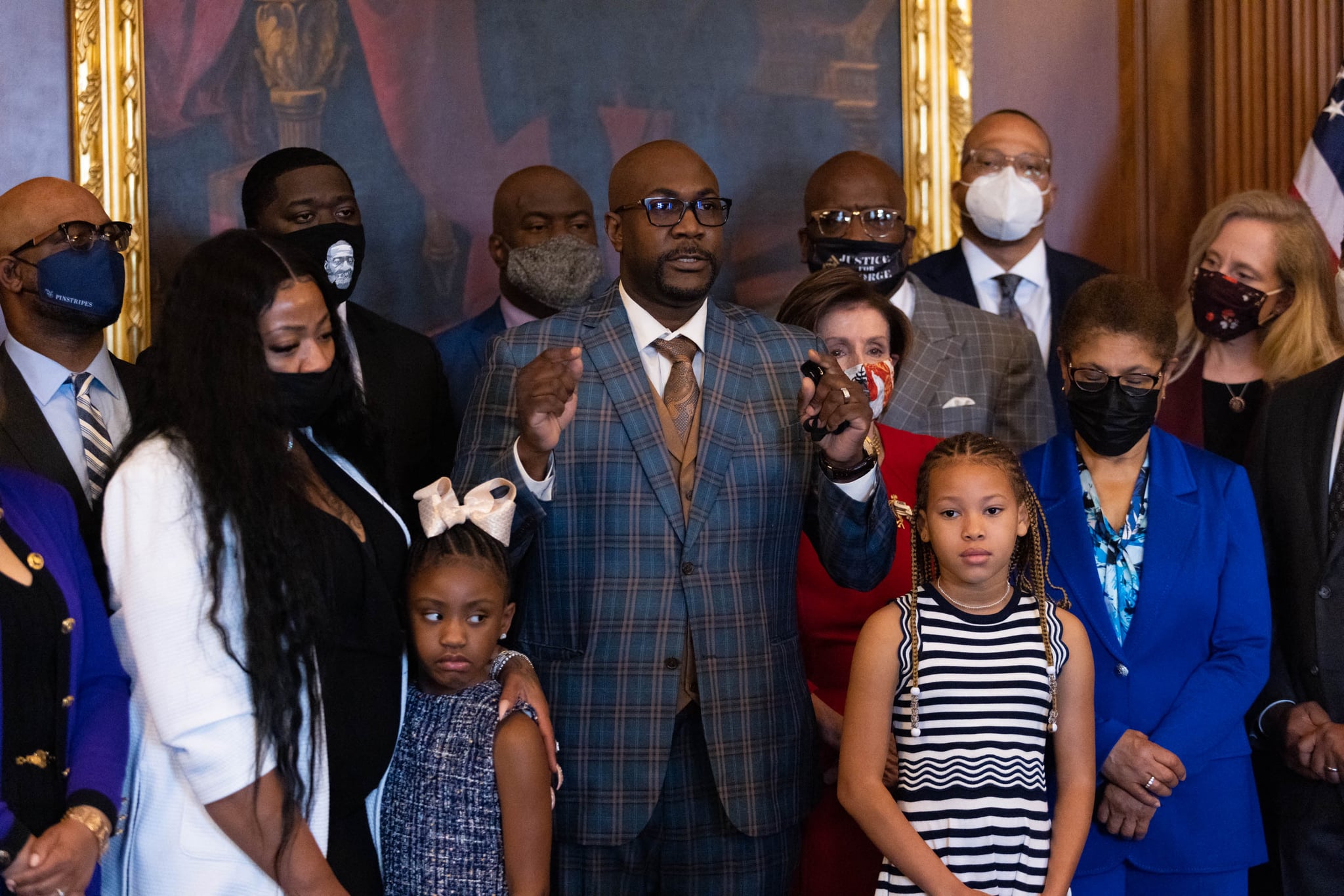 Image Source: Getty / Graeme Jennings
On May 25, 2020, the murder of George Floyd at the hands Minneapolis police officer Derek Chauvin kindled a nationwide outrage that mounted in the form of protests and demonstrations against police brutality and racial injustice. On the one-year anniversary of Floyd's killing, his friends and family were invited to speak at the US Capitol. In a brief but powerful speech, his brother Philonese Floyd took the time to acknowledge the impact of his legacy on the pending passage of the George Floyd Justice in Policing Act.
"Today is the day that he set the world in a rage and people realized what's going on in America and we all said enough is enough," Floyd said of his late brother's murder. "We need to be able to set standard procedures in place just like we need meaningful legislation when [Congress] signs the George Floyd [Justice in] Policing Act. We need it on Biden's desk, the Senate. We need to get this taken care of because, just like Gianna said, your dad can do what?" he asked his late brother's 7-year-old daughter, who stood beside her mother Roxie Washington. "Change the world," Gianna replied. "Change the world," Floyd continued. "And we as adults, we all should be able to see that."
Speaker of the House Nancy Pelosi also shared remarks at the event. "Gianna said, 'My daddy will change the world,' and indeed her prediction was coming true," Pelosi said. "It's coming true because so many people who've worked so hard for decades to make it come true . . . We hope to bring comfort to your family by passing the final bill very soon."
The bill, which has been passed twice by the House of Representatives, would implement the use of a national registry documenting police misconduct and limit qualified immunity and the use of "excessive and unwarranted force." In the meantime, Floyd said, "We need to be working together to make sure that people do not live in fear in America anymore. This is the land of the free. People fight to get here. Give them the opportunity to want to come here, not stay in place where they're having trouble. It's a blessing. So many people have stepped up and they have worked tremendously to help push the issue to get this law passed. I thank you all so much. Our family stands with you all in here today."
Following initial statements from Bass that the bill would fully pass on May 25, Congress is not adhering to any specific timeline and is instead focused on seeing the bill written up thoroughly and thoughtfully. "Twelve months ago, the world witnessed the horrific torture and murder of George Floyd," said Bass on Tuesday. "We commemorate that day today by reflecting on all that has happened, not just in our nation, but in the world in regard to an issue that African Americans have fought against and struggled for change for generations. Within 30 days of George Floyd's murder, we passed the George Floyd Justice in Policing Act at the request of his daughter, who said that she hoped her father would never be forgotten, and he absolutely will not . . . I stand here today to renew the commitment that we will get this bill on President Biden's desk."
See Floyd's full speech above and learn more about meaningful ways to support the Black community here.
Source: Read Full Article