London: Foreign Minister Marise Payne has given the strongest sign yet the controversial ban on flights from India and penalties to Australians who try to enter the country will be lifted.
Last week the federal government banned all flights from India until May 15 and announced anyone who tried to travel to Australia from India could face a $66,000 fine as well as five years jail.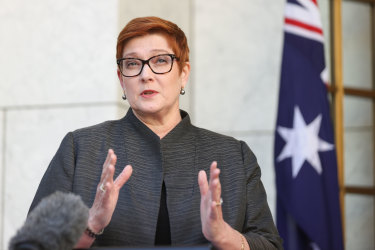 Minister for Foreign Affairs Marise Payne has given the strongest sign yet that the government will lift the ban on flights from India after May 15.Credit:Alex Ellinghausen
Dr Jaishankar, India's Foreign Minister, begged to be left out of the matter when questioned by The Sydney Morning Herald and The Age about his discussions with Senator Payne that the pair held on Wednesday.
The two ministers are in London as Britain's guests to the G7 despite neither country being a member. The entire Indian delegation is self-isolating after two members tested positive for COVID-19.
Minister Payne said when she discussed the matter with Dr Jaishankar, he was focused on the Indian government's domestic response and that "the Indian government did not ask us to lift that ban."
Speaking to the London think tank The Policy Exchange, Dr Jaishankar said when asked: "[the Australian] government is perfectly capable of dealing with its challenges so do conduct your conversation with them and leave me out of it."
When questioned if she was "embarrassed" that Australia was offloading its citizens to India to deal with while its health system was overwhelmed by the record number of coronavirus cases, Senator Payne said: "I absolutely disagree."
Earlier Prime Minister Scott Morrison told 3AW's Neil Mitchell that he could not commit to resuming repatriation flights after May 15, although said that the likelihood was "looking good.
Senator Payne, who was the second minister to be fully vaccinated and is just one of just 2.4 million Australians to have been jabbed and flew to Europe on the taxpayer-funded VIP plane, has applied to bypass the $3000 hotel quarantine required of ordinary Australians entering the country.
"It is not possible for me to do my job in a public hotel and on that basis I have sought to make an application and it will be a matter for the NSW government," she said.
Australians have been banned from leaving the country since March 2020 and the government says there is no plan to lift the restriction by early next year.
Most Viewed in World
From our partners
Source: Read Full Article