Like many celebrities, comedian and actor Sarah Silverman had dated a few other famous people. In a May 2020 conversation, she opened up about an issue she's had in previous relationships, and how that's affected her decision to date moving forward. Learn more about her past significant others and what she said here.
What is Sarah Silverman famous for?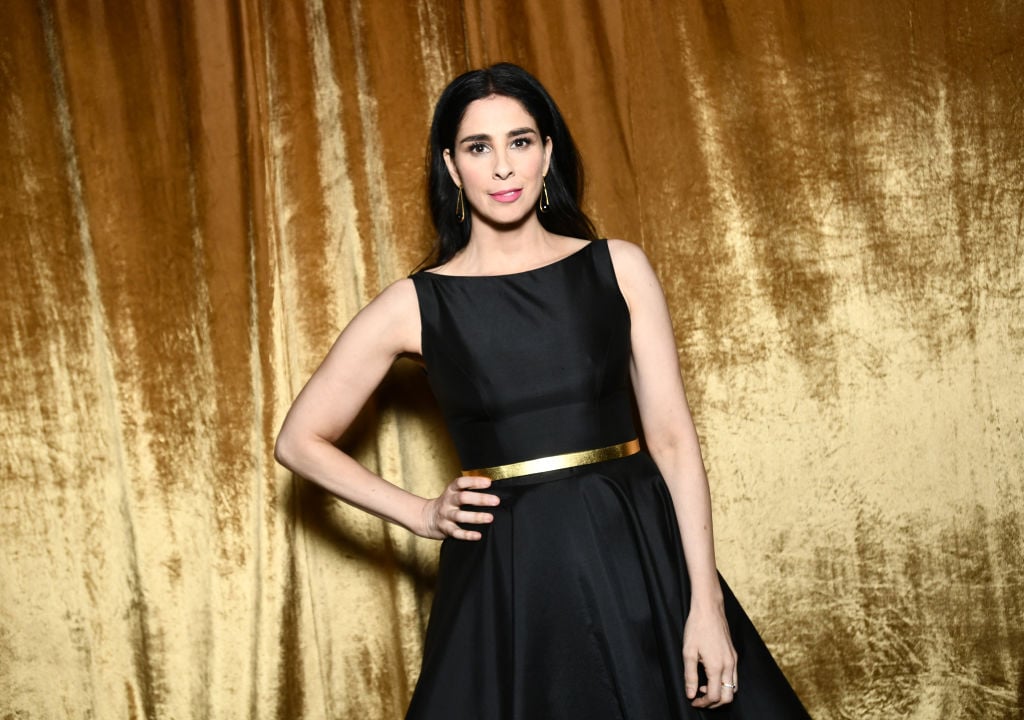 Silverman got her start on Saturday Night Live in the '90s. She began to gain attention for her stand-up comedy and small roles in movies such as There's Something About Mary and Rent. However, it was when she got her own series, the Comedy Central sitcom The Sarah Silverman Program, that she became a household name.
In the years since, Silverman has continued to act and create comedy. She can be seen in films like A Million Ways to Die in the West, Popstar: Never Stop Never Stopping, and Battle of the Sexes. She even had her own short-lived talk show on Hulu, titled I Love You, America with Sarah Silverman.
She's dated Jimmy Kimmel and Michael Sheen
Silverman has two very famous ex-boyfriends. She previously dated comedian and talk show host Jimmy Kimmel between the years of 2002 and 2009. During that time, she appeared on Jimmy Kimmel Live!, even participating in a long-running joke with Kimmel's "nemesis," Matt Damon.
The two parted amicably, and Silverman went on to date actor Michael Sheen between 2014-2018. After their split, Silverman told Kimmel that it was due to the distance, as Sheen prefers to live in the U.K. while Silverman wants to stay in the U.S. "But I love him to pieces," she added. Clearly, this is someone who knows how to be friends with her exes.
Silverman on being in a relationship
RELATED: Sarah Silverman: What is the Comedian and Actress' Net Worth?
In 2020, Silverman spoke about her hesitation when it comes to dating. While playing the video game Call of Duty on Twitch with her friend and assistant, Annie Segal, Silverman said, "This is my problem. When I get in [a] relationship, I become very — and this is my problem — subservient. And that's my bad. It's my habit I need to unlearn. But because of that I end up forfeiting a lot of the things I love about this life I've made."
Silverman said that because of that, she's now changed how she feels about relationships. "Now now I'm less and less willing to [give things up] even for love I guess. Certainly unwilling to do it for just even the potential of love…I love my life, ya know? But I also do love love and I love sex. So it's like, it's a lot to maneuver I guess."
Her 'phobia' and dealing with egos
Silverman continued this trajectory, saying, "I feel like I've developed a bit of a phobia [of men]." And she said she "get(s) scared" when she hurts a man's feelings. "You have to kind of take care of their ego whether you're into them or not. It's just so much navigating and I'm exhausted from it. From a lifetime of it."
She went on to say that she knows that can be the case regardless of the gender of your partner, "but there's a male aspect to it that…I find scary. I find threatening." She finished in a way fitting of the violent video game she was playing: "You know, it's true what they say: That men are afraid that women are gonna laugh at them and women are afraid that men are gonna kill them."
Source: Read Full Article