It's always a big deal for an actor's career when they land a regular role on a major series like Outlander. But sometimes, the stars can align and an actor can find themselves in two major series at once. This happened for one Outlander star who also played a pivotal role on Game of Thrones.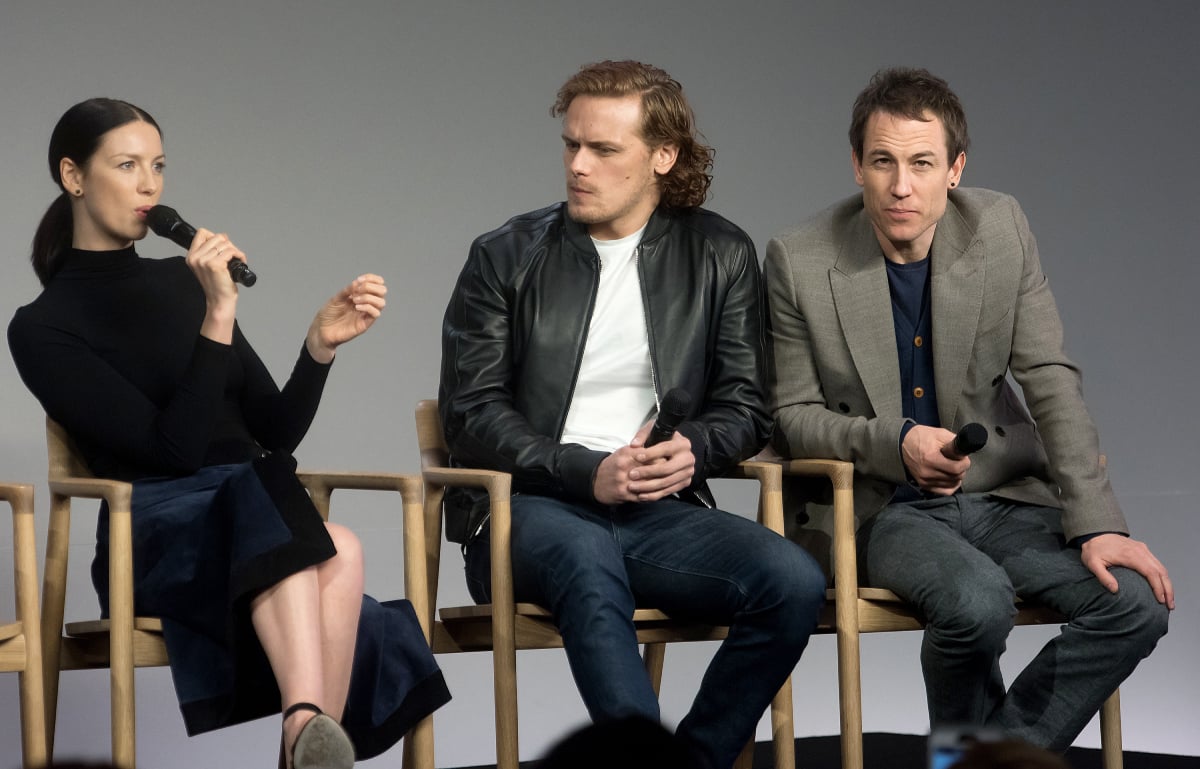 Black Jack Randall in 'Outlander' was also Edmure Tully in 'Game of Thrones'
The HBO series Game of Thrones featured a number of guest stars throughout its eight-season run. In season 3, Tobias Menzies appeared as Edmure Tully. As Express notes, Tully was "Lord of Riverrun and Lord Paramount of Trident, the son and heir of the late Lord Hoster Tully of Riverrun."
However, most GOT fans probably remember more about who Tully was related to instead of the character himself. Tully is the maternal uncle of Robb (Richard Madden), Sansa (Sophie Turner), Arya (Maisie Williams), Bran (Isaac Hempstead-Wright), and Rickon Stark (Art Parkinson), and Robin Arryn (Lino Facioli).
Tully married Roslin Frey (Alexandra Dowling) in the Red Wedding. Afterward, his father-in-law Walder (David John Bradley) held him prisoner. Fans will also recall that Jaime Lannister (Nikolaj Coster-Waldau) used Tully during the Second Siege of Riverrun to force the garrison to surrender. Afterward, he was put back in prison.
But after Cersei Lannister's (Lena Headey) defeat at King's Landing and Daenerys Targaryen's (Emilia Clarke) assassination, Tully got both his titles and land back. He also took part in the Great Council and agreed to his nephew Bran being crowned King of Andals and the First Men.
Tobias Menzies had a double role on 'Outlander'
At the same time Menzies was playing Tully on Game of Thrones, he also landed the double role of Frank Randall and Black Jack Randall on Outlander. This led to a Golden Globe nomination for Menzies. But he says they had no idea the show would be a hit.
"It was an important stepping stone in my acting career," Menzies told The Herald. "We all arrived there in Cumbernauld. Sam (Heughan) and Cait (Balfe) were relatively unknown. I was still finding my way too. And Starz was a relatively new company as well. A lot of money had been invested, but no one was waiting for this show to come out."
Menzies recalled how exciting it was to head off to Scotland and be a part of the "ground level" of a show like Outlander. He says there is a "real artistic conversation" between the showrunners, writers, and the core cast to try to work out what the show is.
He says it was a "really creative and engaged period." And Menzies made some lifelong friends, did good work, and "had a blast doing it."
Tobias Menzies added a third huge hit to his resume
As if being part of Outlander and Game of Thrones wasn't enough, Menzies landed the role of Prince Philip in seasons 3 and 4 of The Crown. He took over the role from Matt Smith, who portrayed the Duke of Edinburgh in the first two seasons of the Netflix series. Olivia Coman took over the role of Queen Elizabeth from Claire Foy.
Menzies says that the benefit of The Crown is that it gives a "serious-minded consideration of an institution that is either deified and hero-worshipped or is ridiculed and satirized." What he thinks is good about the show is that it "sits in the middle of all that and doesn't try to do either."
The actor added that the Netflix series tries to look at the institution as it fits into the whole. It also looks at the people in it and gives them "due consideration." He believes that this is a "really interesting contribution to the conversation."
All eight seasons of Game of Thrones are available on HBO Max. The first five seasons of Outlander are available on the Starz app and Amazon Prime Video. The first four seasons of The Crown are available on Netflix.
Source: Read Full Article