The shenanigans in Tiger King: Murder, Mayhem, and Madness are almost too bizarre to believe. Still, the events portrayed in the docuseries are true, catapulting the Netflix hit to the top of the ratings chart. With Joe Exotic's wild story out there for public consumption, what does a fellow sanctuary owner think? Here's what the curator of a feline conservatory has to say about Exotic, Carole Baskin, and the wacky phenomenon that is Tiger King.
Who is BJ Auch?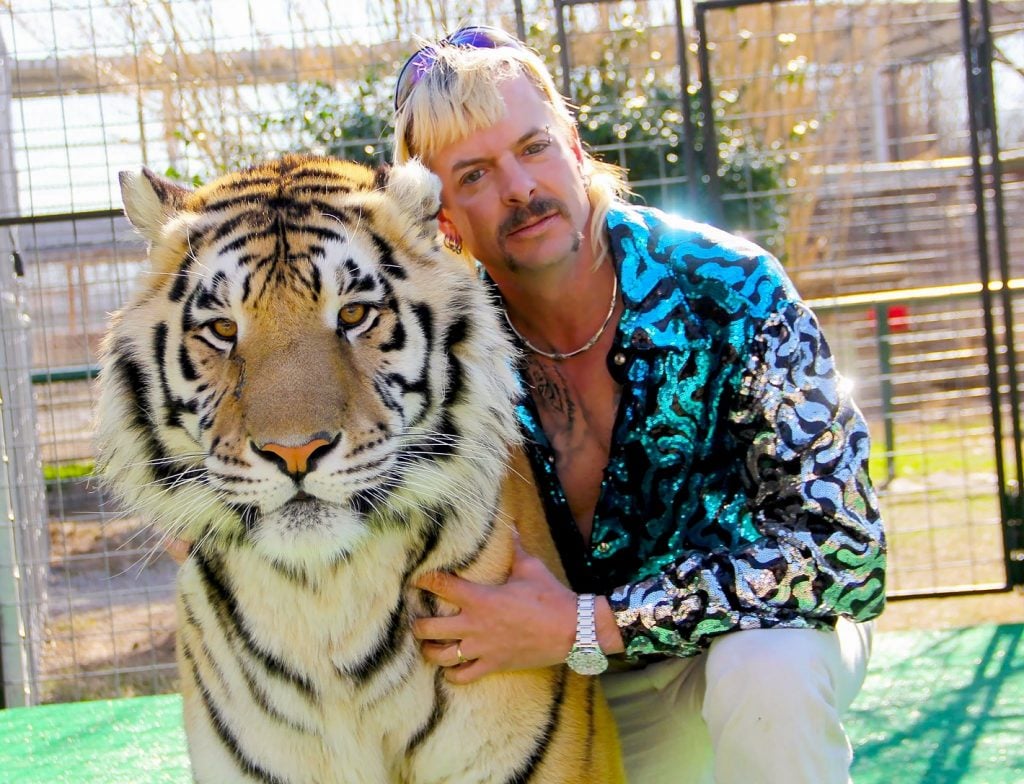 Bettie "BJ" Auch is a senior curator at Cedar Cove Feline Conservatory in Louisburg, Kansas. The website reads:
Cedar Cove is a non-profit organization devoted to the care and preservation of endangered large cats while educating the public on their behavior, physiology, habitats and the threats & dangers of extinction. 
 
Keepers at Cedar Cove are educated and trained in the care of Large Exotic Felines or "Big Cats." Our goal is to ensure that all the felines at the facility are maintained in a stress-free environment and are not exploited. On a daily basis, each and every animal at the park is given one-on-one attention so as to enhance and enrich its life and to make the animal comfortable.
Though she hasn't watched Tiger King, Auch was once given a behind-the-scenes tour of Joe Exotic's G.W. Zoo. With this, she's formed her own opinion of Exotic, his nemesis, Carole Baskin, and what the community has known about the former for years.
Auch doesn't want to watch the docuseries because she already knows what happened, according to Kansas City Magazine.
"One of my nieces posted something the other day and I got all over her. She posted about this and then she posted our name in addition to it," she said.
"I called her and I said 'Carly, stop this! Don't associate us with them, we're or not like them!' They're calling me saying, 'You know this guy? Oh my God, he's terrible!' And I'm like, 'Yes, I do. And I don't want to talk about him.'"
Auch's feelings go far beyond Exotic, though she does have a firsthand account of who he is, off-camera.
How does Auch feel about Joe Exotic?
Auch recalled meeting Exotic when she first started in the conservatory line of work approximately 18 years ago. Her first visit to the G.W. Zoo came in 2010 when she was interested in the way other organizations like hers ran.
"He wasn't as bad as he is now," she said of the zookeeper. "We've met Joe, and we've dealt with Joe. So we follow it more closely because we know who these people are."
She referred to him as "very, very full of himself," adding, "he's the only one that could do this, he's the only one who could do that." Auch deemed Exotic as "weird," claiming his "interactions with the animals were very 'show-off what I can do' kind of stuff."
At Cedar Cove, Auch said no one touches the animals.
"Even if Joe would have come to our facility, we wouldn't have let him touch a tiger. But I was down there and he'd let us touch anything. He has a low level of concern about safety," she added.
While Auch has strong opinions about Exotic and the way he ran his zoo, she has stronger thoughts on Exotic's arch-nemesis, animal rights activist, Carole Baskin.
Auch had this to say about Carole Baskin
As shown in Tiger King, Baskin's reputation isn't exactly clean. Auch validated this as someone who's been in the community long before the docuseries came about.
"Generally, [Carole's] not liked by a lot of people, Joe just took it to another level," she said. "Joe would speak out and attack her and so he set himself up for her retaliation, and we try to take the higher road. We don't discuss these other people and talk about how bad they are," she added. "We don't want to fight with them."
She elaborated, saying "people don't like her because she puts everybody down and she doesn't believe in interaction with the cats. She thinks she's the only one that can do this."
Part of Auch's feelings stem from the way Cedar Cove operates — following strict USDA-inspected rules while the likes of Exotic and Baskin do as they please.
"We don't go in the enclosures with any of these big cats, but we do interact with them. They're cats — they're big cats, but they're still cats and in a captive situation," she said. "They're friendly, they want attention, so we try to make sure they feel safe and protected. And we do interact with them."
However, Auch's interactions with Baskin are minimal
https://www.instagram.com/p/BjYuodcB_M0/
As far as Auch's direct relationship with Baskin, she revealed there isn't one, which, considering what's revealed in Tiger King, might be considered a good thing.
"I've never interacted with her, she's left us alone. We're very small compared to what she goes after and we're really different," she said.
That said, does Auch think the rumors of what happened to Baskin's former husband, Don, are true?
"I think she would have had to chop him up. I don't think a tiger would have just eaten a human and fully digested every trace, you know," she said. "But it's completely within the realm of reasonableness that she could have done that. But, I mean, yeah: if you chopped up a human and they're bloody and it's raw meat, a tiger would eat it."
There you have it, conspiracy theorists. Go forth and indulge in Tiger King: Murder, Mayhem, and Madness, to curb isolation insanity now.
Source: Read Full Article