During the past few weeks, there have been two buzzwords that you can't go a day without hearing: coronavirus (COVID-19) and Tiger King. Netflix's new docuseries, Tiger King: Murder, Mayhem, and Madness has become such a hit that people everywhere are talking about it. One of the main storylines in the series is the huge feud between Joseph Maldonado-Passage, more commonly known as Joe Exotic, and Carole Baskin. The feud eventually led to Exotic going to jail for attempted murder. Though the rest of the world is just getting into all of the drama between Exotic and Baskin, Exotic himself is over it.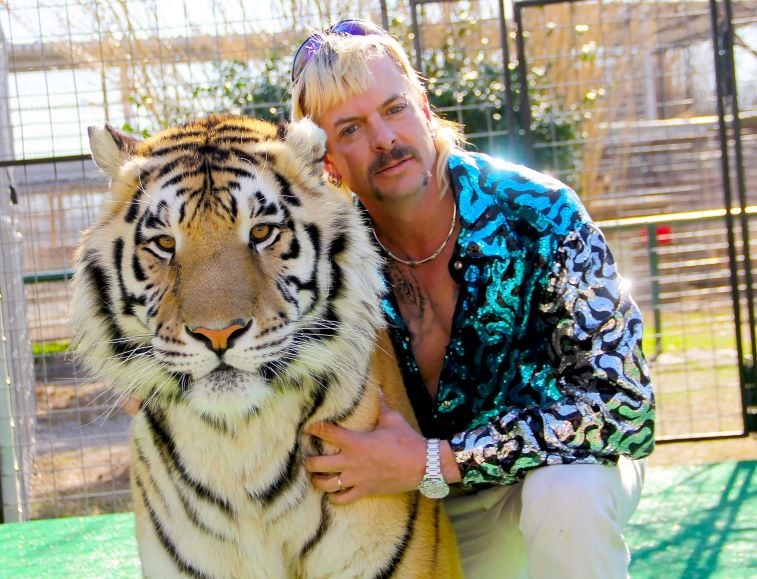 Why were Joe Exotic and Carole Baskin feuding?
Exotic and Baskin were both key players in the big cat world. Exotic ran the G.W. Exotic Animal Memorial Park and Baskin founded Big Cat Rescue. Baskin began coming after Exotic because she felt that he was abusing his animals. Upset by her attacks, Exotic started coming after Baskin as well and claiming that she killed her second husband, Don Lewis. In 2019, Exotic was found guilty of paying a hitman $3,000 to kill Baskin.
How does Carole Baskin feel about Joe Exotic?
Baskin was obviously a very big part of Exotic's life for years. But apparently, for Baskin, Exotic was just one of a number of men she was trying to stop.
"I think for Joe, [the feud] was probably very personal because people said there wasn't a day in his life that he wasn't ranting and raving, and carrying on and calling out my name," she told Vanity Fair. "But for me, he was just one of about a dozen of these bad guys that I was exposing online."
Does Joe Exotic still care about Carole Baskin?
Exotic has had plenty of time in jail to think about what he did and all of the mistakes he made. And now, he's trying to put the past behind him.
"I'm done with the Carole Baskin saga," he told Netflix in an interview from jail. "It's now time to turn the tables and Joe get out of jail a free man and exonerated from all these charges."
Exotic recently filed a lawsuit that claims he is owed $94 million in damages and is seeking a presidential pardon to get out of jail.
"You know, it'd be nice if I could actually see me being famous out there, but I've seen these same four walls for a year and a half now," he said.
"When I walk out of here, am I going to be as crazy as I was before?" he continued. "That will never change."
How has Joe Exotic dealt with fame?
Exotic has always wanted to be famous. Before going to jail, he was a country singer and was making his own reality show. So now, he couldn't be happier with his fame.
"You can hardly talk to him without him mentioning the amount of press he's getting," Tiger King co-writer, Rebecca Chaiklin recently told The LA Times. "He says people are asking to see his Prince Albert and girls are sending him sexy bikini pictures even though he's gay. He's over the moon. Having kept in pretty close touch with him while he's been in a horrible county prison, this has raised his spirits."
Source: Read Full Article