Joseph Maldonado-Passage (aka Joe Exotic) is serving a 22-year sentence for allegedly hiring a hitman to kill animal rights activist, Carole Baskin. His fourth husband, Dillon Passage, is doing his best to keep negative news away. Passage said that the Tiger King star doesn't know the seven-part docuseries covers Travis Maldono's accidental suicide.
'Joe Exotic' granted extension in $94 million lawsuit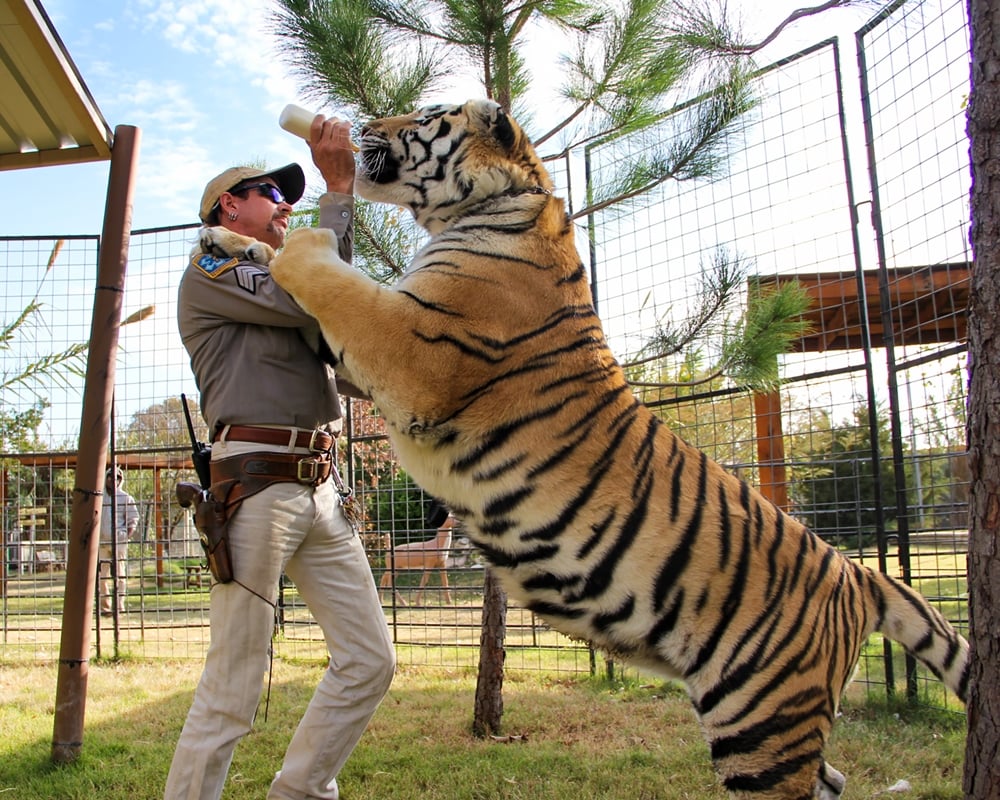 The "Tiger King" himself, Maldonado-Passage, filed a $94 million lawsuit. He claimed the loss of personal property, 18 years of research, care of 200 big cats, and other allegations.
The former zookeeper "wasn't equipped with the necessary tools to appeal his conviction. Per TMZ, Maldonado-Passage hand-wrote a letter to the presiding judge asking for an extension to reapply the necessary documents. He's been in isolation amid a COVID-19 outbreak (though he tested negative).
"Sorry for the handwritten letter," he wrote in the letter. "However I am being isolated at the Federal Medical Center in Fort Worth and have NO access to a computer, phone, email or library to respond to the government's last request. I am asking for at least a 30-day extension to the deadline of April 28th, 2020 in hopes I am allowed access to use things in order to properly answer their request."
A judge granted a 30-day extension to respond by May 28.
Passage said Travis Maldonado's death shouldn't be in 'Tiger King'
https://www.instagram.com/p/BBB3XpsovcE/
While Maldonado-Passage serves his time, his husband, Dillon Passage, is tackling the majority of Tiger King interviews on his behalf. As far as the docuseries, Passage has a few thoughts — specifically about the death of Maldonado-Passage's former husband, Travis Maldonado.
"I feel like some things shouldn't have been shown in the docuseries, like Travis' accident in the office. That was very personal to Joe and that it was used for an emotional purpose and to get people more drawn in to the show," Passage told Entertainment Tonight.
Passage doesn't think any of it is fair adding, "[He] probably would not have wanted that put all over the world…And I didn't tell [Joe] that it was in there. I feel like he's definitely gonna be upset about it, so it's best that he doesn't know."
That aside, he's content with the series.
"Filmmakers, Rebecca Chaiklin and Eric Goode, were really honest with me from the get-go. They said that the documentary was going to be about the big cat underworld so they wanted to see — obviously — about cub selling, cub petting and stuff like that. I don't feel taken advantage. Because they told Joe's story true as can be," he said.
"Maybe they left out some of his more sensitive character aspects and kind of made him seem like more of an angry person who was yelling all the time. But he was definitely a wild character and he was very outspoken and he wasn't scared to share his opinion. And I feel like they showed it."
Maldonado-Passage moved from quarantine, according to Passage
In another interview with E! News, Passage explained that Maldonado-Passage moved out of isolation. He's now in a "special housing unit within the prison." There, he'll wait out his appeal.
Maldonado-Passage told Netflix, "It's now time to turn the tables and Joe get out of jail a free man and exonerated from all these charges."
Tiger King: Murder, Mayhem, and Madness is available on Netflix now.
How to get help: In the U.S., call the National Suicide Prevention Lifeline at 1-800-273-8255. Or text HOME to 741-741 to connect with a trained crisis counselor at the free Crisis Text Line.
Source: Read Full Article