Sophie Turner has something in common with her "Game of Thrones" character Sansa Stark. In 2016, Turner told SELF being a child star "makes you grow up faster" and the Stark children also had to grapple with being young and inexperienced in an adults' world. But unlike the girl who would become the Queen of the North, Turner always wanted to be where she was.
Most actors do not get their start in projects that are immediate hits, but that's exactly what happened to Turner when she was cast in "Game of Thrones." In 2019, her role earned her an Emmy nomination for Outstanding Supporting Actress in a Drama Series, and she learned a lot about the entertainment business during her nine years working on the series. One lesson? Being popular on social media can pay off. "I auditioned for a project and it was between me and another girl who is a far better actress than I am, far better, but I had the followers, so I got the job," she told Porter in 2017 (via NME).
Before leaving Westeros, Turner conquered the superhero movie realm by playing a young Jean Grey in the "X-Men" film franchise. She took a chance on the failed streaming service Quibi by starring in its bite-sized series "Survive," and she signed on to voice Princess Charlotte in the animated comedy "The Prince." Big things were also happening in her personal life, as she transformed from an unknown newcomer into an acting professional.
How losing her twin impacted Sophie Turner
Sophie Turner grew up in Chesterston, Warwickshire (via ELLE UK). Her mother Sally (pictured with baby Sophie above) was a special needs teacher, and her father Andrew managed a pallet distribution business. While speaking to The Telegraph in 2015, Turner described an idyllic childhood spent playing outdoors with her two older brothers. "We had pigsties, barns and a paddock, and used to muck around in the mud," Turner said.
Turner was a twin, but her sister tragically died in the womb (via Marie Claire UK). The actor told ELLE UK that her therapist suggested that her desire to "twin with people" all the time is connected to the loss. Turner believes that it also explains why certain roles appeal to her, like that of an actual twin in the 2013 TV movie "The Thirteenth Tale" and a teenage girl with a mysterious doppelganger in the 2014 film "Another Me." "When I was younger, before I was born, I lost my twin, so I think I've always had a fascination for telepathy or the way that twins act and react with each other," she told ComingSoon.net. "I think I'm just subconsciously drawn to those projects and different versions of yourself, and your subconscious vs. your conscious."
Sophie Turner almost missed an audition for a life-changing role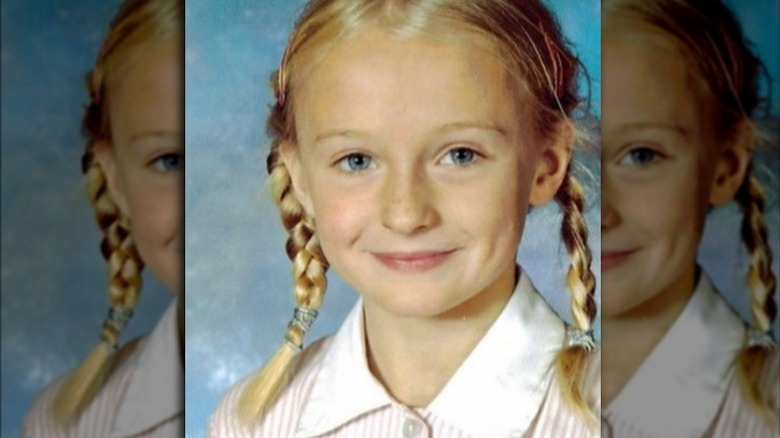 Sophie Turner told The Telegraph that she began performing at age 3, explaining that her mother enrolled her in acting classes at the Playbox Theatre in Warwick "mainly so she could have a cup of coffee for an hour." During a 2011 interview with Winter is Coming, Turner said that joining the theatre group kindled her passion for acting. "I would always be the most crazy, the most loud out of all my friends and I used to channel that energy into dressing up and putting on shows," she noted. Turner told W Magazine that her friends joined her for the Saturday acting classes, and they loved it so much that it became "kind of like our church."
Turner was also a talented ballerina. At age 11, she turned down the opportunity to attend the prestigious Royal Ballet School to pursue acting instead. She recalled being told that she was "too tall to be a ballerina" during an audition anyway (via ELLE). When she was 13 years old, Turner auditioned for "Game of Thrones" at the urging of her drama teacher. However, she almost missed her chance to even be considered for the role of Sansa Stark because she forgot about the audition. Turner was waiting in line to get lunch at school when her teacher happened to see her. "She was like, 'Er, Sophie, you have that audition?"' Turner recalled during a 2017 Marie Claire UK interview.
Sophie Turner forged an important friendship while filming 'Game of Thrones'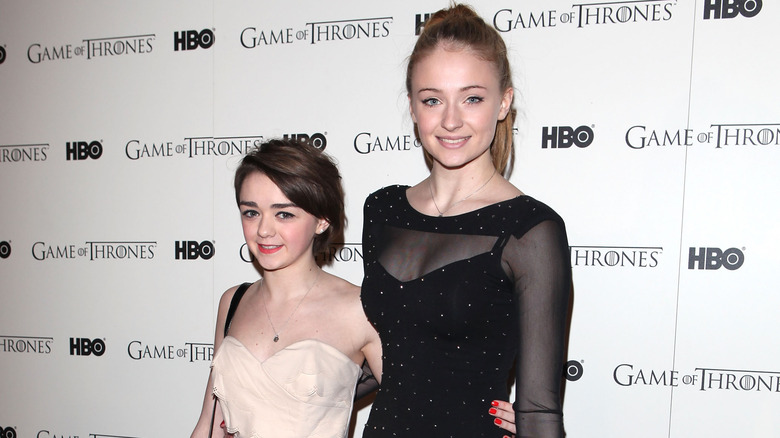 In a Vogue Paris video, Sophie Turner said that she did not tell her parents about the "Game of Thrones" audition, and she remained mum about it until she was one of the final seven actors under consideration. "And then my mom kind of freaked out," Turner recalled. "And she called up my dad and she was like, 'I don't know if we can do this!'" Luckily, Turner's father convinced her mother to let her continue pursuing the part. According to The Telegraph, Turner's mom even made a huge sacrifice to support her: She quit her job to chaperone the 13-year-old when the series began filming in Croatia.
Turner made fast friends with co-star Maisie Williams, whom she actually met during auditions (via Winter is Coming). They played bickering sisters on the show, but became thicker than thieves in real life. In 2019, Turner told Rolling Stone that they were "a nightmare to work with" because they had a difficult time being "serious" when they were shooting together. She and Williams even got matching tattoos reading "07.08.09," the date they were cast on the series (via Marie Claire UK). Turner told InStyle that she and Williams shared "the same struggles in terms of dealing with body image and puberty and growing up in the public eye," which likely helped them bond. "But I found my strength in her, and I think she found her strength in me," she added.
Sophie Turner thought Joe Jonas was possibly a catfish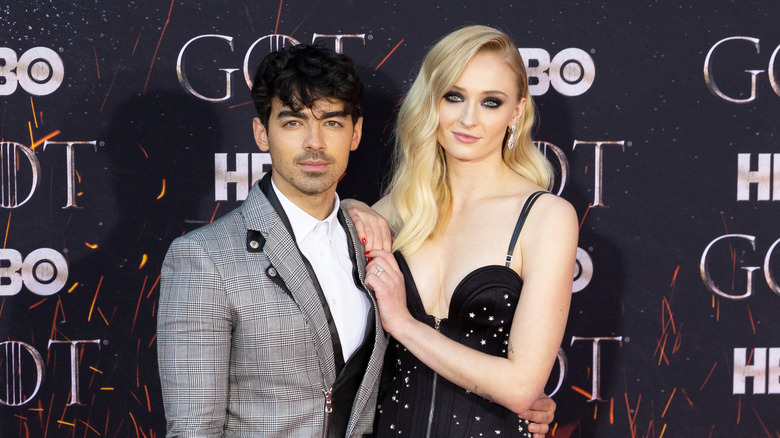 Living in the limelight also impacted Sophie Turner's love life. She discovered she prefers to be in a relationship with someone who knows the ins and outs of fame, so fortune was smiling on her when she caught Joe Jonas' eye. "I found it easier to date someone who understands the industry or is in that world," she told InStyle in 2017.
According to People, Turner and the DNCE frontman were first spotted together at a Halloween party in 2016. Interestingly, Turner told ELLE UK that she actually used to despise her future husband's boy band because she was a member of a different fandom. She revealed that she and her friends were really into Busted, describing their song "Year 3000" as "amazing." "Then the Jonas Brothers covered the song and made it massive, and Busted broke up," she said. "It was all the Jonas Brothers' fault. So we hated them."
Turner changed her tune soon after Jonas sent her a direct message on Instagram (via Harper's Bazaar UK). The two arranged to meet, but were chaperoned by Turner's "rugby boys." "I thought he would be such a d**k. I took all my guy friends with me to meet him, because in the back of my mind I was worried he could be a catfish, or… I don't know what," she confessed. By October 2017, Turner and Jonas were engaged.
Sophie Turner revealed her 'favourite job'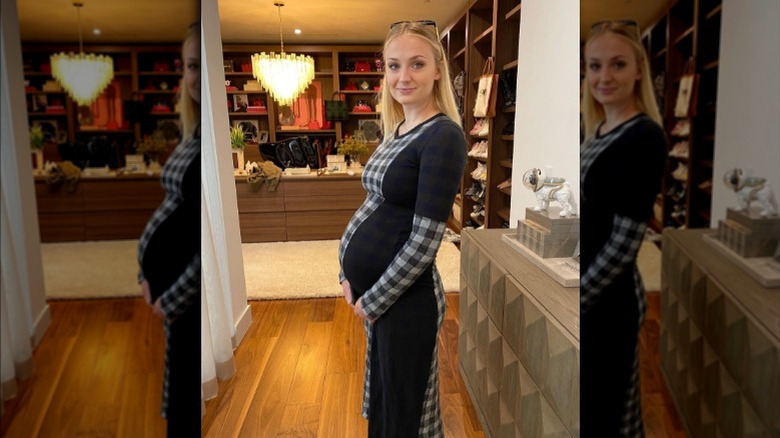 Weddings on "Game of Thrones" were not always the happiest of occasions for the Starks. Sansa Stark was unhappily married twice, and Sophie Turner also walked down the aisle a second time in real life. However, this time around, her participation in both events was cause for celebration. In May 2019, she and Joe Jonas were married by an Elvis Presley impersonator at the Little White Wedding Chapel in Las Vegas (via TMZ). Nick Jonas' wife, actor Priyanka Chopra, later told People that she served as both "a bridesmaid and a flower girl" during the fun Sin City ceremony. Sadly, Maisie Williams missed it because it was so spontaneous, but she did attend the couple's second wedding in France.
Turner and Jonas then welcomed their first child, a daughter named Willa, on July 22, 2020. While speaking to Vogue, Turner explained how being a mother affected her career. "A project really has to warrant me being away from my family, so I'm more judgmental about projects than ever."
Turner has played a queen, a superhero, and a survivor, but Willa gave her a role that has them all beat. In March 2021, Turner took to her Instagram Stories to update her fans on how she felt about motherhood. "Im so grateful to the two loves of my life for making me a mama. @JoeJonas and my beautiful baby girl," she wrote, according to People. "Its my favourite job I've ever had."
Source: Read Full Article