Julianna Margulies' The Morning Show debut is here. A season 2 cast member, she makes her first appearance in the AppleTV+ series' Oct. 1 episode. But filming season 2 wasn't without tears. In a September 2021 interview, the E.R. alum admitted she "kept tearing up" during a particularly "moving scene" with Reese Witherspoon.
Julianna Margulies' 'Morning Show' character is a star UBA anchor who interviews Bradley Jackson and Alex Levy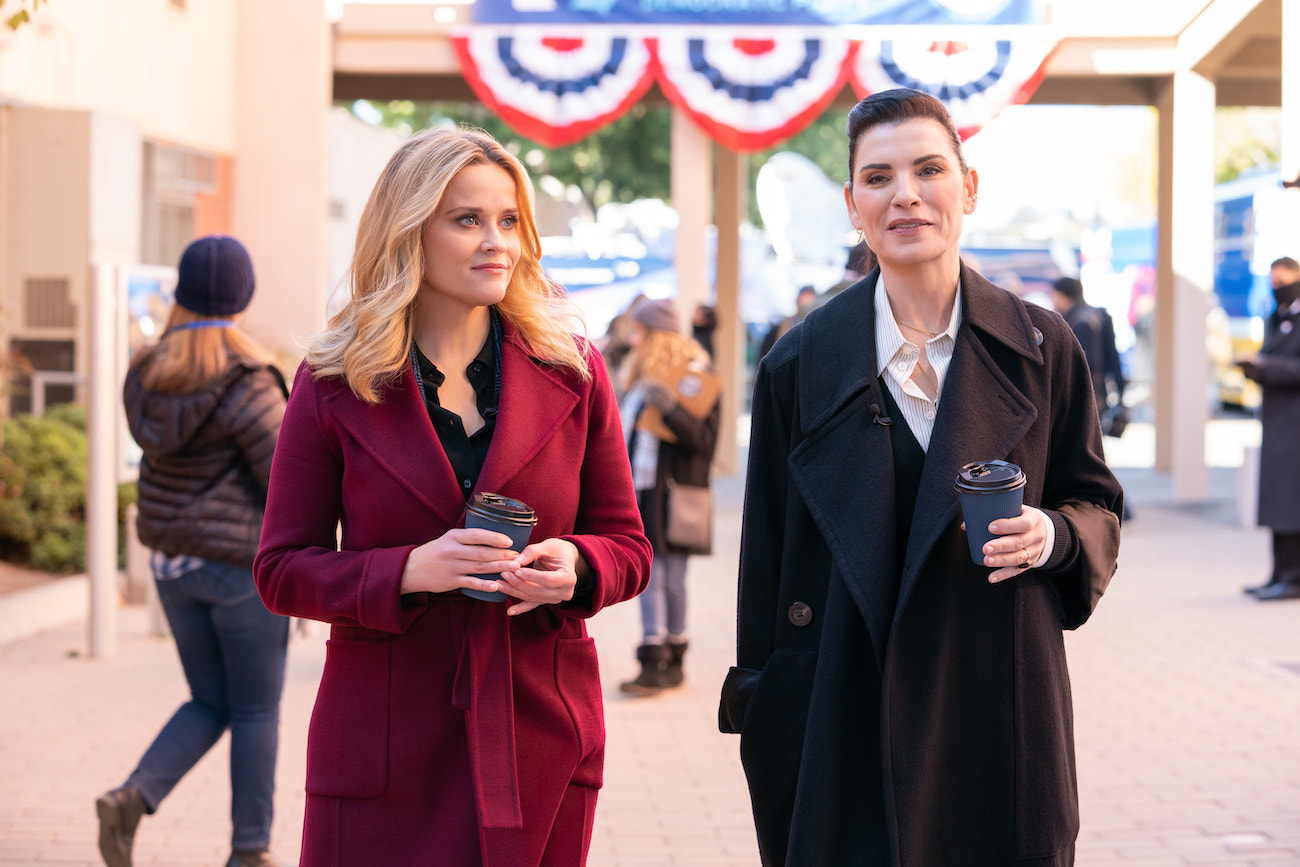 Who is Margulies on The Morning Show? She plays Laura Peterson, a successful UBA anchor with her own one-hour news show. So where does she fit in the Bradley Jackson (Witherspoon) and Alex Levy (Jennifer Aniston) storyline? Margulies' character interviews the co-anchors to promote their big comeback moment after Levy agreed to return in "It's Like the Flu."
Like Levy and Jackson, Peterson's relationship with the network is steeped in controversy. As Margulies explained during a September 2021 Pilot TV podcast interview, UBA actually fired her character back in the '90s for being gay.
"She walked through the fire to get back to her journalistic roots, to become the star she became, and also to be completely confident in who she was as a human being," Margulies said of Peterson, per Empire. 
The 55-year-old continued, saying there's no hidden agenda with Peterson. "She's really the only character on the show that has no skeletons in her closet," Margulies said. "She is exactly who she is when you meet her."
1 line on 'The Morning Show' made Margulies tear up while filming with Reese Witherspoon
Touching on her early scenes in the Oct. 1 episode of The Morning Show, Margulies recalled how the waterworks kept coming during a moment with Witherspoon.
"There was a moment there where Reese and I did a really moving scene where she's freaking out in her dressing room, and I'm trying to comfort her," the actor said. "This is how good the writing is – I had one line at the door where I say to her: 'And, by the way, it really sucks what happened.''
Margulies continued, saying she couldn't stop herself from getting teary-eyed.
"I kept tearing up when I said it because that's not what I wanted my character to do at all. But saying those words, it felt like someone had stabbed her all over again, and she had healed those wounds," she explained. "But those wounds are always on the surface, you know?"
"And so just by saying those lines – I'm paraphrasing, I don't quite remember what the exact lines were – I kept saying, 'Can you just give me a minute?' Because I wanted to say them very strong, even though she really wanted to cry," she added.
Margulies says Witherspoon's Bradley Jackson sees her character as a 'lifeboat'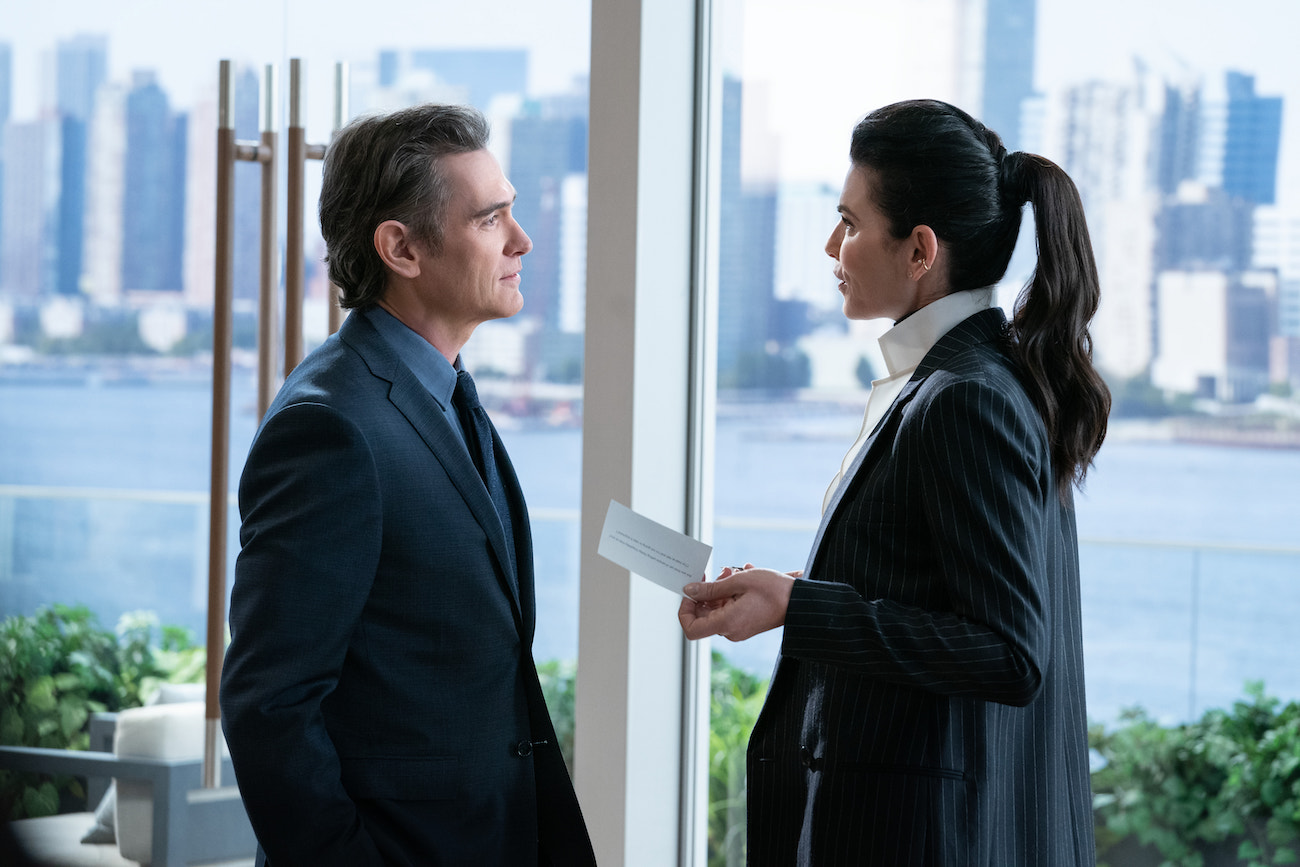 Margulies' character gets thrown into the "chaos" of the show within the show. But while she's figuring out the complex relationships between everyone at the network Jackson sees her as a sort of "lifeboat."
"Bradley sees her more as a lifeboat," Margulies said. "You know, like, 'Oh, I've been hanging on to all the people that make me crazy. Maybe I should go where it's calm?'"
Meanwhile, Billy Crudup's Cory Ellison sees Peterson as a "golden ticket." So how does Margulies view her character? "I really see Laura as the one standing amidst the storm that's literally whipping around her," she said. "She's going, 'Is that how you want to live your life? Is that comfortable?'"
Watch The Morning Show Season 2 on AppleTV+. A new episode drops every Friday at 12 a.m. PT, or 3 a.m. ET, on Apple's streaming service.
Source: Read Full Article