On The Bachelor Season 20, Ben Higgins chose Lauren Bushnell. He proposed once, privately, in Jamaica and then in front of a live studio audience, which included his parents. Bushnell said, "Yes," both times and the duo quickly became a fan-favorite couple within Bachelor Nation. They even went on to star in a reality TV show — Ben and Lauren: Happily Ever After?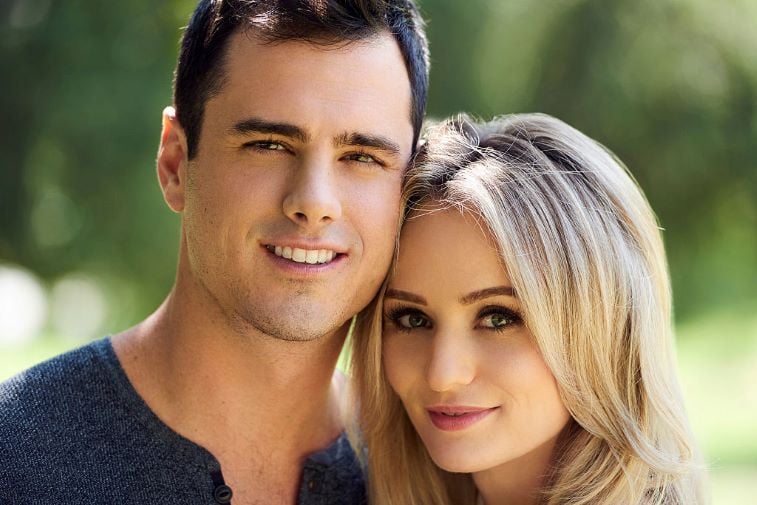 RELATED: 'The Bachelor': Will Tyler Cameron Make An Appearance on Matt James' Season?
Why did 'The Bachelor' couple — Higgins and Bushnell — break up?
It wasn't a happy relationship behind the scenes. The pair called it quits on May 15, 2017, a year and a half after they were engaged. Higgins initially spoke out on his podcast, noting that things were mutual.
"I would say the joy that we felt toward our relationship at the beginning was—for some reason—slipping away," Higgins told EOnline. "And we were both working very hard to bring that joy back. And it just never seemed to get there."
RELATED: Did ABC Choose Matt James as the Next 'Bachelor' For the 'Right Reasons?'
However, one year later, Higgins gave more details on the split. The reality TV star admitted that he had things he could work on. Higgins said that he overreacts to changes in his routine, and is too sensitive. 
"I just get so sensitive sometimes, and that affects just my normal relationships because I doubt all the time in the back of my head, you know, is this relationship for real?" Higgins said in an interview with Eonline one year after the split.
Bushnell said the warning signs were there during 'The Bachelor' finale with Higgins
One year later, Bushnell also gave more details about her breakup with Higgins. She told Reality Steve that she had a great deal of doubt on the day of the proposal.
"I remember having so much anxiety about it, which looking back, I don't know if that was my gut being like, wait, timing-wise, this is too rushed or what," Lauren told Steve Carbone.
Another massive hiccup in the relationship occurred when the couple agreed to star in a spinoff — Ben and Lauren: Happily Ever After? Bushnell was already trying to understand why Higgins told both her and runner-up JoJo Fletcher, "I love you." Then they jumped right into another TV show that Bushnell was not excited about.
RELATED: 'The Bachelor': Madison Prewett Lost Thousands of Followers In a Matter of Days But She Doesn't Care
"I remember initially the show was supposed to be about Ben running for office. He wanted to get into politics," Lauren told EOnline. "And not only did I not want to do a reality show, but I also really didn't want my life to be a politician's fiancée or wife or whatever."
Higgins and Bushnell both went on to be in happier relationships
It sounds like Higgins and Bushnell were not a perfect match, but they have both found their soulmate.
Bushnell married country star Chris Lane after only a four-month engagement. The two were wed on October 25, 2019, in a "secret garden" ceremony in Nashville, Tennessee.
RELATED: 'The Bachelor': Ben Higgins' Girlfriend Gave Him the Sweetest Thing for His Birthday
Higgins proposed to his girlfriend, Jessica Clarke, on March 27, 2020, during the coronavirus (COVID-19) pandemic. Higgins planned to pop the question in Central Park in New York City; however, the shutdown uprooted those plans. Instead, he got down on one knee in Clarke's parents' backyard by a gorgeous pond.
Source: Read Full Article