BritBox President and CEO Soumya Sriraman to Step Down
Polly Bergen, "Kisses for My President" (1964) 
President Leslie McCloud was a real pioneer — but the movie's plot focuses on Fred MacMurray as the First Husband struggling to find a purpose while his wife toils in the Oval Office. And to add insult to injury, she resigns when she learns she's pregnant.
Patty Duke, "Hail to the Chief" (1985) 
In this short-lived ABC sitcom, Duke played President Julia Mansfield who had to deal with a cheating first husband, a rogue Air Force general and multiple schemes for her impeachment.
ABC
Christina Applegate, "Mafia!" (1998) 
In this spoof of "The Godfather Part II," Applegate plays a version of Diane Keaton's Kay Adams-Corleone — named Diane — who leaves the Michael-like Mob boss (Jay Mohr) and goes on to become president of the U.S. Sadly, she puts a nuclear disarmament deal on hold to return to her ex.
Geena Davis, "Commander in Chief" (2005-06) 
Davis' Mackenzie Allen was a former congresswoman and political independent drafted to be vice president on the ticket of Republican Teddy Bridges, who soon dies of a brain aneurysm.
ABC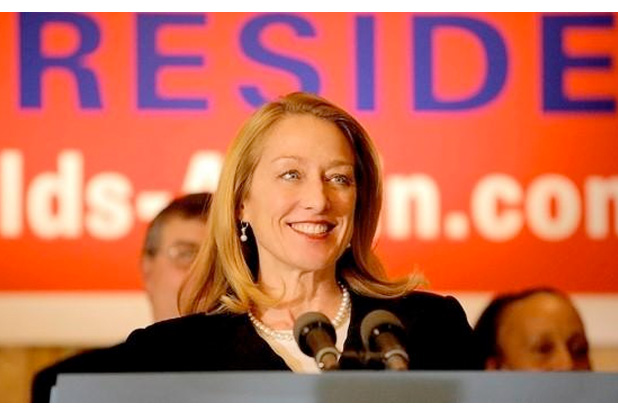 Patricia Wettig, "Prison Break" (2006) 
Wettig's Caroline Reynolds emerges as one of the chief villains of the Fox series, secretly plotting with the covert Company to execute innocent man Lincoln Burrows (Dominic Purcell) for the murder of her brother.
Fox
Cherry Jones, "24" (2008-10) 
Jones plays tough-as-nails President Allison Taylor in the seventh and eighth seasons of "24," refusing to buckle to terrorist demands despite the murder of her son and the shooting of her husband.
Fox
Alfre Woodard, "State of Affairs" (2014-15) 
Woodard won praise for bringing gravitas to the role of President Constance Payton, but the show centered on Katherine Heigl as a top CIA agent prepping the chief executive's daily briefing. The series lasted just a single season.
Julia Louis-Dreyfus, "Veep" (2014-19)
Louis-Dreyfus' Selina Meyer assumes the presidency when the former sitting president resigns for personal reasons — just as she's seeking her party's nomination. But while running as an incumbent, she musters a tie in the electoral college — and winds up losing the presidency when her own VP bungles his vote in the Senate. She later wins re-election (thanks to convention shenanigans and Chinese interference) and serves a single full term.
HBO
Andrea Savage, "Veep" (2016) 
Savage portrayed New Mexico Senator Laura Montez, who plays up her Mexican heritage as the running mate of Selina Meyer's chief rival — and then emerges as the president after a tie in the electoral college and deadlocks in the House and Senate.
HBO
Sela Ward, "Independence Day: Resurgence" (2016) 
In the original, Bill Pullman's president was an ex-fighter pilot who went back into the cockpit to fight alien invaders. In the long-after-the-fact sequel, Ward's President Elizabeth Lanford has a significantly smaller role in repelling the new attack.
Sony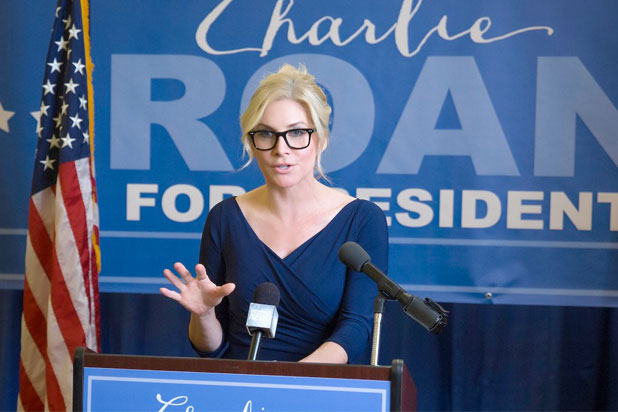 Elizabeth Mitchell, "The Purge: Election Year" (2016) 
In the dystopian horror thriller, Mitchell's Purge survivor Charlie Roan wins a landslide presidential election on a platform of ending the annual slaughter-fest.
Netflix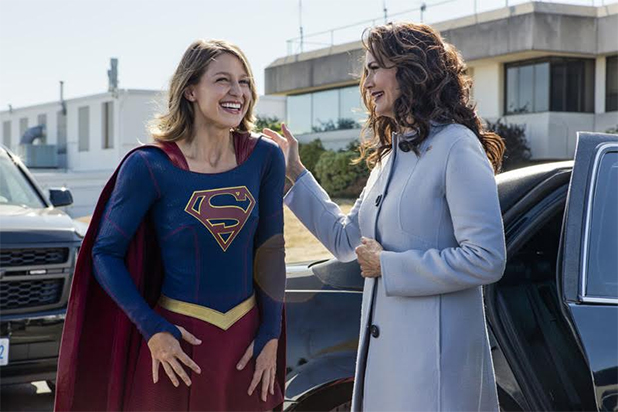 Lynda Carter, "Supergirl" (2016-18) 
The former "Wonder Woman" star rejoined the DC Comics universe on the second season of "Supergirl" as President Olivia Marsdin — an effective leader who is secretly non-human.
The CW
Robin Wright, "House of Cards" (2017-18) 
At the end of the fifth season of the Netflix political drama, Frank and Claire Underwood run together for the White House — and Claire is sworn in as president after Frank resigns in a cloud of scandal.
Netflix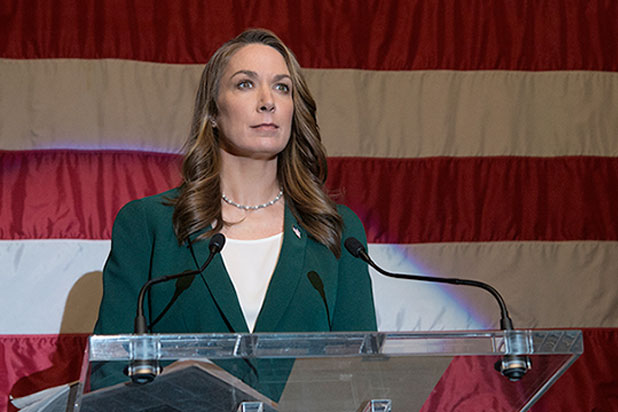 Elizabeth Marvel, "Homeland" (2017-18) 
In the show's sixth and seventh seasons, Marvel plays a charmless senator who is elected president and becomes deeply suspicious of the CIA (and Mandy Patinkin's Saul Berenson) after surviving an assassination attempt.
Showtime
Bellamy Young, "Scandal" (2017-18) 
At the end of the sixth season of the ABC drama, Young's Mellie Grant, a former first lady turned senator, loses the presidential election to Francisco Vargas — who is then assassinated before he is sworn in. After many machinations, Mellie is sworn in as president, with Olivia Pope (Kerry Washington) as her chief of staff.
ABC
Charlize Theron, "Long Shot" (2019)  
In this rom-com, Seth Rogen plays a slobby journalist who reunites with his former childhood babysitter, a polished pol who's serving as Secretary of State — and later elected as president. (He even takes her last name and becomes "First Mister.")
Lionsgate
Gina Rodriguez, "Diary of a Future President" (2020-) 
This Disney+ series is told in flashback by President Elena Cañero-Reed (Rodriguez), who starts flipping through her middle-school diary just before delivering her first major speech as president.
Disney+
While Hillary Clinton lost her 2016 bid to become the first woman to lead the U.S., there have been onscreen trailblazers who've occupied the Oval Office