That's when Robin Thicke comes in with his genius retort: "But hearing Snoop Dogg sing Snoop Dogg it would have sounded like Snoop Dogg."
"Robin, you're good," host Nick Cannon says laughing.
"Season 5 and the wheels start turning," Thicke jokes.
But Scherzinger isn't ready to give up on her guess, saying that during this "game-changing" Season 5, Snoop might sing his own song and switch up his voice to confuse them.
"Reverse reverse psychology," Cannon muses.
Watch the clip via the video above.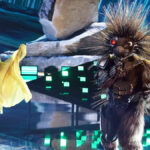 Here's the official description for Wednesday's "Masked Singer."
As the competition nears the finish line, the final five singers perform in the quarter-finals to see who will advance to the semi-finals. The Season Five contestants boast a combined 26 Grammy Award nominations, nine multi-Platinum singles, four Academy Award nominations, three Super Bowl appearances, six gold medals and two world records! One singer will be unmasked in the all-new "The Quarter Finals – Five Fan Favorites."
"The Masked Singer" airs Wednesdays at 8/7c on Fox.
Source: Read Full Article