The Jersey Shore Family Vacation crew is celebrating Mike "The Situation" Sorrentino's return this season. And in the April 16 episode, Deena Cortese and Nicole "Snooki" Polizzi finally introduce their new babies C.J. and Angelo to their Uncle Mike. All the other drama took a back seat while these adorable baby meatballs stole the show.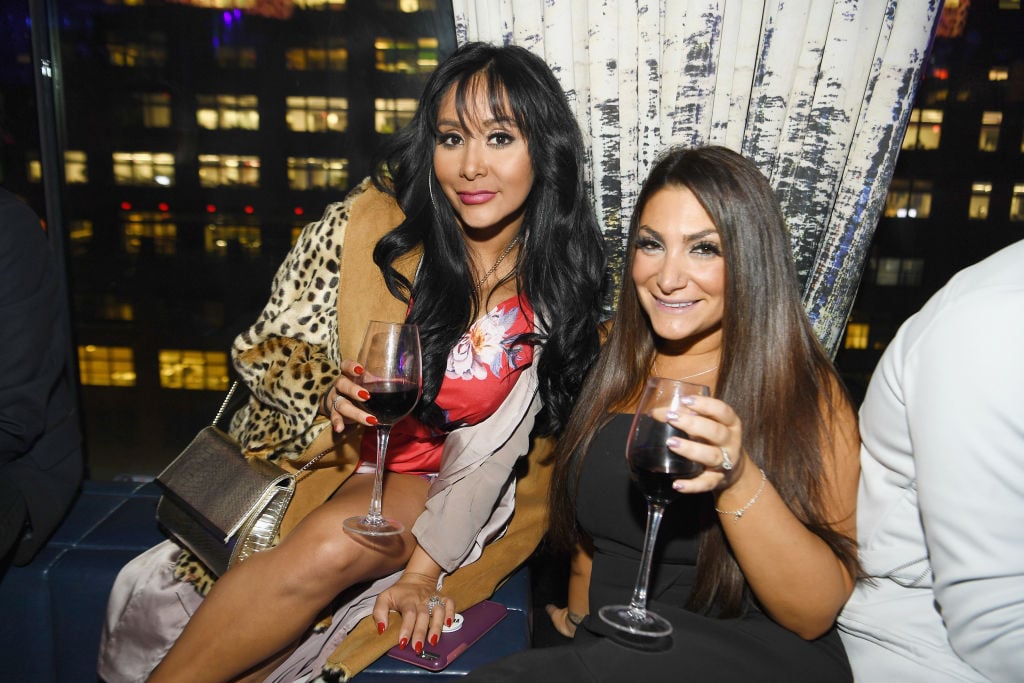 Cortese and Polizzi are new moms
Cortese gave birth to her first child, Christopher John aka CJ in January 2019. And a few months later, in May 2019, Polizzi welcomed her third child, Angelo. 
Both reality stars had their baby boys while Sorrentino was serving time in federal prison for tax crimes. So in the April 9 episode, while the roommates were celebrating Sorrentino's release from prison and return to the show, Cortese and Polizzi hatched a plan to bring the babies to the house.
"I was really hoping CJ and Angelo could meet Mike," Cortese says, to which Polizzi suggests they sneak out and bring their "baby meatballs" back to surprise Mike. Then in the April 16 episode, they return to the house with Angelo and CJ sporting matching gray "Free Sitch" onesies.
"This is the last day in the house," Cortese reveals. "And last night we left so we could surprise Mike with two new babies in the crew that were born while he was away. The baby boy meatballs, C.J. and Angelo. He's their uncle Sitch. He needs to meet them."
The heartwarming 'Jersey Shore Family Vacation' moment  
When Cortese and Polizzi bring CJ and Angelo into the Jersey Shore house, they're met with pure love and joy. "Oh my God, the babies, I have not met them, and here they are with "Free Sitch" shirts on,"  Sorrentino says. "Like this is amazing. Uncle Sitch has been dying to meet his little nephews." 
The babies also make Sorrentino and his wife, Lauren admit they are finally ready to settle down and have kids of their own. "I'm so ready to be a dad," Sorrentino says, "and I would be an awesome dad."
Then, Sorrentino, DJ Pauly DelVecchio, and Vinny Guadagnino take CJ and Angelo into the confessional room for some baby bromance. "You're with the boys right now," DelVecchio says. "You guys ever been to the Boardwalk? Go get some thotties fellas."
"Yeah, we'll teach you those things when you get a little older," Guadagnino jokes. 
'Jersey Shore' fans were thrilled to see the baby meatballs 
Jersey Shore fans are used to seeing all kinds of drama. But this season, the roommates are really proving they've become a family.  And the appearance of CJ and Angelo left fans gushing over the crew's loving dynamic. 
"I honestly watched this episode for Angelo and CJ," one fan tweeted during the episode. "Why did I legit want to cry when Mike met the babies?" wrote another fan. 
"CHILLS watching them swarm to the babies," one Twitter fan expressed. "The baby meatballs are so cute around the rest of the gang in their #FreeSitch shirts!!" another fan tweeted. 
Source: Read Full Article