The following article includes mentions of drug and alcohol addiction.
The dating life of celebrities has been front page news ever since Hollywood was invented. And for stars who have been in the public eye for decades, the shallow dating pool they swim in leads to a lot of speculation, breakups, and sometimes even wedding bells. (Don't forget that prenup, folks!) However, some celeb pairings feel like Hollywood's throwing darts at a dartboard.
Do you remember the time Drew Barrymore ghosted Christian Bale after one date? "We went to see some bloody awful horror film, and that was the end of it. She never called again," Bale told GQ Australia (via the New York Post) in 2012. How about the time Lenny Kravitz was a landlord to one Nicole Kidman, and they fell in love? We assume she was never late on rent. And did you know that a member of NSYNC once fell for Pink? "Joey Fatone was in love with me," she told Glamour in 2013. "He took me to Friendly's on a date, and he bought me an ice cream. Such a sweetheart. He asked my dad's permission."
So many celebrity romances, so little time. But let's take a stroll down love lane and revisit some celeb relationships that you forgot ever happened.
Rachel McAdams and Michael Sheen had 'different visions for the future'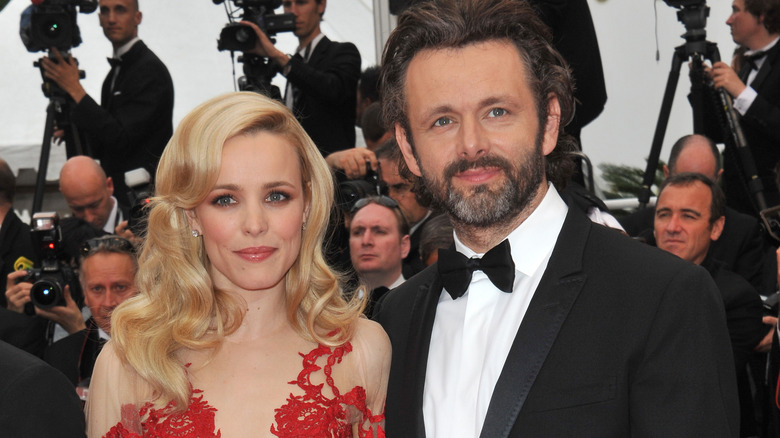 Ah, the classic love story: falling in love with your co-worker. Rachel McAdams and Michael Sheen became that cliché while filming Woody Allen's "Midnight in Paris" in 2010. The couple confirmed their relationship in 2011 after their romance was already obvious to pretty much everyone. "Yeah, we are together," McAdams told People. "I don't think it was planned one way or the other."
During a 2012 interview with The Sunday Telegraph's Stella (via Us Weekly), McAdams revealed that she and "The Twilight Saga" star waited until after production wrapped on the Allen comedy-drama to pursue their feelings. "Michael and I didn't get together while we were filming 'Midnight in Paris,' which I feel strongly about not doing when I'm working. We became quite good friends, which I think is a great way to start," she said, stating that she and Sheen "never spend more than three weeks apart" and "rack up a lot of air miles" to make the relationship work.
Unfortunately, the pair split the following year, with a source telling People that the couple had "different visions for the future." Those differences? "Rachel wants to settle down and is dreaming of having a family. Michael always seemed content with their relationship," the insider claimed, stating that Sheen felt "no need to have more children," since he already shared one with his former girlfriend, Kate Beckinsale.
Alanis Morissette and Ryan Reynolds almost got married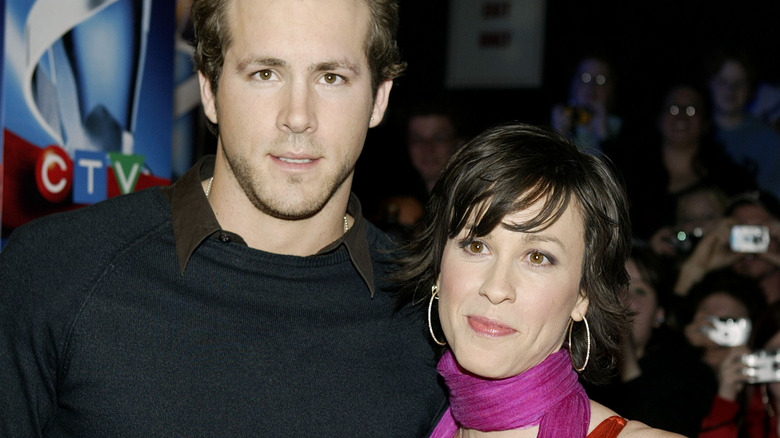 It seems like Ryan Reynolds and Blake Lively have been together forever, but the "Deadpool" star almost walked down the aisle with iconic '90s rocker Alanis Morissette at the turn of the 21st century. After meeting at Drew Barrymore's birthday party in 2002, the fellow Canadians got engaged two years later. "We have the perfect combination of compatibility and incompatibility that makes the relationship very passionate," Morissette told People. "It's perfect. I think it's about stretching each other."
Sadly, that turned out to be short-lived. "Ryan Reynolds and Alanis Morissette have mutually decided to end their engagement," their publicists said in a joint statement in 2007 (via People). "They remain close friends and continue to have the utmost love and admiration for each other. They ask that their privacy be respected surrounding this personal matter." 
During a 2008 interview with the Los Angeles Times, Morissette called their breakup "the straw that breaks the camel's back" after a string of high-profile splits. "It's having had too many of them. And I was a full-blown love addict, so it was like, 'I can't keep doing this, my body can't take it,'" she revealed. "Breakups are a horrible thing for almost everybody I know. For someone who is a love addict, it's debilitating." Morissette then did what she does best: turned her heartbreak into an album with 2008's "Flavors of Entanglement." She stated, "I entered into my own version of rehab."
Cameron Diaz and Justin Timberlake decided to be just friends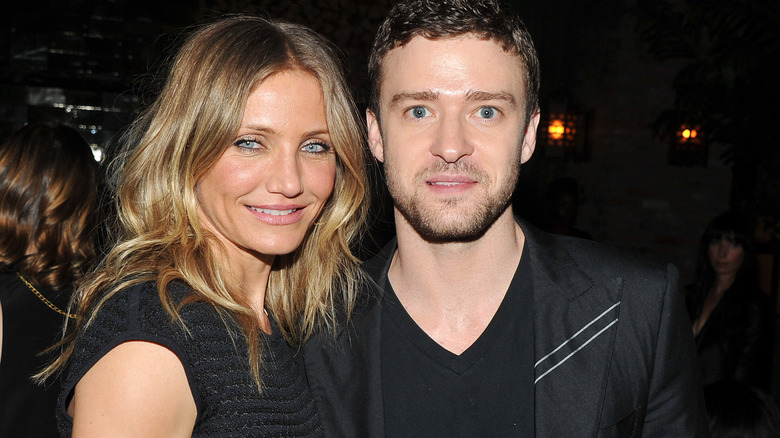 After meeting in 2003 at the Nickelodeon Kids' Choice Awards, Cameron Diaz and Justin Timberlake quickly became a pair, with the "Charlie's Angels" actor joining the former boy bander on his tour with Christina Aguilera not even three months later (via People). Despite their nearly 10-year age gap, Diaz brushed aside claims that she was robbing the cradle. "It's not like this is the first time in the history of human relationships that people were drawn to one another because of who they are, not what age they are," she told W Magazine in 2004, per ET.
However, Diaz and Timberlake eventually called it quits in 2007 and released a joint statement to correct the record. "It has always been our preference not to comment on the status of our relationship, but, out of respect for the time we've spent together, we feel compelled to do so now, in light of recent speculation and the number of inaccurate stories that are being reported by the media," the former couple said (via People). "We have, in fact, ended our romantic relationship, and have done so mutually and as friends, with continued love and respect for one another."
Timberlake eventually moved on with Jessica Biel, and Diaz — the self-proclaimed "commitment-phobe" — tied the knot with Good Charlotte's Benji Madden in 2015. Looks like it all worked out in the end.
Ryan Gosling's brief romance with Sandra Bullock left a lasting impression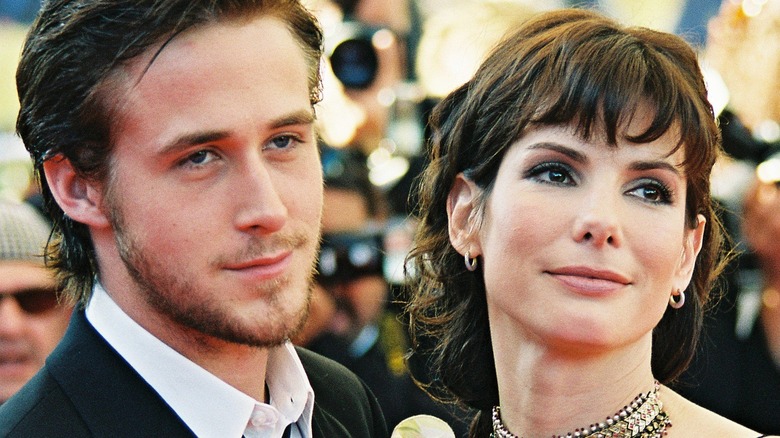 One of Ryan Gosling's first big breaks was co-starring alongside Sandra Bullock in the 2002 crime thriller, "Murder By Numbers." But it turns out that it was also love by numbers behind the scenes as Bullock and Gosling began dating despite their 16-year age gap. During a 2003 interview with Cosmo, Bullock stated that "movie sets are breeding grounds" for co-star romances and that she has "a hard time being just friends" with male co-stars whom she finds attractive.
When asked if she and Gosling were "just friends," Bullock replied, "Let me see if I can answer that politically and correctly. We're friends." A.k.a. relationship: confirmed. Bullock also revealed that Gosling taught her "to chill" during their relationship, saying, "I live my life at a manic pace, and he's taught me to disregard all that isn't important. He's like a little Buddha."
While these two only lasted a year, during a 2011 interview with The Times (via Us Weekly), Gosling stated that Bullock and Rachel McAdams were on his Girlfriend Mt. Rushmore. "I had two of the greatest girlfriends of all time. I haven't met anybody who could top them," he stated. The actor also gave a glimpse into why these relationships didn't work out. "Show business is the bad guy. When both people are in show business it's too much show business," Gosling explained. "It takes all of the light, so nothing else can grow."
Did Scientology come between Penelope Cruz and Tom Cruise?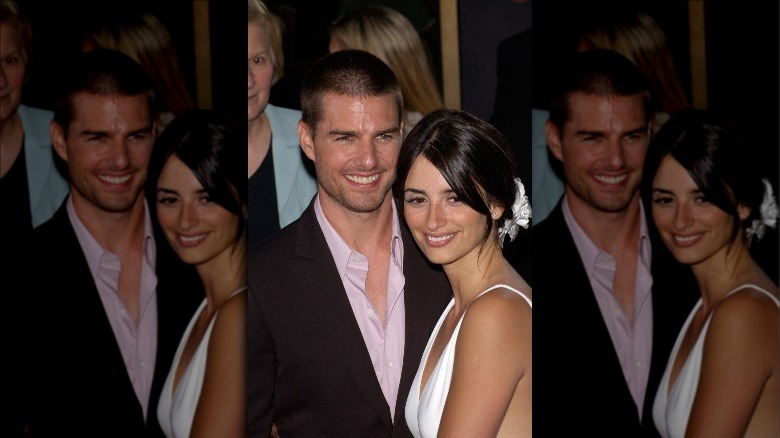 Although Tom Cruise was still technically married to Nicole Kidman when he met Penélope Cruz on the set of "Vanilla Sky," his divorce was finalized the same month he made his red carpet debut with Cruz in 2001. Cruise seemed like a pretty attentive and romantic boyfriend. "I surprise Penélope with different things. She'll come home, and I'll have her favorite kind of food made, have a bath drawn. I like doing stuff like that. She likes my food, so I cook for her," he told Marie Claire in 2003 (via Entertainment Weekly). "It's always the little things I like in a relationship." Hey, we have to hand it to the guy.
However, three years later, their high-profile romance was over. "The relationship just ran its course and they decided not to be girlfriend and boyfriend anymore," a source claimed to People in 2004. "Through most of the relationship they were both shooting movies in separate parts of the world." Why did the relationship end? Well, there seems to be a trend with Cruise's relationship troubles — his unyielding devotion to Scientology. 
Although a source alleged to Radar that Cruise was "head over heels" in love with Cruz and that the pair discussed marriage, the "Vicky Cristina Barcelona" star was reportedly unable to shake his devotion to the religion. "Penélope pulled the plug on the relationship because she felt that the Church of Scientology was the third wheel in their relationship," the insider claimed.
Salma Hayek and Edward Norton forged a bond that can never be broken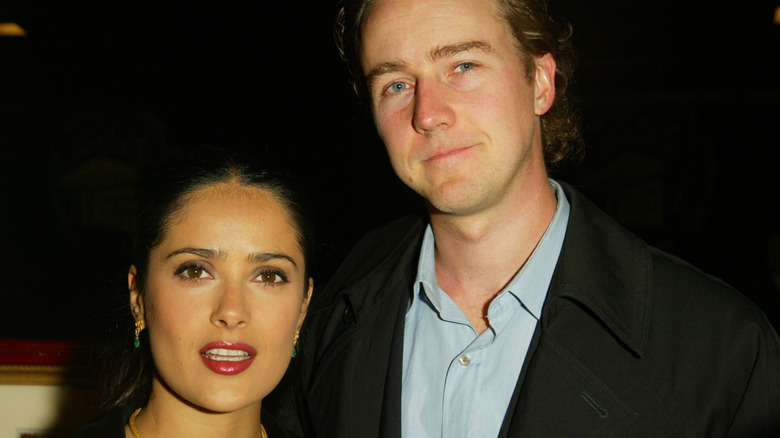 Salma Hayek and Edward Norton reportedly started dating in 1999, and their breakup was announced in 2003 by an unlikely source — Hayek's then-11-year-old "Spy Kids" co-star, Daryl Sabara (via People). In a 2013 interview with the Independent, Hayek reflected on her intensely private relationship with Norton. "We did thousands of things and nobody knows. Most of what is written about me isn't true … It's almost like I have a parallel life that no one knows about," she said. The two remained close friends, with Norton even attending Hayek's 2009 wedding to Francois-Henri Pinault, per CBS News.
Fast forward to a powerful 2017 op-ed written for The New York Times, in which Hayek revealed that disgraced producer Harvey Weinstein had backed out of their deal to make "Frida" after she repeatedly turned down his advances. "And with every refusal came Harvey's Machiavellian rage," she wrote. "He claimed that my name as an actress was not big enough and that I was incompetent as a producer, but to clear himself legally, as I understood it, he gave me a list of impossible tasks with a tight deadline."
However, with help from former flame Norton, she was able to make good on those demands. "Much to everyone's amazement, not least my own, I delivered, thanks to a phalanx of angels who came to my rescue, including Edward Norton, who beautifully rewrote the script several times and appallingly never got credit," Hayek wrote.
Zachary Quinto and Jonathan Groff's relationship 'just ran its course'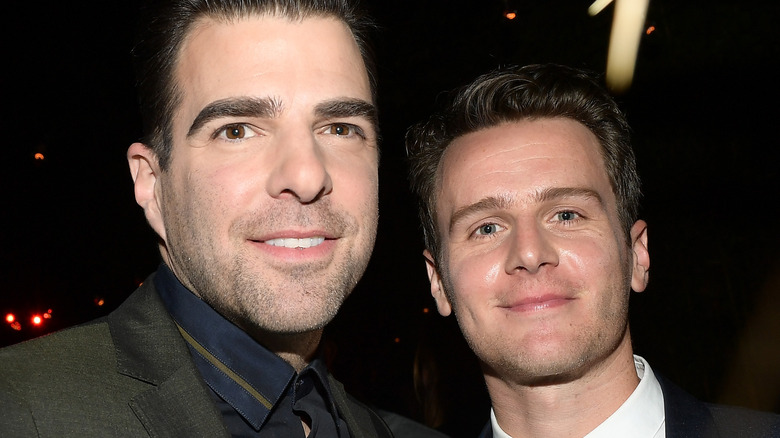 A year after coming out as a gay man in 2011 interview with New York Magazine, Zachary Quinto went public with his relationship with Broadway star Jonathan Groff. Speaking with Out, the "American Horror Story" actor discussed how their relationship was unlike his previous ones. "I'm incredibly happy, I'm incredibly lucky," Quinto told the publication. "I found myself in a pattern of being attracted to people who were somehow unavailable, and what I realized was that I was protecting myself because I equated the idea of connection and love with trauma and death."
Quinto added that it "took a lot of trial and error" to find someone "capable of being" in a relationship. But unfortunately, the pair called it quits in 2013. "Zach being away and filming was not easy on them," a source claimed to Us Weekly. "Now he's going to be in New York with his new play ['The Glass Menagerie']. They really loved each other, so it wasn't an easy split." The insider added that their relationship "just ran its course."
During a 2015 interview with FourTwoNine (via Pink News), Groff revealed that dating fellow actors is easier due to the mutual understanding. "I feel like in dating actors the nice thing about it is they understand the schedules involved or having to leave for three months to shoot something and all of that," the "Hamilton" star said, while name-dropping Quinto.
Liv Tyler called Joaquin Phoenix her 'first love'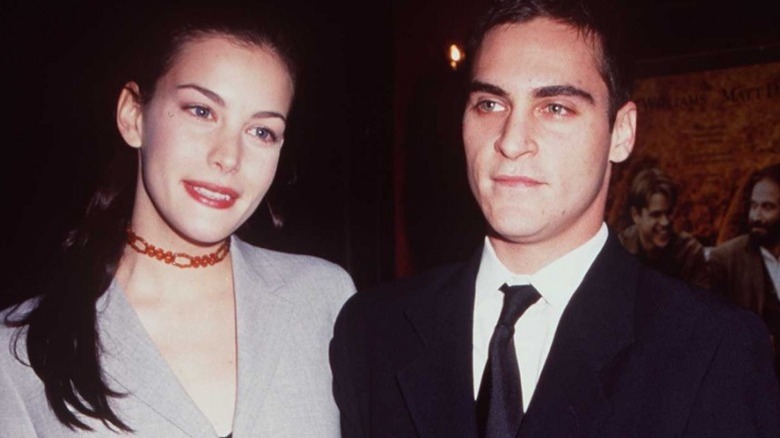 Everyone remembers their first true love. For Liv Tyler and Joaquin Phoenix, the stars aligned when they were co-stars in the 1997 film, "Inventing the Abbots." During an interview with The Morning Call (via Yahoo! Lifestyle), Tyler revealed that the attraction was instant. "I fell in love with Joaquin the second I saw him," she said, stating that they kept their love affair a secret from the cast and crew. "I didn't feel threatened or afraid of the idea to get involved with him when we were working," Tyler added. "I just kind of knew and hoped and prayed that I would love him forever."
She even went vegan for him. Now, you know that's love. However, the pair split in 1998, and during an interview with Cosmopolitan a year later, Phoenix explained their breakup in the most Joaquin Phoenix way possible. "I'm a great believer in people coming into your life, and you into theirs, for a reason," he said. "And I know that when Liv and I met, it was for a reason — I really needed her and she really needed me. And at a certain point, I think we stopped evolving with each other, stopped progressing, and made a very mature decision to move on, even though there was still a great love there."
For her part, Tyler told Elle in 2015 that she still considers "Joaquin and all of his sisters to be like family." She added, "He was my first love."
Ashton Kutcher and January Jones had a difference of opinion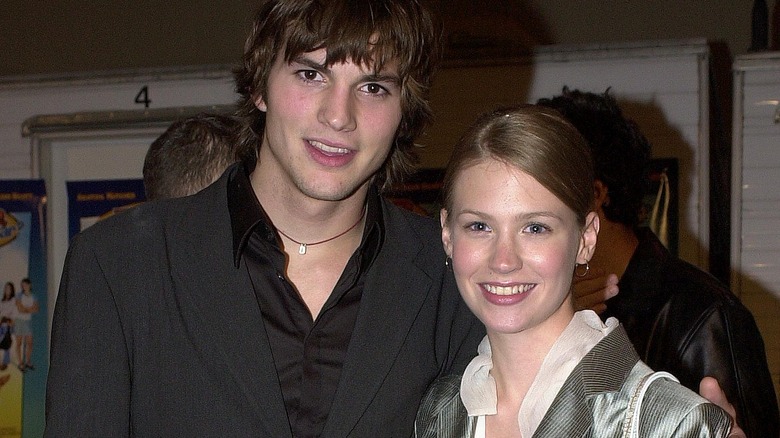 Ashton Kutcher and January Jones started dating in the late '90s, while he was a sitcom star and she was a model. The relationship ended in 2002 with Jones telling People the following year that romance "is too hard in this town." However, some tea was spilled in 2009, when the "Mad Men" star gave an interview to GQ and described a man whom the publication claimed to be the "That '70s Show" actor.
"The guy I was dating when I first got to L.A. was not supportive of my acting," she revealed. "He was like, I don't think you're going to be good at this. So — f**k you! He only has nice things to say now — if anything, I should thank him. Because the minute you tell me I can't do something, that's when I'm most motivated." Ouch.
During a 2016 appearance on "Watch What Happens Live," Jones was asked about that famous quote and she remained, well, diplomatic. "I said that someone I had dated previously wasn't encouraging of my acting — not that I couldn't. I don't know if that person had ever actually seen me act," she said. "But the person who wrote the interview did the math and thought it might be him. So, I never really said who it was." Jones then added, "I haven't talked to him … I'm super happy for him and his family, to be political and all that."
Courteney Cox and Michael Keaton were content to be homebodies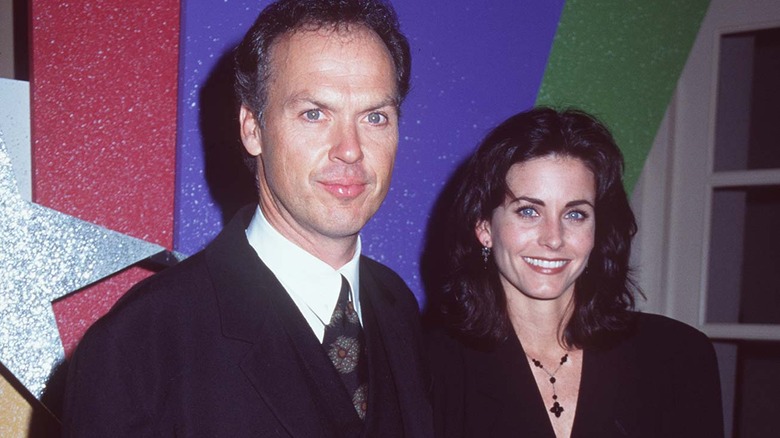 Did you know that Monica Gellar and Bruce Wayne dated for over half a decade? That's right, Courtney Cox and Michael Keaton split in 1995 after dating for five and half years. Speaking to People a mere four months after their breakup, a tearful Cox called their union "the most important relationship I've ever had" and referred to Keaton as "the most wonderful person I've ever met." The "Friends" star added, "We still love each other."
The pair were rarely seen together in public, but Cox claimed that all "the things we liked to do were all in the neighborhood," like shopping, going to movies, and cooking at her place. "He always came up with the most clever ways of making a line funny," she revealed, describing their practice of reading movie scripts together. "No matter how upset or pissed off I was, Michael could make a little face and crack me up."
Cox had met Keaton in 1989 after being a fan of his work portraying an alcoholic in the drama, "Clean and Sober," and their first date was at her house. "We talked for five hours," she said, adding, "We were sympathetic on so many levels. If something weird happened, we would turn to each other and just say, 'I know.'"
Leonardo DiCaprio and Gisele Bündchen will always have the dog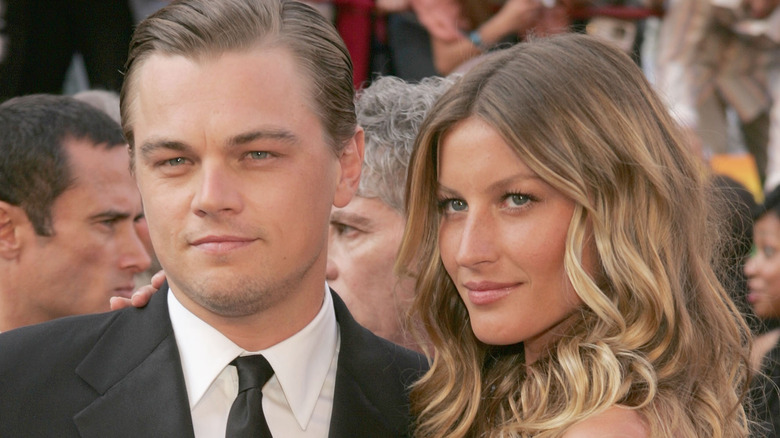 You may be asking yourself, who hasn't Leonardo DiCaprio dated at this point? One thing we know for sure is that the man seems to have a type. A movie star being involved with a supermodel is a Hollywood cliché, but the "Once Upon a Time…in Hollywood" star dated model Gisele Bündchen on and off from 1999 and 2005 — much longer than usual cliché.
In 2018, Bündchen opened up about her decision to break it off with the Oscar winner in her book, "Lessons: My Path to a Meaningful Life." After suffering from debilitating panic attacks, the fashion icon decided to completely change her lifestyle. "I had been smoking cigarettes, drinking a bottle of wine and three mocha Frappuccinos every day, and I gave up everything in one day," she wrote (via Vogue). "I thought, if this stuff is in any way the cause of this pain in my life, it's gotta go." DiCaprio also had to go, as she felt "alone" in her attempts to change her lifestyle.
The runway idol, who would go on to marry NFL quarterback Tom Brady, told Vanity Fair in 2009 that they "were just not meant to be boyfriend and girlfriend" (via Access Hollywood). "Leo is a really wonderful person," she said. "We still speak sometimes, and I'm friends with his mom. He still has one of my dogs. He's done a lot for the environment, and I admire what he's done."
If you or someone you know is struggling with mental health, please contact the Crisis Text Line by texting HOME to 741741, call the National Alliance on Mental Illness helpline at 1-800-950-NAMI (6264), or visit the National Institute of Mental Health website.
Sarah Jessica Parker compared her relationship with Robert Downey Jr. to a parent taking care of a child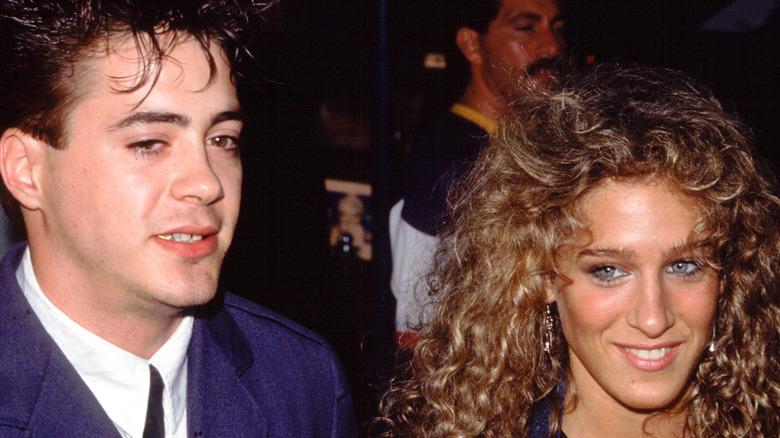 Sarah Jessica Parker and Robert Downey Jr. met on the set of 1984's "Firstborn" when they were both teenagers, and they immediately started dating. However, the pair broke up in 1991, because the future "Sex in the City" star grew tired of dealing with Downey's now-infamous past drug and alcohol addiction (via Vanity Fair). 
"[Sarah and I] actually had a very conservative relationship considering the fact that she was normal, and I was out of my mind," the "Iron Man" star later told Howard Stern in 2016. "I did the best I could." For her part, Parker told People that being with Downey "taught me how I love." But while reflecting on their relationship, she also revealed that being with Downey eventually turned into a mother-son dynamic: "The things that I ended up caring about and the way I cared for Downey, were things that might be more suitable for a parent." Ouch.
During an appearance on the "WTF Podcast with Marc Maron," Parker revealed that she stayed with Downey longer than she wanted because she was afraid he'd end up dead if she left him. "I just summoned the courage to leave him," she said. "The biggest, hardest choice about those kinds of relationships is feeling brave enough to leave, even if you're afraid they're going to die," Parker explained. "Because you stay, not because you're in love anymore… I just didn't want him to die. But we're friends, still."
If you or anyone you know is struggling with addiction issues, help is available. Visit the Substance Abuse and Mental Health Services Administration website or contact SAMHSA's National Helpline at 1-800-662-HELP (4357).
Cher put Tom Cruise in her 'top five'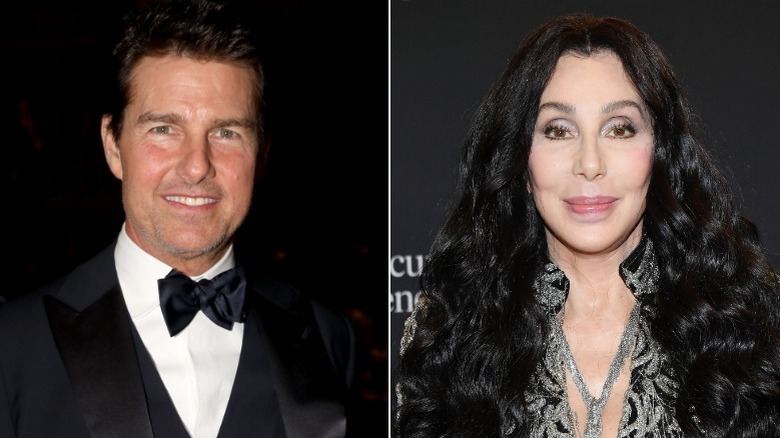 Right? We couldn't believe it either. Tom Cruise, the global movie star, and Cher, the iconic songstress and Oscar winner, dated in the mid-'80s. Cher was 16 years his senior, and during a 2008 interview with Oprah Winfrey (via the Daily Mail), the "Believe" hitmaker said she was once "crazy" about the young actor who just had his first big hit with "Risky Business."
It's hard to imagine Cruise ever having to adjust to fame, but when they were dating, Cher was the famous one. "He was shy. He said he felt like such a boob in school and nobody talked to him," she revealed. "We went on a date once for dinner in a New York restaurant and the waitress was from his old school. He told me she never talked to him back in school, but now he was recognized he got all her attention." Cher added, "It could have been a great big romance because I was crazy for him."
The pair first met in 1985 at Madonna and Sean Penn's wedding, and then reconnected after an assist from then-President Ronald Reagan. "Then a bunch of people who were dyslexic were invited to the White House, and Tom and I are both dyslexic," she said (via the Daily Mail). Although their affair was brief, Cruise made a lasting impression. When asked by Andy Cohen in 2013 to rank her lovers, Cher replied, "He was in the top five" (via the New York Daily News).
Liam Neeson was 'smitten' with Helen Mirren the moment he saw her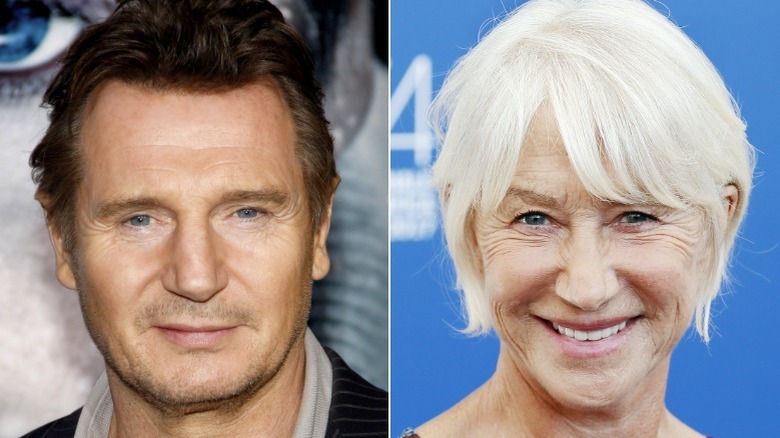 Liam Neeson and Helen Mirren met in 1980 on the set of "Excalibur," and the sparks instantly flew. While both were guests on "The Graham Norton Show" decades later in 2018, the pair reminisced about their relationship. "We didn't [just] date, we lived together [for four years]," Mirren said. "We were a serious item for a while."
Neeson recalled his first time visiting the movie's set, when he and fellow actor Ciarán Hinds were asked if they wanted to meet Dame Mirren, who was already filming and in costume. "She walked from like a hundred yards away dressed as Morgana le Fay, and Ciarán's my oldest friend, and we both went, 'F**k,'" Neeson said to a laughing audience and a blushing Mirren. He added, "I was smitten. I think Ciarán was smitten, too, [but] I was certainly smitten." Mirren replied, "You never told me that before, that's amazing."
The relationship ultimately ended, because while Mirren was already a huge star at the time, Neeson was not and couldn't seem to handle that. "It was difficult for him to be under my shadow," Mirren told The New York Times Magazine in 1994. "I was well known; I had the money." She added, "I had a sense from Liam that it was time for him to come out from under my wing. He handled it with great elegance and grace. We loved each other. It was difficult to let go."
Source: Read Full Article