Cassie Randolph has been through it. Her nasty breakup with ex-boyfriend Colton Underwood has understandably taken a toll on her. Cassie split from Colton after they fell in love on The Bachelor. The breakup turned dangerous when she filed (and later dropped) a restraining order after claims that Colton put a tracking device on her car.
Cassie has a new man in her life now, Us Weekly reports. Sources say that her relationship with musician Brighton Reinhardt "progressed naturally." The insider explains, "He's been a good friend of hers for over five years. He obviously knows what she went through with Colton and just supported her along the way."
https://www.instagram.com/p/CNvmUHGnUcC/?utm_source=ig_embed&utm_campaign=loading
A post shared by Cassie Randolph (@cassierandolph)
Apparently, Cassie and Brighton have a totally healthy relationship. "He gets along very well with her family," the source says. "Right now, they're still enjoying spending time with one another and just seeing where things go."
Brighton isn't afraid to stick up from Cassie either. Earlier this year, he wrote a song that's seemingly about Colton. "Creep," which released in January, includes some pretty harsh lyrics. "You can't stop thinking about my baby / What once was yours in the world is changing / God, I hope you get your thinking right / GPS on the underside / Told her everything will be just fine / Damn, I can't believe these guys."
Colton recently came out as gay on Good Morning America and Cassie has yet to make an official statement about where they stand now. However, she did thank her fans for their support after Colton was in the news after the interview.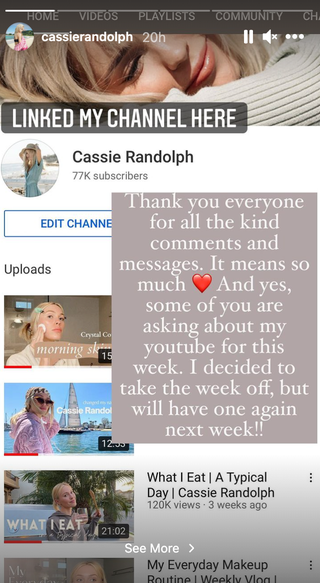 "Thank you everyone for all the kind comments and messages. It means so much ❤️ And yes, some of you are asking about my youtube for this week. I decided to take the week off, but will have one again next week!!"
Keep living your best life, Cassie!
If you're a victim of stalking, contact the National Center for Victims of Crime hotline at 1-855-4-VICTIM (1-855-484-2846). If you or someone you know is a victim of domestic abuse, contact the National Domestic Violence Hotline at 1-800-799-7233 or text LOVEIS to 22522.
Source: Read Full Article