Blake Horstmann easily became a Bachelor Nation fan-favorite when he first appeared on Becca Kufrin's season of The Bachelorette. However, the tides changed by the time the reality star left the beaches of Bachelor in Paradise. During the sixth season, Horstmann was at the center of all the controversy. And as a result, he received plenty of backlash. Now, Horstmann's contract is up and the 31-year-old is spilling all the tea, including what he thinks is the worst thing about Bachelor Nation.
Blake Horstmann claims the worst thing about Bachelor Nation is the hypocrisy from old contestants
On April 29, Horstmann answered fan questions on Instagram Stories. He detailed his experience on Bachelor in Paradise as well as the franchise as a whole. Then one viewer asked the reality star about the worst thing about the Bachelor Nation community.
"I'm gonna go outside the box here," Horstmann wrote on Instagram. "In my opinion the worst thing about BN is the hypocrisy within it. All these old contestants have these pods and forget how hard that environment is and how much the hate sucks."
He continued: "They forget they made mistakes, hated the hate, and went on the show for reasons other than love, yet they tear people down for the same thing. It blows my mind. No one in BN is perfect and yet even other BN people hold others to impossible standards."
Blake Horstmann calls out Nick Viall on Instagram
Now Horstmann didn't name names. But when another fan asked whether he would ever go on Nick Viall's podcast, Horstmann confirmed his appearance is unlikely.
"I would rather eat sh*t in my hand and clap," Horstmann wrote. "He talks sh*t about everyone."
Previously, Viall put Horstmann on blast over the now-infamous text messages with Caelynn Miller-Keyes. The Viall Files host called Horstmann's actions "premeditated," claiming the messages were released to shift the public's opinion back in his favor.
"He wanted people to keep thinking he was, say, more Ben Higgins than some other f*ck boy," Viall said at the time. "It didn't go his way and then he decided to retaliate."
Viall continued: "It was more important for him to try to change people's opinions back to like, 'Oh, Blake is just a sweet boy who this was just one weekend where he got a little drunk and had a little bit of sex.' No, he's been f*cking crazy for an entire year."
Blake Horstmann hints the haters still faze him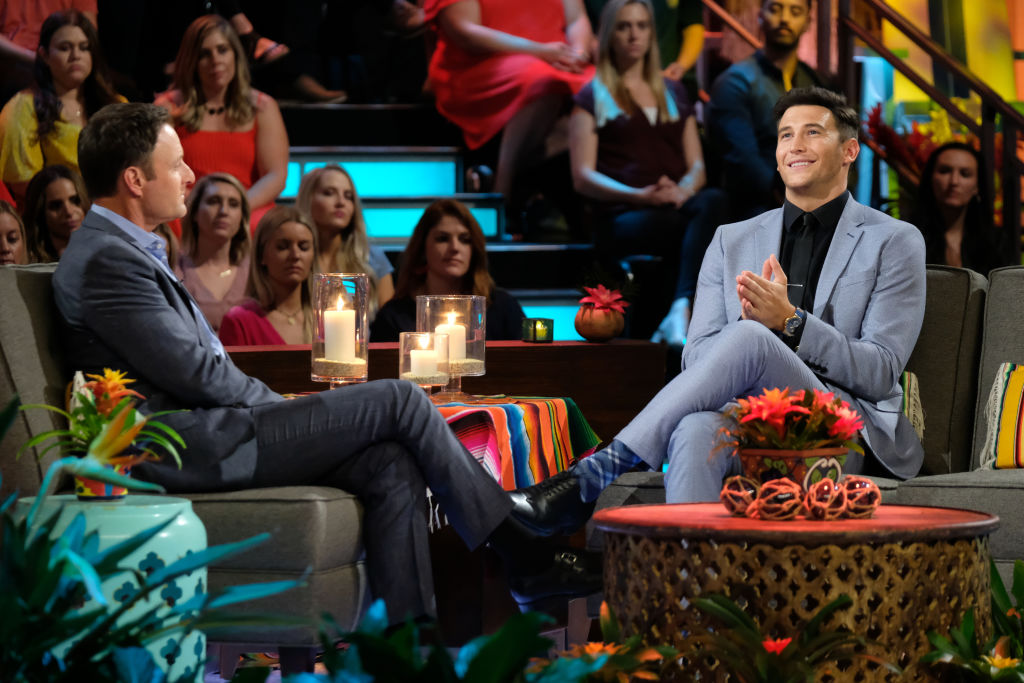 Whether or not you believe it's justified, Horstmann and other members of Bachelor Nation receive a large amount of hate, not just within their own community. Then during the Instagram Q&A, a fan asked, "How do you deflect the haters and not let them faze you?" But it seems the hate still affects Horstmann.
"Honestly they will always faze you," he wrote. "If someone says it doesn't they are lying."
Nevertheless, the reality star shared that dealing with the comments just takes time.
"You begin to get thicker skin over time," Horstmann wrote. "I always compare it to getting into shape. Sometimes getting into shape isn't about getting stronger it is about how fast you can recover."
He continued: "Same with the haters. It will hurt no matter what, but over time you will get in better 'shape' and you will get over it faster."
Read more: 'BIP': Blake Horstmann Said He and Kristina Schulman Are Going to Hang Out at Stagecoach Festival Again
Source: Read Full Article