Bravo producer Andy Cohen shared that he was feeling better after dealing with symptoms from COVID-19 (coronavirus) and is ready to launch Watch What Happens Live with Andy Cohen from home.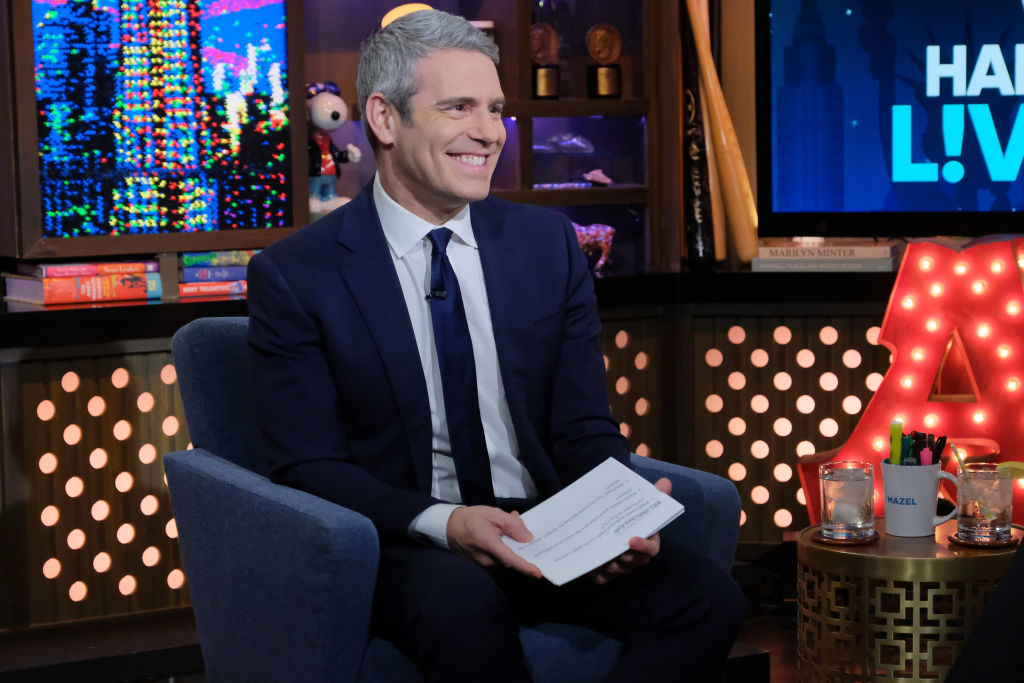 Cohen announced on March 20 that he tested positive for coronavirus. "After a few days of self-quarantine, and not feeling great, I have tested positive for Coronavirus.  As much as I felt like I could push through whatever I was feeling to do #WWHL from home, we're putting a pin in that for now so I can focus on getting better.  I want to thank all the medical professionals who are working tirelessly for all of us, and urge everybody to stay home and take care of themselves," he shared to Instagram along with a photo.
Cohen managed to tweet and make a few comments on Instagram during the past week as the virus worked its way through his body. He also shared that the hardest part about testing positive was being separated from his son Benjamin while self quarantining.
He's back, baby!
On March 20, Cohen decided to host WWHL from home and shared the news only hours before he learned that he tested positive. "WWHL @ HOME Starts Sunday night at 10 on Bravo featuring Jerry O'Connell, Nene Leakes, & Ramona Singer! Monday I've got JOHN MAYER! This is gonna be even lower-tech than WWHL, but as much of a party!"
However, once he knew he was positive for the virus he rested and took time to recover. But 10 days later, Cohen announced he was ready to host his Sirius XM radio show and WWHL from home. He sounded strong and engaged on his radio show Monday morning when he interviewed Gwen Stefani.
He also posted a photo looking healthy (and fully dressed) to Instagram. "Happy to report I'm feeling better and am returning to @radioandysxm  this morning, and will try to end your day with a smile when we begin [email protected] tonight featuring @neneleakes @lisarinna @mrjerryo! THANK YOU TO EVERYONE ON THE FRONT LINES OF COVID-19!"
Fans were overwhelmed with happiness to see that Cohen was doing so well. "SOOOO HAPPY! You look great x♥️," Dorinda Medley from The Real Housewives of New York City wrote. Teresa Giudice from The Real Housewives of New Jersey added, "Yeahhhhhhhhh!!!!!!!!! 😘😘😘😘😘😘😘." Other Bravolebs who made happy remarks include Kyle Cooke from Summer House and Emily Simpson from The Real Housewives of Orange County.
What can fans expect?
Cohen will host a "virtual" WWHL so he won't come in direct contact with any of his guests. Jill Zarin from The Real Housewives of New York City misunderstood at first and thought Cohen was inviting guests to his home for the show. "No! He might be carrier!" she wrote on his Instagram announcement.
According to Deadline, "The network says he's feeling better and he will remain in quarantine to shoot new episodes remotely from his New York City apartment. Celebrity guests will appear via video chat, 'with special games, at-home show-and-tells, and surprises.'" The first guests are Nene Leakes, Lisa Rinna, and Jerry O'Connell. Tuesday night will include Stassi Schroeder, Brittany Cartwright, and Jax Taylor. Then, John Mayer will join Cohen remotely on Wednesday. Thursday's guests are Kyle Richards, Ramona Singer, plus Melissa and Joe Gorga.
The WWHL staff will continue to work from home. They've shared photos of their video chat meetings to Instagram too. Cohen attended wearing his fluffy white robe. "The #WWHL family misses you & hopes to be back soon! 💙," the show shared along with many smiling faces.
Source: Read Full Article