During part one of the 90 Day Fiancé: Happily Ever After? Tell-All, star Andrei Castravet was in the hot seat. Andrei and his wife, Elizabeth Potthast, looked back at their tense time in Moldova this season. Her family was right there with them to call him out for all of his mistakes. But during the special, Andrei seemed to be more interested in slamming Larissa Dos Santos Lima. When he pointed out that Larissa ditched her kids, did Andrei have an ulterior motive?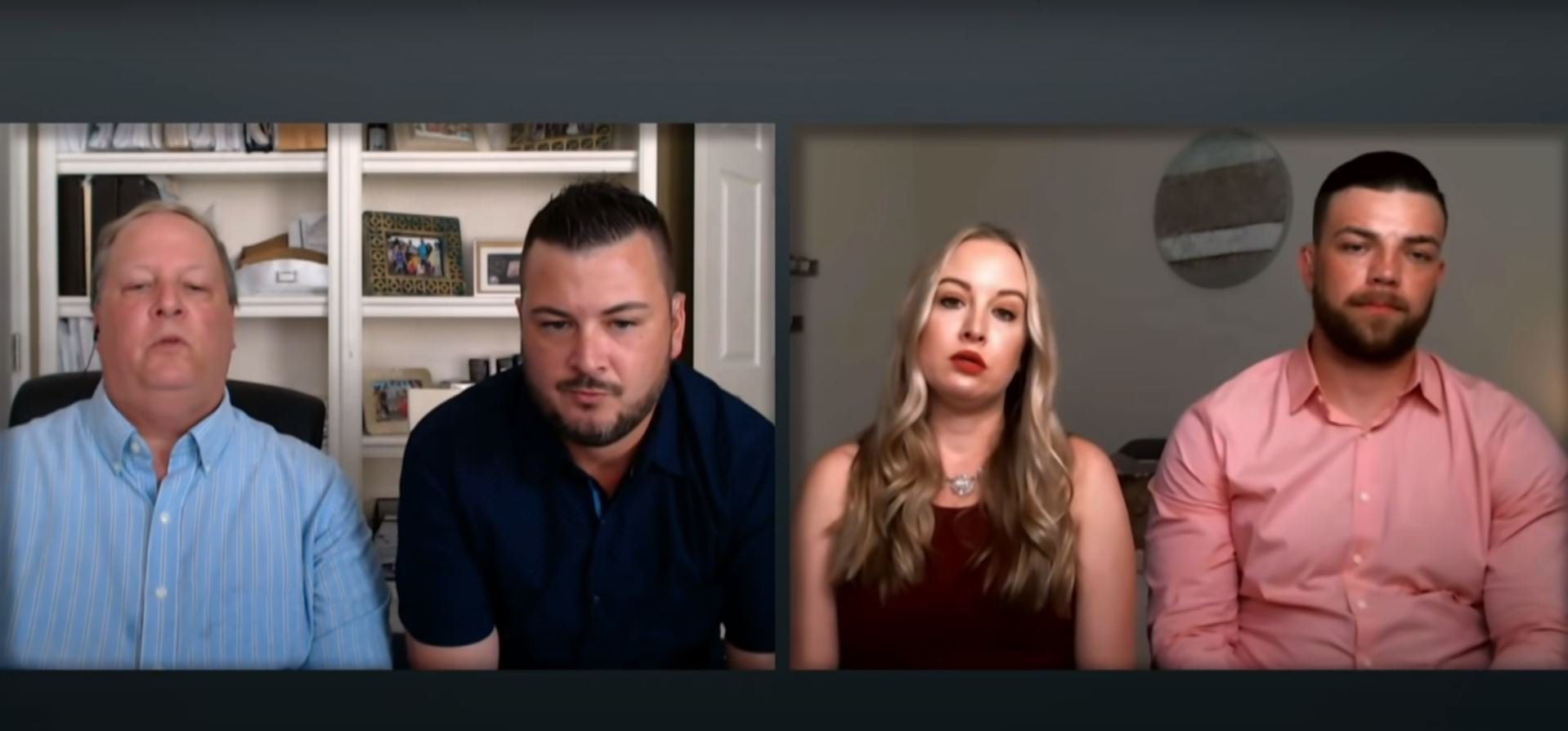 Elizabeth Potthast calls Andrei Castravet her 'partner in crime'
Elizabeth's family had plenty of complaints about Andrei during the Tell All. Just like they did during this season of Happily Ever After?, the Potthast family had issues with Andrei being a stay-at-home dad.
Andrei still proclaimed himself to be the "man of the house" even though he doesn't have an income. However, Elizabeth's sister Jenn pointed out that her father Chuck paid for two weddings.
Jenn said that Chuck didn't pay for her wedding or for her brother Charlie's wedding. But, Chuck dished out cash for Andrei and Elizabeth's wedding in America. And then he did it again a second time for a lavish wedding in Moldova.
"You told me that you were gonna have my dad wrapped around your finger is what you told me at your wedding," Jenn claimed, with Andrei saying she was lying.
According to In Touch Weekly, Elizabeth later defended her husband for being a stay-at-home dad. She posted a pic of the couple on Instagram. In the caption she referred to Andrei as her "partner in crime."
The '90 Day Fiancé' star refuses to apologize for the harsh words to his wife
During the 90 Day Fiancé: Happily Ever After? Tell-All, Andrei confirmed that he was taking care of his daughter Eleanor. Meanwhile, Elizabeth is working with her father so they have an income.
Another issue Elizabeth's family had was about how Andrei treated Elizabeth when they were in Moldova. The couple fought constantly during their trip – usually about her family. At one point Andrei almost came to blows with Charlie and nearly ruined the wedding.
The couple watched the replay of that fight, which ended with Andrei cursing at Elizabeth. He also told her she had to come home because she is his wife. She cried during the video replay, and Chuck was angry because Andrei "dropped F-bombs" on his daughter.
Chuck also told Andrei it was time for him to take responsibility for his words and behavior. But when host Shaun Robinson asked if he would apologize to his wife, Andrei refused.
"I was just drunk, that's it," he said. "When I look at these tapes back, it's not fully, like, my fault, you know? I was provoked, like, big time."
The '90 Day Fiancé' star tries to shift the focus away from his villainous ways
It was clear that Andrei was supposed to be the villain of the 90 Day Fiancé: Happily Ever After? Tell-All. While he was taking shots from Elizabeth's family, he called out Larissa over ditching her kids.
Some fans took this as Andrei shifting the focus away from him as the villain and attempting to put it on her. As Soap Dirt notes, Andrei slammed Larissa over her numerous plastic surgeries. He also called her out for leaving her three children in Brazil.
He accused his fellow 90 Day Fiancé star of being unrecognizable after her surgeries, describing her as "Michael Jackson 3.0." He also asked where her kids were now and angered Larissa in the process. She started cursing at Andrei. Larissa also defended herself by saying that all of her plastic surgery benefits her children.
Larissa also insisted she sends money to her daughter. But, she didn't mention the other two children. It was revealed after part one that TLC has fired Larissa because of her connection to the website CamSoda.
Part two of the 90 Day Fiancé: Happily Ever After? Tell-All airs Sunday, October 4 on TLC.
Source: Read Full Article