It wasn't so long ago that footwear, particularly sneakers, were an afterthought on the runway. But now, you can't get through fashion week without seeing almost every designer aiming for a viral hit, and turning their hand towards creating what they hope will prove to be their version of the Triple S, Dior's B23, or Geobasket. 
As Paris Fashion Week SS22 comes to end — and as the first full round of shows taking place in real life, as opposed to via digital presentations — designers were on top form, with their experimentation switch turned to the max. 
It was a season of brands finding new ways to experiment with their signatures. At Margiela, for example, the focus was on Wellington boots, including a variation on the archetypal Tabi ankle boot — proving that elongated styles aren't going anywhere for at least another season to come.
Raf Simons never fails to deliver note-worthy footwear on the runway, but interestingly the Belgian icon decided to step away from any collaborative sneakers or his in-house line of (RUNNER) shoes, instead opting for formal derbies injected with a punk twist thanks to the messy stitching around the eyelets and grungy black-on-black aesthetic, paired with subverted formalwear for a more subtle Simons.
Elsewhere, the likes of Givenchy, Lanvin, and COMME des GARÇONS also had lots to say on the runway. Here's the best footwear on show from PFW SS22.
Givenchy
1 of 2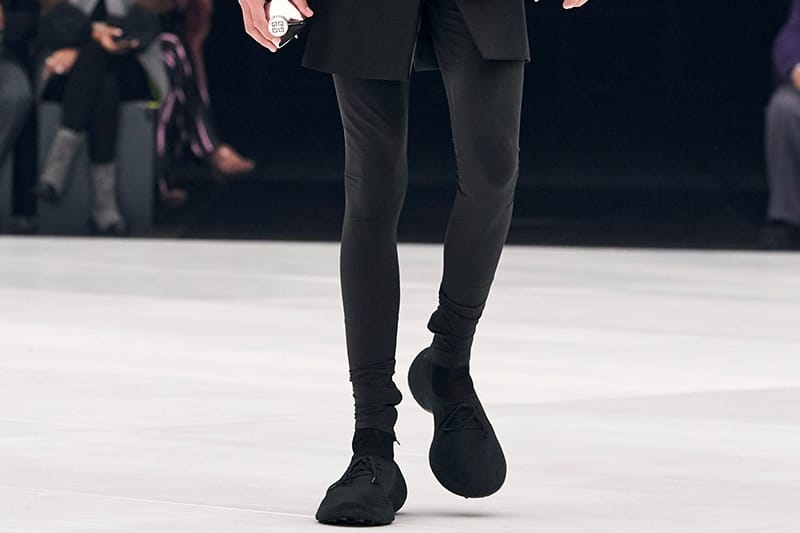 Givenchy/Matthew M Williams2 of 2
Givenchy/Matthew M Williams
Givenchy's Matthew M Williams teased these kevlar runners late last month, before giving us a comprehensive look at the style in all their futuristic glory during the SS22 show. Some would liken them to the YZY KNIT RNNR, but it looks as if Givenchy's iteration is much more structural and considered than Kanye's offering. Here, the shoe has been made entirely from a knitted material in one seamless touch from sole to upper, while the sole unit itself even incorporates triangular studs and a plate into the bridge for traction and support. On the runway they appeared with laces — it's safe to assume that both pairs will release and follow in the footsteps of other technical drops, such as the Givenchy Monumental Mallow.
Balenciaga
1 of 4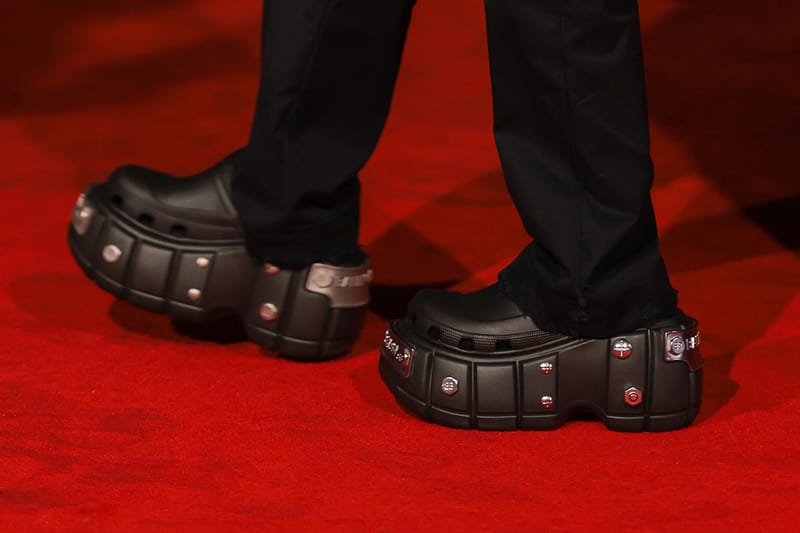 Jeremy Moeller/Peter White/Jacopo Raule/Getty Images/Rob Nowill2 of 4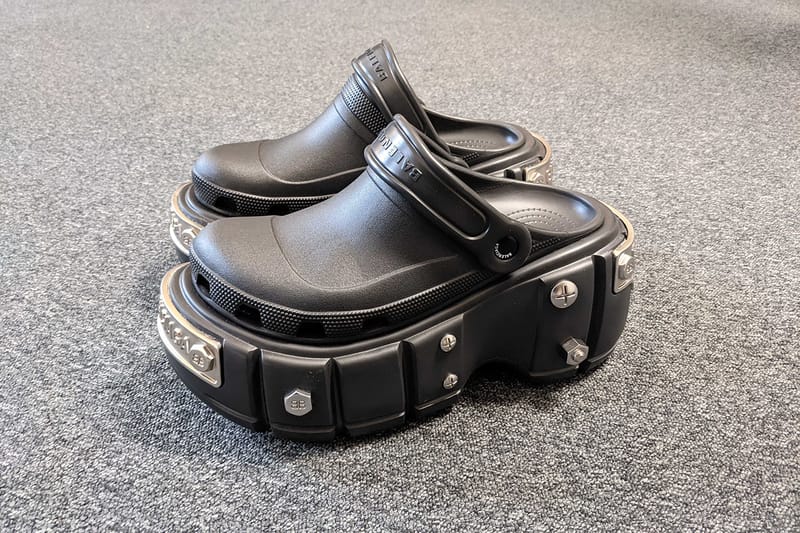 Jeremy Moeller/Peter White/Jacopo Raule/Getty Images/Rob Nowill3 of 4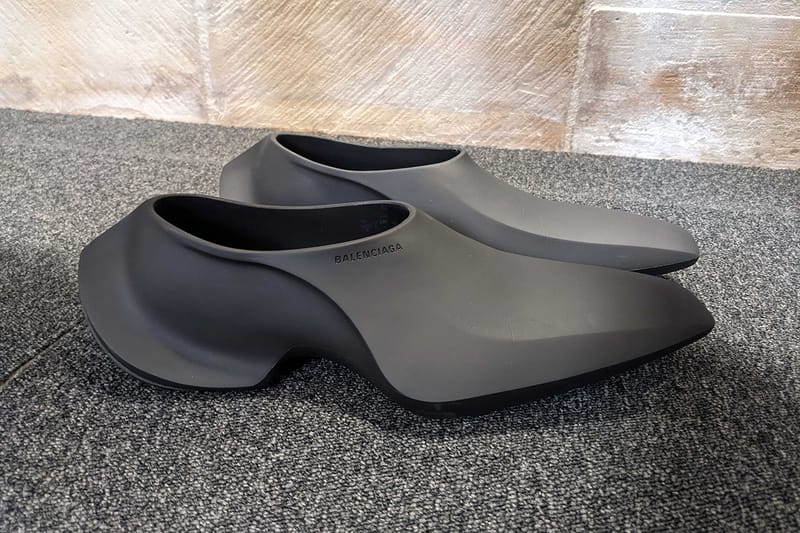 Jeremy Moeller/Peter White/Jacopo Raule/Getty Images/Rob Nowill4 of 4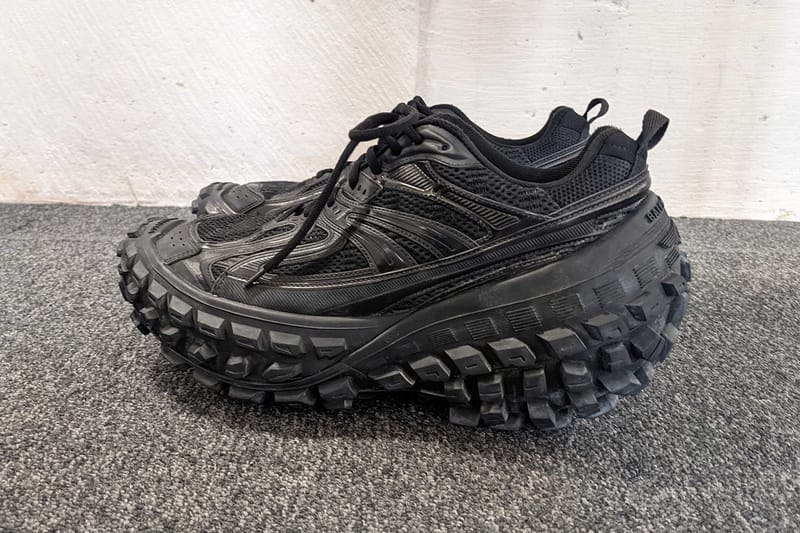 Jeremy Moeller/Peter White/Jacopo Raule/Getty Images/Rob Nowill
If you went on Instagram before its meltdown yesterday, we suspect you've been unable to escape the dominance of Balenciaga this season. What was undoubtedly one of PFW's best shows was capped off with a cameo episode from The Simpsons, and littered throughout both presentations was a heavy presence of boundary-pushing footwear. Notably, Balenciaga is back in tandem with Crocs with a gothic platform take on the classic clog, sitting four inches higher than usual while also sporting a metal branded kick plate and hardware all around the sole unit. Additionally, uni-piece 3D-printed slip-ons served more medieval looks following on from its Fall 2021 knight boots, while the recently-released Runner Sneaker, as worn by Justin Bieber, sported a technical tire-like makeover. 
HELIOT EMIL
1 of 2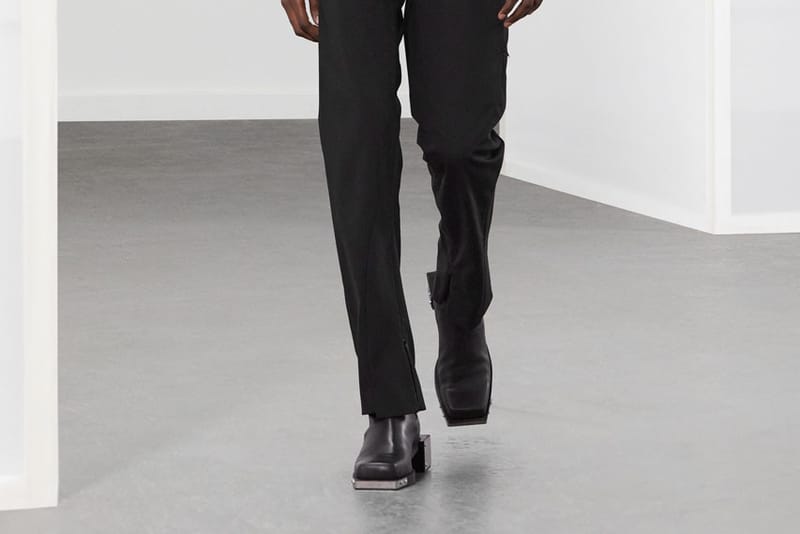 Heliot Emil2 of 2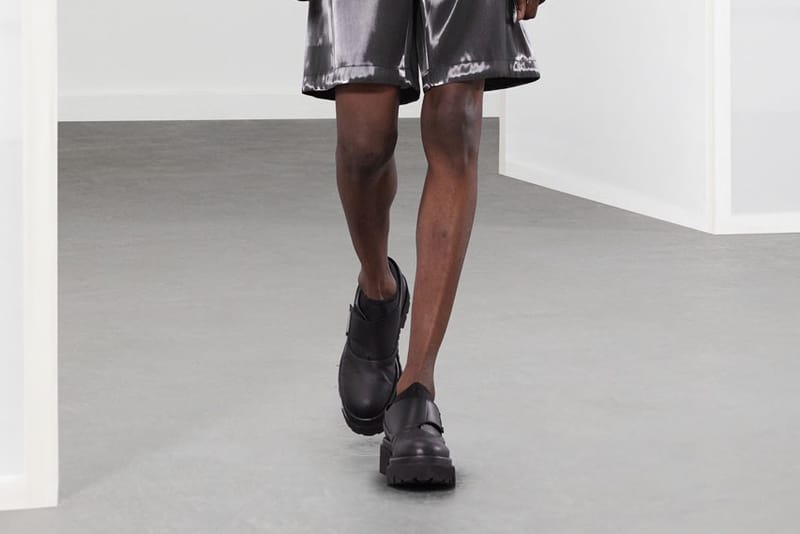 Heliot Emil
Brothers Julius and Victor Juul have been making waves in the four years they've been showing at fashion weeks, and SS22 might be the duo's most progressive to date. The metal-clad heels that it's become known for reappeared in more menswear styles, offering a bulkier and more utilitarian aesthetic at the heel and outsole, while low-top slip-on strappy clogs in black show a softer side to the Copenhagen-based brand, leaning towards traditional formal cues rather than its usual interpretive approach.  
COMME des GARÇONS
1 of 2
Comme Des GarÇons2 of 2
Comme Des GarÇons
Rei Kawakubo's COMME des GARÇONS has become a collaborative melting pot, and for SS22 it is bringing back Salomon. Various iterations were on show; from simplistic black nylon and white technical mesh slip-on runners to even further stripped-back triple-white pairs that feature black branding on the lateral side, neatly stamped towards the laces. What was appreciated, though, is that each pair of Salomon shoes was paired with branded socks that lead the eye towards the shoe and back to the sock, making it look like one piece when, in fact, they are just low-tops. 
Lanvin
1 of 2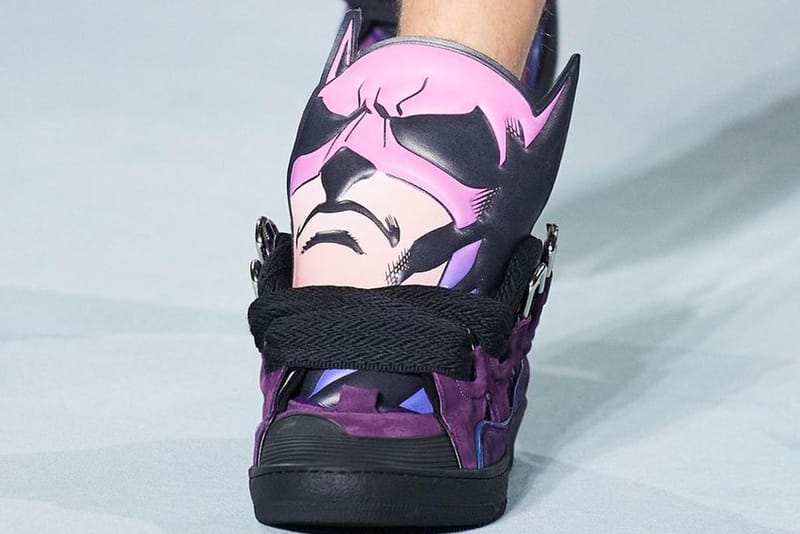 Lanvin2 of 2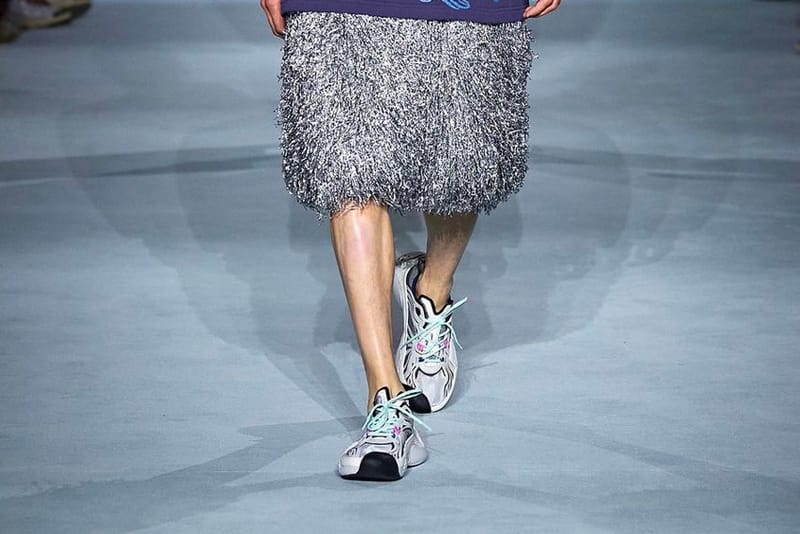 Lanvin
The Curb Sneaker was a surprising twist — and hit — for Lanvin when it debuted earlier this year, and the '90s Osiris D3-esque sneaker isn't going anywhere for SS22. Presented in an array of new iterations, standouts included the Batman mask-inspired pair that sees the vigilante's face rework the oversized tongue, while others appeared in blue, glittery, fuzzy takes adorned with the pair's signature fat laces. A new pair of runners were also debuted this season, surfacing in blue, brown, and white with metallic gold colorways, showing Lanvin's continued fascination with the '90s and Y2K footwear. 
Balmain
1 of 2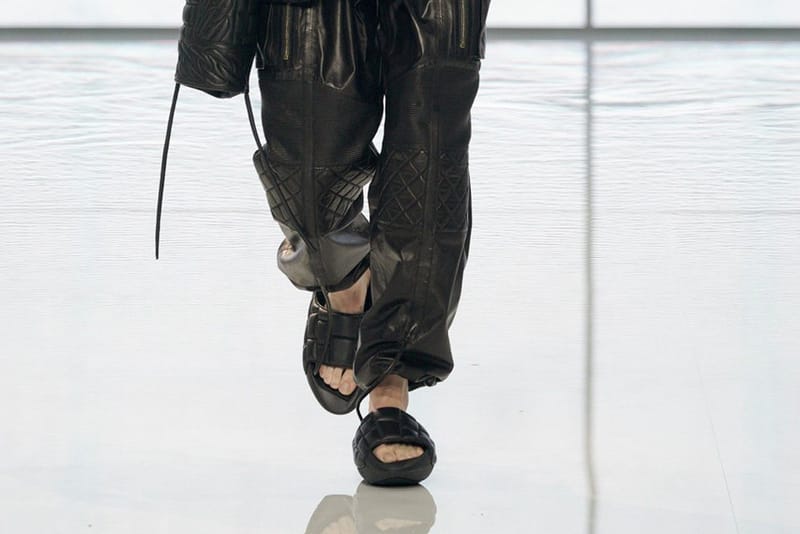 Alessandro Lucioni/Gorunway.com/Safa Sahin2 of 2
Alessandro Lucioni/Gorunway.com/Safa Sahin
Another inescapable pair this season has been Balmain's pillowy slides, designed by its head of sneaker design Safa Sahin. While some have noted similarities to the YEEZY aesthetic, these are a clear progression forward, and a smart evolution of the new-ubiquitous padded slider. A round and bulbous sole unit looks to be made from rubber, while a large covering of soft padded leather sits on top and holds your foot in place. Some appeared with debossed interlinking locks on them, others with gold foil Balmain branding, but what we do know is that they look very comfy and, if anything, draw from the likes of Yohji Yamamoto's platform sandals made in collaboration with adidas in 2004.
Source: Read Full Article