Nick De Paula has worked as the creative director of Nice Kicks, served as the chief editor of Sole Collector Magazine, and is currently ESPN's foremost authority on basketball sneakers. He's seen pretty much every sneaker imaginable over his decade-plus in the game, but even after all those years and all those shoes, there's one that still stands out to him:
Nick De Paula
HYPEBEAST: What got you into sneakers?
Nick De Paula: My love of sneakers grew from playing basketball as a kid. I was really inspired by guys like Penny Hardaway, Jason Kidd, Jason Williams and Kevin Garnett. Naturally, you gravitate to looking at what they're wearing on the court, like the rubber band KG wore on his wrist, Jason Kidd's armband and, of course, everyone's sneakers. I didn't have all the "best" sneakers growing up, and always joke with my mom that my whole obsession with sneakers might have ended if she'd bought me a pair of Air Penny 2s as a 6th grader [laughs]. I had a $40 shoe budget in middle school and a $50 shoe budget in high school so I had to get real resourceful, whether that was combing through Marshalls and Ross trying to find stuff or digging into Eastbay and Final Score catalogues. I loved that hunt.
So that firm budget made you desire those "really good" sneakers more than you would've if you could have had whatever kind of shoe you wanted?
Oh, of course. The Air Zoom Flight 95 was the first shoe that really did it for me. The second I saw that black colorway with the carbon fiber, I knew there was nothing like it out there. Jason Kidd was playing for the Dallas Mavericks at the time and wearing them every game. I wanted them more than anything, but they were $110, more than twice my budget. Instead, I wound up getting the Air Thrill Flight [a takedown model of the Air Zoom Flight 95] at JCPenny for $58, and had to chip in $18 from my childhood chores. That Thrill Flight was honestly a really solid shoe, but the Air Zoom Flight 95 was this aspirational thing for me that I always wanted to get my hands on. Once I got to college, I got a debit card just to link it to my eBay account and buy a pair of Zoom Flights. I think that was my first real step down the path of collecting.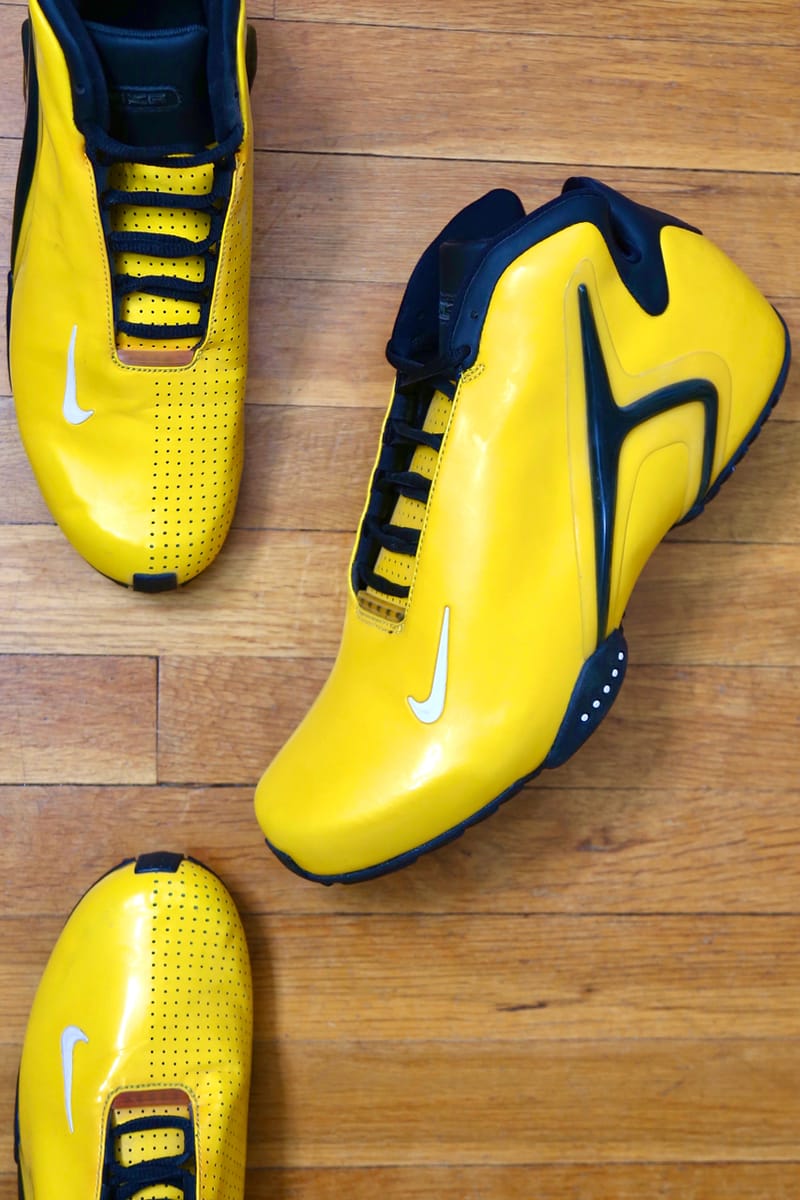 Nick De Paula
Let's talk about another one of your favorites: the Zoom Hyperflight. You grew up in Sacramento — I'm assuming that you were a big Kings fan and introduced to the shoe by Jason Williams?
Absolutely. The Kings were my favorite team. Growing up in Sacramento, that was our only pro sports team. Purple is my favorite color as well, and although sneakers dropping in really wild colors is commonplace nowadays it wasn't as much so when the Hyperflight debuted back in 2001. J-Will played in a purple pair, a silver pair, and an all black pair, but my high school basketball uniforms were red. I was working as a lifeguard in the summer at the time, and saved up to buy a red pair. It was the first shoe I ever bought with my own money, and at $125, it was a lot back then. I pre-ordered them off Eastbay like 3-4 months in advance, thinking that they were going to sell out. When I showed up to practice with them, my teammates roasted me — they called me "Dorothy," like the Wizard of Oz [laughs].
From a design standpoint, it was an interesting time because there were a lot of really flashy shoes around the turn of the century. The Hyperflight was so sleek, so futuristic, with that glossy upper and those thin black lines. Of course, it's not actually that great of a basketball shoe because it's kind of flimsy and creases like crazy — but I love the design so much that I own 12, 13, 14 pairs now and the original release too.
It's interesting that a shoe can look so unique but be so lacking in the performance department. I recall reading that Jason Williams actually changed out of the Hyperflight in the 2001 playoffs because it wasn't holding up the way he wanted it to.
That was always funny to me too, especially because shoes for guys like Michael Jordan and Penny Hardaway looked great and played great as well. The Hyperflight really didn't. J-Will switched into the Air Force Carbide in the playoffs, and Terrell Brandon had a pretty bad injury while wearing a pair. Damon Stoudamire and Derek Fisher had PEs as well, and they'd switch in and out of them.
"Although Tinker Hatfield is Nike's most groundbreaking designer I think Eric Avar is Nike's "best" designer."
With that being said, where do you think the Hyperflight stacks up in Eric Avar's greater design catalogue?
That's a tough question, because although Tinker Hatfield is Nike's most groundbreaking designer I think Eric Avar is Nike's "best" designer. Between the Foamposite line, the Flightposite line, all his signature work with Kobe Bryant's shoes he's got a lot of hits. I'd probably put the Hyperflight in the top 10 of his catalogue, but it's a hard choice because he's made so much great stuff over so many decades.
After high school and college, you're working at Sole Collector and Nice Kicks, doing a lot of collaborative projects. I'm sure working on those collaborations changed your view on footwear — did it make you appreciate the Hyperflight more?
Yeah, man. Our projects were usually rooted in a player or technology that we were really excited about and wanted to do a lot of storytelling around. One of those shoes was the Zoom Flight Club, which — by no mistake — draws in part from the Hyperflight, plus the Air Flight '89 and the Air Zoom Flight "The Glove". We did around 20 collaborations in total, really cool stuff like a five-shoe pack we released with Penny Hardaway in Las Vegas, but the Flight Club was my "full circle" project, where I was like "we're gonna do this one in purple, it's made of unmolded Foamposite material, it's gonna look like a Hyperflight and that's the whole idea." Being able to take these icons from the past and reintroduce them in a new way was a blast.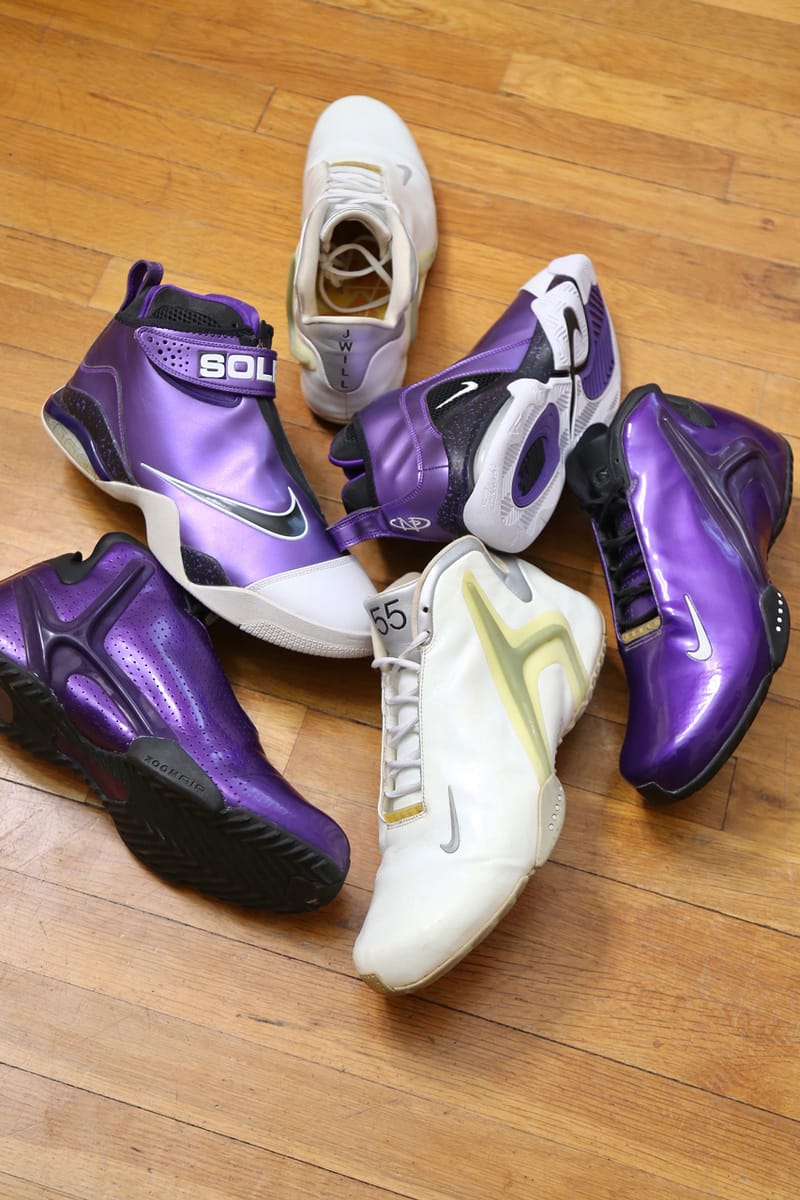 Nick De Paula
Do you want the Hyperflight to be retroed again, or would you prefer that Nike keep it in the archives?
I would like for it to be retroed correctly, which hasn't happened yet [laughs]. The last time they brought it back out, which was like 2013 or so, it was really on the heels of things like the Air Foamposite One "Galaxy," and the Air Foamposite One "Fighter Jet," so there were a lot of graphics being presented at that time. The Hyperflights were the same — there was one with a tiger print, the colorways were all over the place. Personally, I didn't care for any of those retros. What made the Hyperflight so great was how clean it looked: bright colors with black borders. When they retroed it, they gave it a whole different read and it wasn't something I was super excited about.
"You can argue that guys like Kanye West, Virgil Abloh and Travis Scott are more impactful to consumers than whatever three athletes with signature lines you can think of."
No matter how technologically advanced modern-day signature basketball shoes may be, they don't seem to excite people and become cultural touch points the way Air Jordans and old Nike Basketball signature models did. Why is that? Is it because of the new designs themselves, or is it because musicians, designers and the like are the "new athletes" when it comes to moving products?
That's definitely a big piece of it. You can argue that guys like Kanye West, Virgil Abloh and Travis Scott are more impactful to consumers than whatever three athletes with signature lines you can think of. Another huge part is how style has shifted. In the '90s, everything was so blocky and bulky. Now, most things are a little sleeker and slimmer and the artists' shoes fit into a lifestyle look a lot better than something from, like, LeBron James or Kyrie Irving's signature line that has to be built a certain way to hold up on the court.
Do you think there are any models or lines that have the potential to become classics when we're looking back on this era of basketball footwear in 10 or 15 years?
Yeah, the first things that come to mind for me are the early shoes from Kyrie's line, the Kyrie 1 through the Kyrie 4. Those came off the court a little bit, and the other one that sticks out to me is Kevin Durant's KD 4. I can't believe it's been 10 years since the KD 4 was released, but you're seeing 8-10 guys around the NBA wearing it again this season out of nowhere. They had so many great themes and stories on that shoe, like the "Weatherman," the "Water Dragon" and even the silver "Galaxy" colorway. I think those might work well if they were brought back.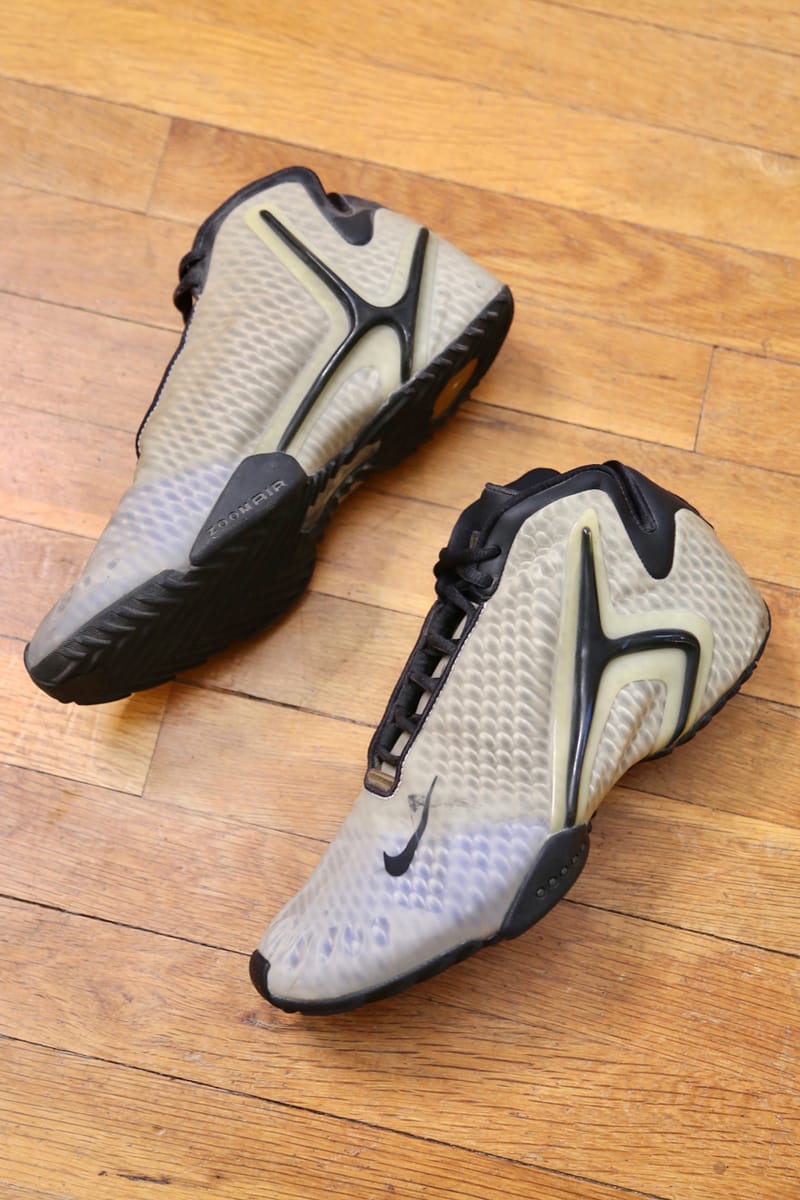 Nick De Paula
Another lane that's really interesting to me is modernization. Air Jordans have always had that 1:1 retro look, and Kobe Bryant's line got some under the hood improvements with the Protro line, but I feel like there's a lane for Nike to take more of those early 2010s signature shoes and modernize them, like, say, adding Flyknit to the KD 4 or removing some of the Hyperfuse materials that felt really specific to that time period. I think there's a lot of potential there, but in general there's a lot less models that you can look at and stamp as a "classic" today than there were in the '90s.
On the flip side of that, where do you see signature basketball footwear headed in the next five years?
That's a great question. I think a lot of people, myself included, are really curious to see what adidas Basketball's design language is going to be over the next few years now that Jerry Lorenzo's there. We were talking about how these "artist shoes" don't have to offer performance features earlier, but if Jerry is able to combine what works well off the court with some advanced adidas technology, that might be what adidas has been missing over the last three to five years in terms of signature hoop shoes. Jordan Brand and Nike seem to have their formula down, and I'm really excited to see what PUMA and Under Armour come with as well. Li-Ning is making some cool shoes too, and I think the other Chinese brands will really be stepping their game up.
"Kevin Durant [told me] this story about how as a rookie he signed a $60 million Nike contract in a Las Vegas hotel while he was there for a USA Basketball minicamp, then went up to his room to change before going out to chill and putting on New Balances because he was 18 and that's what he grew up with."
On your new The Sneaker Game show, you get to talk to some of the NBA's sneaker luminaries about their own footwear journeys. What are some of the best stories you've heard?
Kevin Durant was our first guest, and he gave some really interesting tidbits about what led him to re-up Nike over signing with Under Armour, who offered him a huge deal. He also told us this story about how as a rookie he signed a $60 million Nike contract in a Las Vegas hotel while he was there for a USA Basketball minicamp, then went up to his room to change before going out to chill and putting on New Balance because he was 18 and that's what he grew up with in the DMV. Steph Curry also told me a really interesting story about how he was considering leaving Under Armour for Brandblack in 2013.
Final question: why are sneakers important to you?
Sneakers are a portal to the personalities of so many different people. They've become a canvas for how people tell their story: where they're from, what they're passionate about. I've been fortunate to meet people from all over the world, and have been able to connect with them through a shared love for sneakers. The designs are great, the tech is interesting and it's always fun to keep up with the new styles that are coming out — but the way sneakers bring people from all over the place together is definitely the coolest thing about them.
Source: Read Full Article