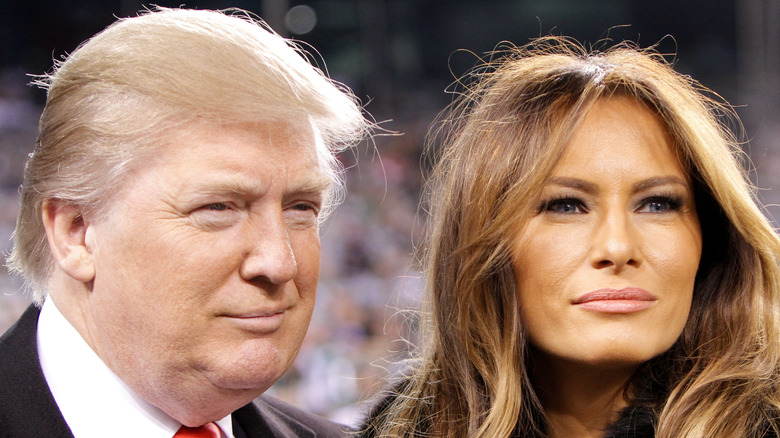 Debby Wong/Shutterstock
By Joey Keogh/Sept. 13, 2021 12:07 pm EDT
There are plenty of strange things to note about Melania and Donald Trump's marriage, from the fact they reportedly don't sleep in the same bed to the extensive rumors about infidelity on his part over the years. There have even been suggestions that Melania is somehow being held against her will since every time she and her husband are spotted out together, the former first lady appears desperate to get away from him. However, despite what the public might think, the couple is still going strong. 
According to reports in The Guardian and CNN, the Trumps are happiest when they're together but apart, since both Melania and Donald relish being alone. This would explain why they don't ever seem particularly jazzed about being in each other's company. Still, even with multiple sources confirming all is well in Trumpland, the mystique surrounding them isn't likely to be broken any time soon. And now, Sean Spicer is weighing in with some insider information about this most fascinating of couples. 
Sean Spicer wants everybody to leave the Trumps alone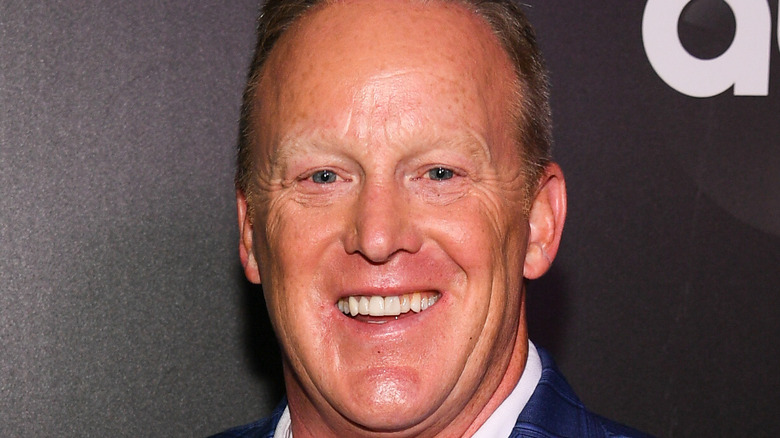 Disgraced White House press secretary Sean Spicer, who's written an upcoming book condemning Joe Biden's administration entitled "Radical Nation: Joe Biden and Kamala Harris's Dangerous Plan for America," reckons everybody should leave Melania and Donald Trump alone. Speaking to The Sun, Spicer decried rumors about their troubled marriage as "despicable" and "abhorrent." He claimed they were being spread in a transparent effort to "disparage" the controversial former commander-in-chief. Likewise, Spicer shot down suggestions Melania has no interest in being first lady again, and would even stay in Florida rather than return to the White House if her husband is victorious in 2024, as ridiculous. Last year, an ousted former staffer shockingly claimed Melania was "counting every minute" until Donald's term was up, so she could give him the boot. 
Their divorce never materialized of course, while his administration claimed such allegations were "pathetic." Although Spicer acknowledged having zero insight into the Trumps' personal relationship, he confirmed, "I have seen them together for six years" and any rumblings about issues between them are inaccurate. The former press secretary railed against those who simply "cannot help themselves," pointing out it'd be Melania's choice whether she attended upcoming rallies and promotional events. While Donald Trump has been popping up more and more often lately, his wife has all but retreated from public view entirely. Although the former president has yet to confirm he's running again in 2024, Spicer told the Washington Examiner Donald's 100% in.
Source: Read Full Article