Killer Mike, is "mad as h*ll" about George Floyd's death, he admitted in a speech on May 29. But the rapper turned activist does not want Atlanta to burn.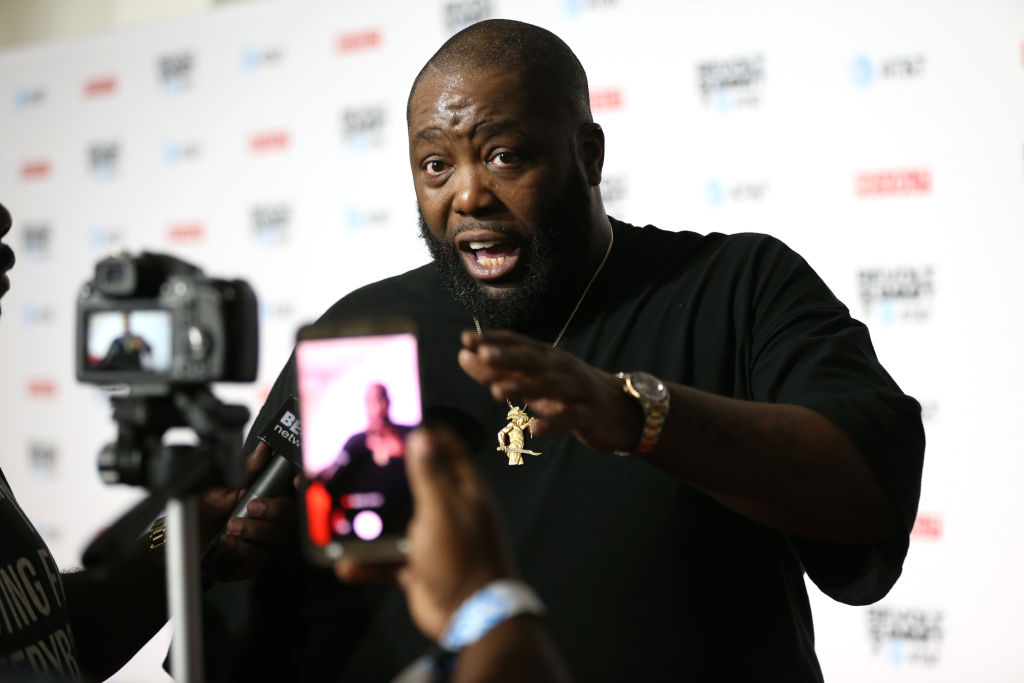 Atlantaleaders united to help restore order
Killer Mike, an Atlanta rap artist and activist, joined Mayor Keisha Lance Bottoms and Police Chief Erika Shields in a press conference to address the city after protests over police brutality turned volatile. Demonstrators rallied against law enforcement over the death of 46-year-old Minneapolis, Minnesota, resident George Floyd, an unarmed Black man who died while in police custody.
Demonstrations across the country have raged since the May 25th incident, with the social media hashtag, #JusticeForFloyd, stoking the public outcry. But, with some protests ending with fires, tear gas, and vandalism, community leaders like Killer Mike have stepped in to help find solutions. Here is how the entertainer addressed his Atlanta neighbors:
I am duty-bound to be here to simply say that it is your duty not to burn your own house down for anger with an enemy. It is your duty to fortify your own house so that you may be a house of refuge in times of organization. And now is the time to plot, plan, strategize, organize, and mobilize.
It is time to beat up prosecutors you don't like at the voting booth. It is time to hold mayoral offices accountable, chiefs, and deputy chiefs. Atlanta's not perfect, but we're a lot better than we ever were and we're a lot better than [other] cities are.
Killer Mike wants racism burned down
RELATED: 'I Said What I Said': John Boyega Is Calling out People on Twitter and the Internet Is Here for It
Four officers were on the scene when Floyd was taken into custody. Killer Mike continued his statement by sharing his opinion about how he believes the situation should be resolved and how society should move forward. He had this to say:
We don't want to see one officer charged. We want to see four officers prosecuted and sentenced. We don't want to see Target [stores] burning. We want to see the system that's set up for systemic racism burned to the ground.
And as I sit here in Georgia, home of Stephens, Georgia — former Vice President of the Confederacy. White man said that law — fundamental law — stated that Whites were naturally the superior race. And the Confederacy was built on a Cornerstone. It's called a Cornerstone Speech — look it up — the Cornerstone Speech that Blacks would always be subordinate. That officer believed that speech because he killed that man like an animal.
Killer Mike presented an action plan
RELATED: Beyoncé Shares Powerful Message With Her Instagram Followers — 'We're Broken and We're Disgusted'
As"mad" as Killer Mike confessed that he was, he pled with the citizens ofAtlanta, saying, "It is not time to burn down your own home." Instead, he urgedpeople to complete census forms "so that people know who you are and where youare."
The activist also asked voters to "exercise your political bully power" by "beating up the politicians that you don't like" at the polls. And, finally, Killer Mike suggested that people go home and "come up with real solutions." The wordsmith repeated the mantra to "plot, plan, strategize, organize, and mobilize."
Viewers can watch Killer Mike's entire speech here: KILLER MIKE ADDRESSES ATLANTA
Source: Read Full Article