One of the beautiful things about Comedians in Cars Getting Coffee is that Jerry Seinfeld has had so much success in his life that he's really just doing it for fun. That gives him the freedom to have who he wants on the show, whether that's a huge star, or it's someone who is less well-known. Really, as long as the guest can make this famous funny man laugh, that's who he wants to talk to.
When Seinfeld invited Bridget Everett to join him, it was an excellent example of this. Everett may not be a household name (yet), but she's indisputably very, very funny. Seinfeld let the world know that he considers her to be a world-class comedian, and he doubled down on the compliment with the car he chose for the episode. And Everett returned the favor by making Seinfeld lose his temper.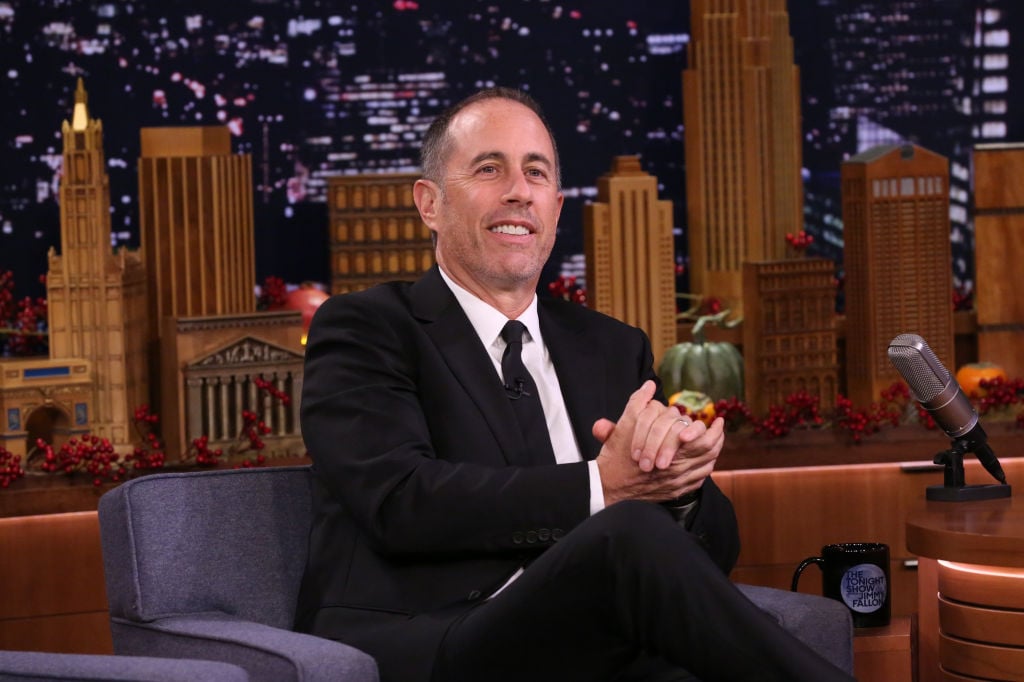 Neither the guest nor the car is a shrinking violet
For this episode, Seinfeld picked a car that could match Everett's strong personality. That meant a powerhouse of a car, the 1961 Cadillac Series 62 convertible. This car is a looker and not dainty. It has a monster of a motor, a 325-hp 6.4-liter V-8, which makes it a joy to pilot all 5,000 pounds of polished beauty. It's the quintessential '60s car: sleek, excessive, and a lot of fun.
Bridget Everett got a rise out of Jerry Seinfeld
Everett isn't just a comedian, but also a cabaret performer, singer, and actress. She's appeared in movies such as Sex and the City, Trainwreck, Fun Mom Dinner, and Little Evil. She's a rising star, but one of her biggest accomplishments yet might be when she got a reaction out of Seinfeld that left the internet buzzing. 
Most of the episode is full of the kind of laughs and conversation you expect out of the show. The two of them tool around New York, and they visit a psychic for a reading. But the fun part came when they were chatting over coffee.
Everett brings up a comedian, and she mentions that she's friends with him. Whoever the mystery man is, it soon becomes clear that Seinfeld is no fan. First of all, the unknown comedian's name is bleeped out, and Everett's mouth is obscured so you can't figure out who it is. And more importantly, Seinfeld loses his cool.
He goes on a rant about how much he can't stand the guy. He says he's not funny, and that he "had to do that stupid fucking voice because [he] had no fucking act." Seinfeld alludes to the fact that this comedian has criticized him in the past for being too tame in his jokes. It clearly still bothers him after all these years.
Of course, this lit up the internet with discussions of who Seinfeld's nemesis could possibly be. Although there's no way to know for sure, many people think he's referring to Bobcat Goldthwait.
Not all of the episode was tense
Obviously, Seinfeld's rant was an uncomfortable moment for Everett. She'd just said the unknown comedian was a friend, and Seinfeld responded with direct and intense criticism of the guy. But that rough patch didn't ruin the rest of the episode.
At one point, as they drink their coffee, Seinfeld sneezes multiple times in a row. After a polite "bless you," Everett shoots him a look of surprise. She says he sneezes like no one else she's ever heard, and she describes it as "tender, but full of rage."
It's not clear how all that emotion could be packed into a sneeze, but Seinfeld appreciated her off-the-cuff appraisal anyway. He threw his head back and laughed, and at least his laughter seemed to be free from rage, at a mystery nemesis or anyone else.
Source: Read Full Article