Unless you've been hiding under a rock, you will have noticed that Dua Lipa has been dominating the airwaves and the charts in recent years. The "Break My Heart" hitmaker had dreams of being a singer from a young age and has turned her dreams into a reality, morphing herself into an entrepreneur and a household name around the globe.
In such a short timespan, Lipa has managed to cement herself as one of the biggest pop stars of today. With many accolades and hits to her name, the British entertainer has had one of the most incredible and fascinating transformations. If she's not performing on one of the biggest stages in the world, she's picking up another prestigious award. If there's anything to learn from Lipa's journey, it's that hard work really pays off.
Lipa's career continues to take her to new heights and shows no signs of slowing down. Keep reading to find out how she managed to become the superstar that she is today.
Dua Lipa was very driven from a young age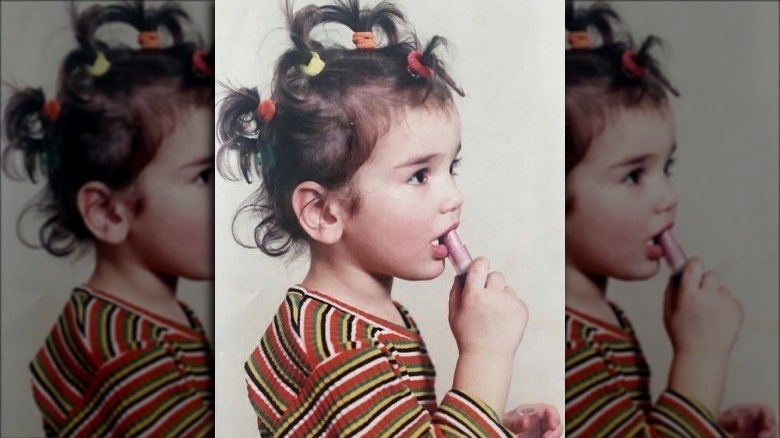 Dua Lipa was born on August 22, 1995, in London, England to Albanian parents. According to The Guardian, passion for music already ran in her family as Lipa's dad, Dukagjin Lipa, used to sing a rock band, Oda. Both of Lipa's parents are originally from Kosovo and had left Pristina in the 1990s before welcoming Lipa. Despite her father's background, Lipa was never forced to follow in his footsteps and developed a love for singing naturally. In an interview with MYX Philippines, she explained she would always say she wanted to be a singer while at school.
After Kosovo declared independence in February 2008, Lipa moved to the self-declared independent country with her family for a number of years but soon realized in her early teens she wanted to return back to London so she could focus on her music career. As noted by the Evening Standard, she independently moved to Camden and lived with friends, and worked a number of jobs while hustling for her dreams. Lipa was determined to get noticed and would upload videos of her covering songs on YouTube.
Pink and Nelly Furtado's music influenced her very early on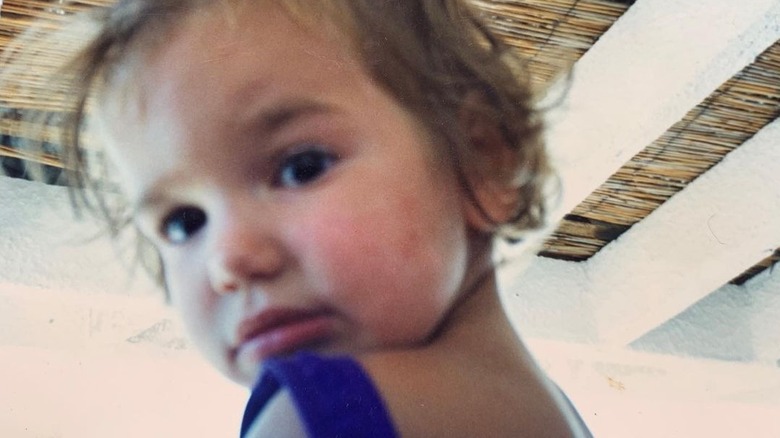 Dua Lipa has always been about female empowerment and was heavily influenced by two strong artists growing up. Even though the house she was raised in would play the likes of David Bowie, Sting, and Bob Dylan, she found herself attracted to music from Pink and Nelly Furtado.
In a 2017 interview with Clash Music, Lipa stated that Furtado's debut "Whoa, Nelly!" LP "changed [her] life." As for Pink's iconic sophomore record, she cites "Missundaztood" as a personal favorite of hers. "I kept on listening to it before I could even understand the lyrics. And I feel like it's followed me through life – I keep going back and using it as a reference point for my music now," Lipa said. 
During a discussion with MYX Philippines in 2018, Lipa expressed how much she admired their honesty in their lyrics. She noted that Furtado's first album is very "organic" and that overall her music was the "soundtrack" to many "significant" moments in life, explaining, "At my 11th birthday party I was banging 'Maneater.'"
Dua Lipa appeared in an ad for The X Factor at 17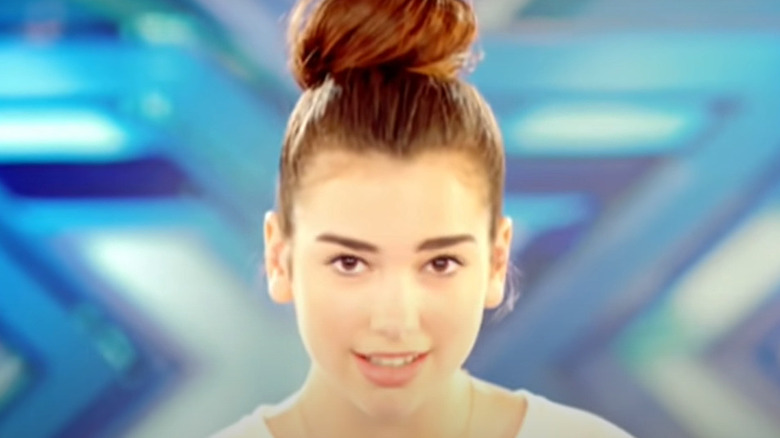 As noted by Harper's Bazaar, Dua Lipa pursued a career as a model while she was growing up, eventually landing a role in a television advertisement for "The X Factor" in 2013. The ad saw Lipa singing a Sister Sledge's song titled "Lost In Music," which she recorded especially for the promo of the show.
During the behind-the-scenes clips, Lipa revealed she went to a casting in Soho, London, and received a call that same day to be the star of the ad. While on set, an unknown 17-year-old Lipa at the time appeared to be nervous that she was filming with "such a massive crew" but expressed she had "an absolute blast" by the end of the day. "I was 7 years old when 'X Factor' started and I get to be in a commercial," Lipa explained.
Even though Lipa had yet to release a song of her own at this point and wasn't a contestant on the talent show, it seems "The X Factor" discovered the world's next big star without realizing it.
Dua Lipa was still balancing a waitress job after she got signed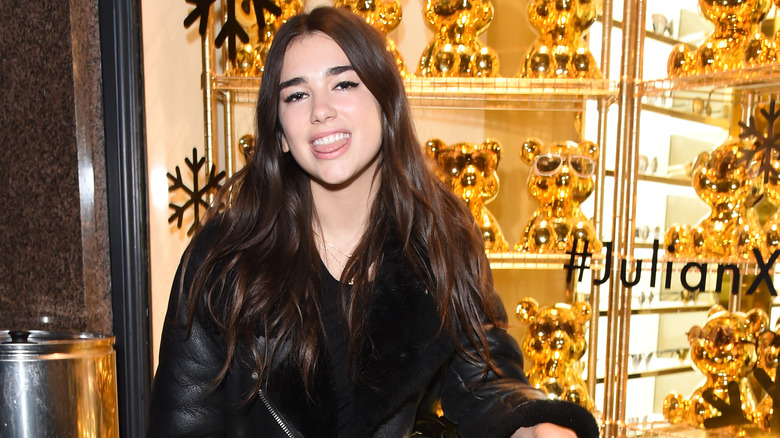 After years of trying to get her foot in the door, Dua Lipa ended up signing a management deal with Tap Management at the age of 18. However, while trying to write and create her material, she was still balancing her job as a waitress. Her management, who clearly saw huge potential in Lipa, wanted her to quit her bar job so she could solely focus on her debut album. They were so sure that Lipa was worth investing in that they offered her a monthly salary instead so she was able to afford her lifestyle.
In a 2018 interview with Music Business Worldwide, Lipa's manager at Tap Management, Ben Mawson, discussed what it was like working with the aspiring star during the early days. "With Dua, I wanted to get her out of her job, she was working as a waitress in a cocktail bar, quite literally, and going to bed at 3 a.m. and needing to get up again for a session. So we gave her a monthly salary, which I think she's still on, to get her out of the job," he said, adding, "She was 18 and didn't need too much money to live off so that's where that came from."
Dua Lipa was welcomed on the music scene with open arms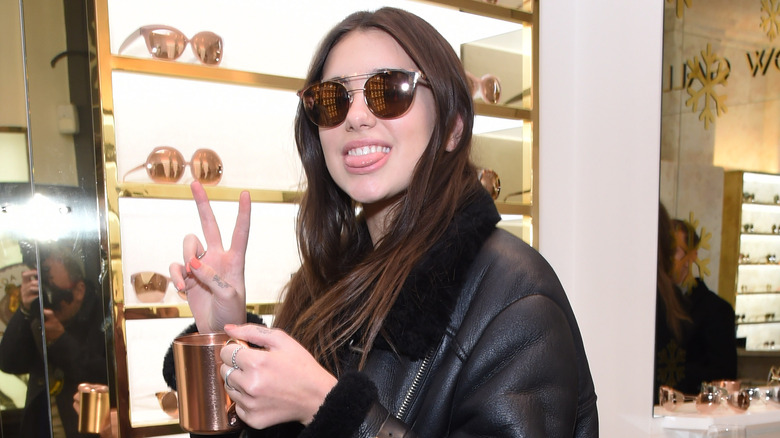 In August 2015, Dua Lipa debuted with her very first release, "New Love," which premiered via Fader. The song received instant acclaim as it was described as an "absolute blinding pop song" by Gigwise and considered "a contender for the strongest debut of 2015" from The 405.
After being welcomed with open arms, Lipa dropped her follow-up, "Be The One," in October of that same year, which became her first charting hit. The Line of Best Fit praised the song, calling it "a fresh breath of pop air" while Evening Standard insisted the song's chorus was "irresistible." In January 2016, Lipa performed the song inside Radio 1's legendary live lounge, which has been watched more than 9.5 million times on YouTube, as of this writing.
"Be The One" introduced Lipa to audiences around the world and topped the charts in Belgium in March of 2016. In her home country, the single would become a smash the following year in 2017. The song peaked at No. 9 and spent 25 weeks in the top 100, per The Official Charts.
Dua Lipa's debut album certainly didn't go unnoticed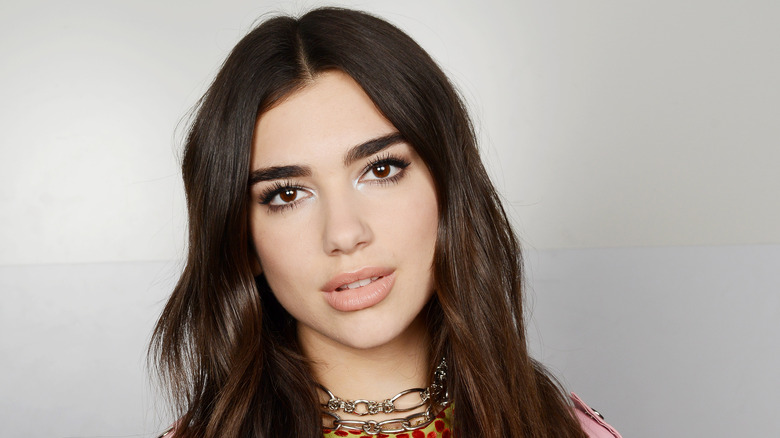 After releasing a number of hit singles — "Be The One," "Hotter Than Hell," and "Blow Your Mind (Mwah)" — Dua Lipa released her long-awaited self-titled debut album in June of 2017. Despite being her first album, she still managed to bag herself collabs with a number of high-profile stars including Coldplay's Chris Martin, Miguel, and K-pop girl band BLACKPINK, to name a few.
According to Warner Music, Lipa's self-titled LP sold more than 6 million copies worldwide and became the most-streamed album by a female artist on Spotify after a whopping 4 billion plays, per MTV News Italy. In the U.K., "Dua Lipa" peaked at No. 3 and has spent over 200 weeks on the chart. As of this writing, the album still remains in the top 40 over four years after its release, per The Official Charts. Along with the huge commercial success, the album was also received well critically and currently has a Metascore score of 72 on Metacritic.
New Rules became Dua Lipa's first UK chart-topper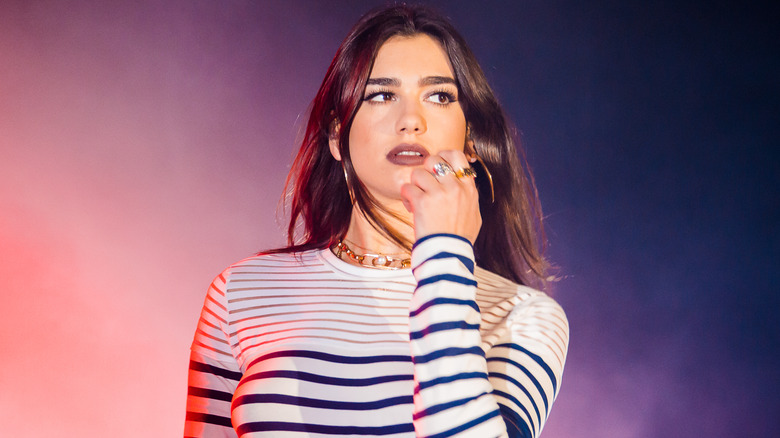 Even though Dua Lipa was having commercial chart success for some time, she had yet to score herself a No. 1 hit in the U.K. Once Lipa dropped her self-titled debut album, she released the album track, "New Rules," as a single shortly after. Up until this point, the likes of "Be The One" and "Hotter Than Hell" were considered her signature hits. However, "New Rules" definitely took her career to new heights. Its girl-power music video quickly became a talking point online and racked up views.
As of this writing, the official video has been watched an impressive 2.4 billion times on YouTube. Lipa told Billboard that same year she wanted "to show that you and your friends are kind of helping each other. Your friends are the rules, they are the ones that are preventing you from making a mistake with this guy."
After five weeks on the chart, "New Rules" topped the U.K. singles chart, becoming her first No. 1 in her home country, and stayed there for two weeks. According to The Official Charts, the song became the first chart-topping single from a female in the U.K. since Adele's iconic "Hello" in 2015. "New Rules" was listed as the 21st best song from the past decade by NME and allowed Lipa to perform the anthem at numerous prestigious award ceremonies, including the BRIT Awards and the Billboard Music Awards.
Dua Lipa quickly picked up a lot of trophies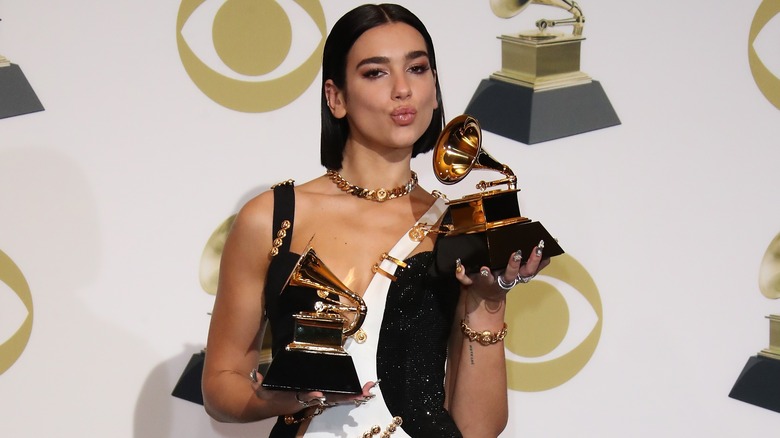 After scoring herself No. 1 singles and earning platinum plaques, it was only a matter of time until Dua Lipa cleaned up at some of the biggest award ceremonies. As previously reported by The Guardian, Lipa bagged herself five BRIT Award nominations in 2018 and made historyas the first female act to be nominated for five awards. She took home British Breakthrough Act and British Female Solo Artist while also being nominated for British Single, British Album, and British Video.
The following year at the Grammy Awards, Lipa took home both the golden trophies she was nominated for — Best New Artist and Best Dance Recording for "Electricity" — and performed alongside fellow musician St. Vincent. During her acceptance speech on stage, Lipa used her time to inspire those watching to continue to chase their goals and dreams.
"For anyone that hasn't realized how special they are to have a different story, a different background, a name that honors their roots because they just want to be normal whatever the hell that means, just know that no matter where you're from or your background or what you believe in, never let that get in the way of you and your dreams because you deserve it," she said, per People. "And I'm proof that you can do whatever you put your mind to. However hard you work, I really believe in it and I believe in you."
Her number of waxworks continues to grow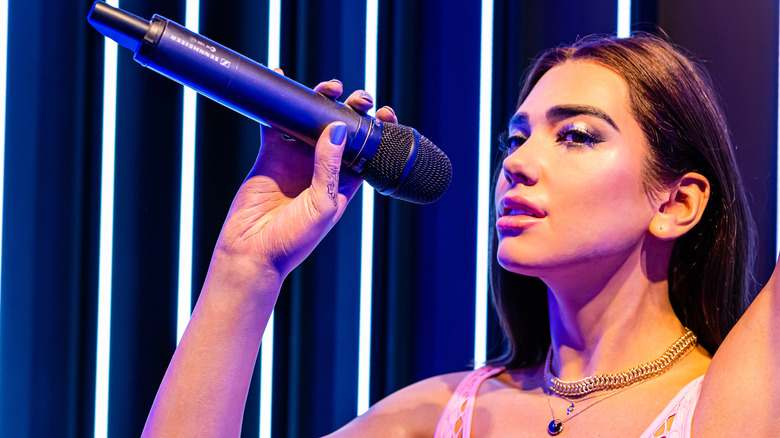 After becoming a household name, the next step for Dua Lipa was to have her own waxwork at Madame Tussauds. Joining the likes of Beyonce, Miley Cyrus, and the Spice Girls, the "IDGAF" singer's first-ever waxwork was launched in February 2019 in London, UK.
As noted by Metro, the look they chose to replicate was from when she performed at the legendary Glastonbury Festival in 2017. Lipa attended the launch and expressed how surreal it felt to have a waxwork. "It blows my mind. It's pretty crazy to see it come to life. I'm hoping I can take it home with me," she said, per Metro. "I've been to Madame Tussauds a few times when I was younger and I took my family when they've come down from Kosovo and Holland and it's always been a really fun experience."
Just two months later, Lipa received her second waxwork in Amsterdam in April 2019, according to Vogue. With that being said, she has been working on a third that will be for her fans in New York City. In April 2021, she took to Instagram to announce that her new waxwork is expected to be released later in the year. "My 3rd Madame Tussauds wax figure incoming!!!! @madametussaudsusa Here's a bts look where studio artists took more than 200 measurements for my New York City figure set to arrive later this year," Lipa wrote.
Dua Lipa turned heads during her first Met Gala event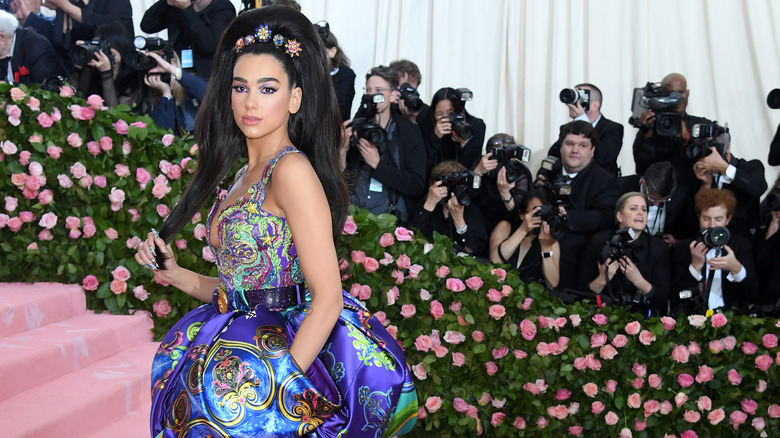 For Dua Lipa's first-ever Met Gala event in 2019, the award-winning star knew she had to make it one to remember. As reported by Stylectory, the theme of the night was "Camp: Notes on Fashion," something she completely nailed.
Being the fashionista that she is, Lipa wore Versace and looked nothing short of stunning from head-to-toe. The "Don't Start Now" hitmaker arrived in a low-cut multicolored Versace gown that had a pattern all over and a long train that fell to the floor. She matched the attire with a pair of tights and heels that featured the same print as the dress. Lipa wrapped a sparkly belt around her waist and applied colorful eyeshadow to make her eyes pop. Even though Lipa let the outfit do the talking, she did accessorize her look with a jeweled multicolored crown-like headpiece and rings to complete the eye-catching ensemble.
Unsurprisingly, Lipa made quite the impact on the red carpet with Vogue naming her one of the best-dressed celebs of the night.
Dua Lipa found love in model Anwar Hadid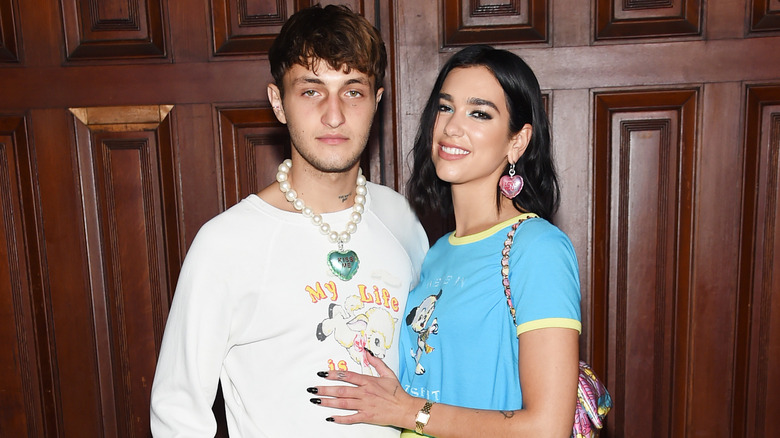 Since rising to fame, Dua Lipa has had a couple of public romances. She dated model-turned-chef Isaac Carew on and off for about five years before calling it quits in June 2019, per Harper's Bazaar. In between their relationship, she was with LANY frontman Paul Klein. According to the Daily Mail, the pair split in January 2018 after five months of being together.
Shortly after she and Carew were done, Lipa formed a relationship with model Anwar Hadid and has remained happy ever since. After months of public PDA, they made their red carpet debut at the American Music Awards in November 2019. The couple celebrated their first anniversary in June 2020 and have adopted a puppy, Dexter, together. In a 2021 cover story with Rolling Stone, Lipa admitted she's never felt more comfortable in the relationship she's in. "[We] wake up around 9:00, 9:30, shower, get dressed, have a bit of breakfast, take the dog out on a really nice long walk, maybe do some yoga, make some lunch, hang out, watch a movie, play with the animals," she explained.
Dua Lipa became the face of YSL's Libre fragrance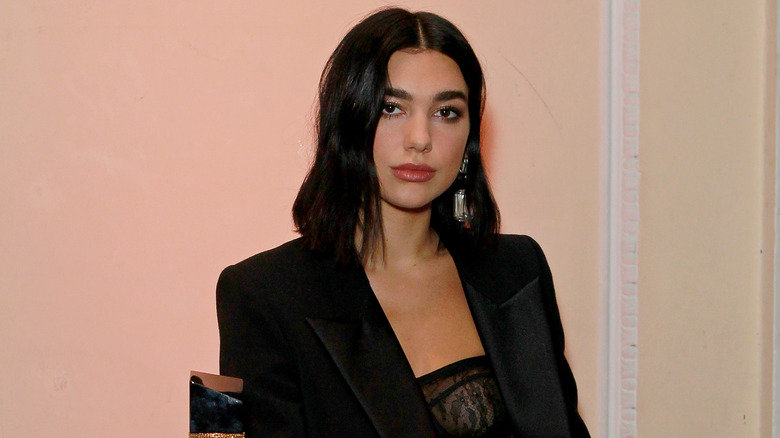 With her massive global success, it comes as no surprise that Dua Lipa has worked alongside various brands. In 2017, she was named Foot Locker's first female ambassador and even launched her own clothing campaign with fashion brand Pepe Jeans in February 2019, per Inquisitr. With that being said, her biggest deal was just around the corner.
In August 2019, it was announced that Lipa was the face of YSL's unisex fragrance, Libre. The "Lost In Your Light" singer appeared in a show-stopping commercial for the new scent and even performed a cover version of The Soup Dragons "I'm Free" for the ad. In a discussion with Refinery29, Lipa admitted she was "pinching" herself and praised that the fragrance can be worn by both men and women.
"I love the idea of working with a brand that stands by that," she said, adding, "It's kind of the merging of worlds where [men and women] are, and should be treated as, equals. That in and of itself is freedom." Since the first ad campaign, Lipa has continued to impress and appeared in more commercials for the fragrance.
Future Nostalgia proved Dua Lipa was unstoppable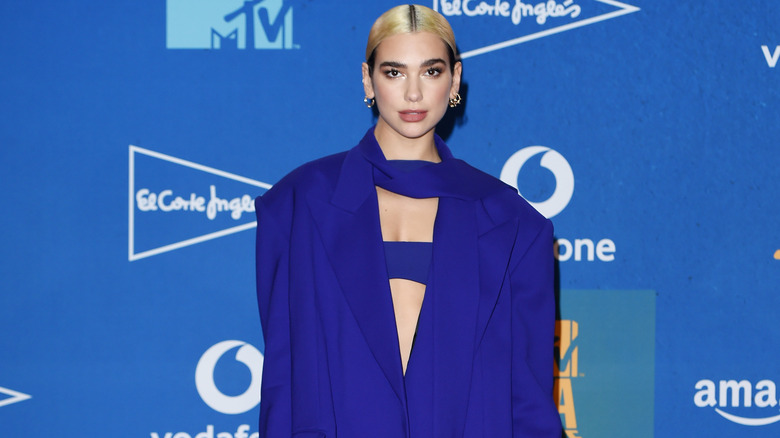 Nearly three years after her debut album, Dua Lipa returned with her long-awaited second LP, "Future Nostalgia," in March 2020. According to Billboard, the record peaked at No. 3 on the U.S. Billboard 200 and became her first chart-topping album in the UK. "Future Nostalgia" made an instant impact on music critics, receiving a score of 100 from NME and The Independent. As noted by Metacritic, the LP has an overall Metascore of 88 out of 100.
"Future Nostalgia" heard Lipa take on a more retro disco-influenced sound and saw her take over the charts and airwaves with its hit singles — "Don't Start Now," "Break My Heart," and "Levitating." As previously reported by Sky, Lipa "ended the reign of Ed Sheeran" and became the most played artist of 2020 in the U.K. According to The Official Charts, "Future Nostalgia" was the 10th biggest album of 2020 after 3.3 million sales.
At the 2021 Grammy Awards, the album earned Lipa another golden trophy for Best Pop Vocal Album while winning the British Album of the Year at the BRIT Awards.
Music icons soon wanted a slice of Dua Lipa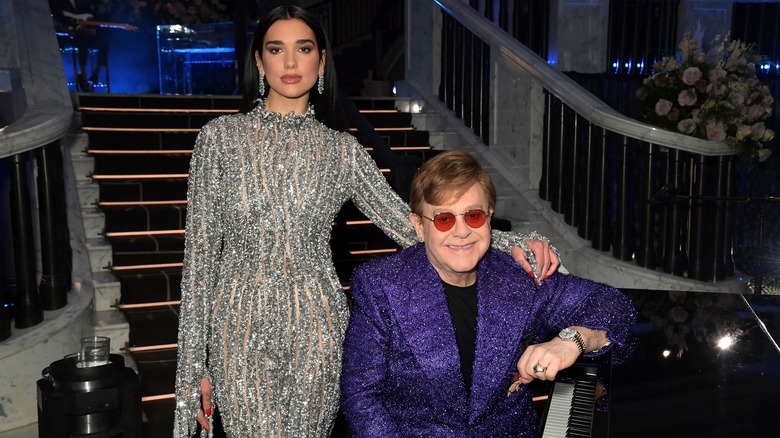 Once Dua Lipa made her mark on the pop world, everyone wanted a slice, including living legends. For Lipa's remix album, "Club Future Nostalgia," which she released in September 2020, she managed to get a whole range of music icons to star on the songs. For the remix of "Levitating," she got not one but two fierce females to appear on the track: the Queen of Pop Madonna and rap powerhouse Missy Elliott. However, that wasn't all. For Mark Ronson's remix of "Physical," Gwen Stefani was featured on it after the No Doubt frontwoman told Lipa she would love to jump on the track.
In an interview with Zane Lowe on Apple Music, Lipa explained she "couldn't believe it" when Stefani agreed to be on the album. "I sat by my phone and I was literally holding my face pretty much. I was like, 'Oh my God, this is crazy. This is crazy.' I was just pacing around the room. It was a real exciting moment," she said.
At the Elton John AIDS Foundation Academy Award Party in 2021, Lipa performed alongside John at his annual event and sang "Bennie and the Jets" from his "Goodbye Yellow Brick Road" album, as well as "Love Again" from her "Future Nostalgia" record, according to the Los Angeles Times.
Dua Lipa is at top of her game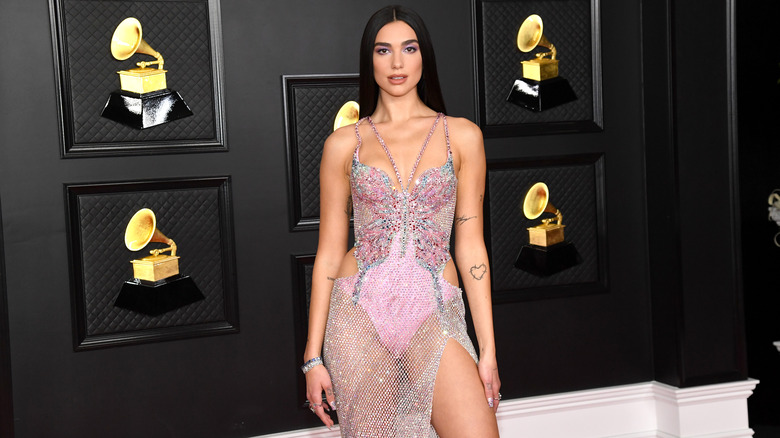 As of 2021, Dua Lipa is a powerful force within the entertainment industry. With a net worth of $25 million (via Celebrity Net Worth), it's safe to say the London-born singer's continuous rise is very well-deserved. After years of grinding and working hard, Lipa is on top of her game and won't be stepping off her throne any time soon.
As of this writing, the "We're Good" hitmaker has won three Grammy Awards, two MTV Europe Music Awards, and five BRIT Awards. In the U.K., she has achieved two No. 1 singles and an impressive 11 top 10 singles since 2016. If that's not all, over a year after its release, the "Future Nostalgia" album campaign is still very much alive as Lipa's music video for "Love Again" racked up more than 22 million views within one week on YouTube.
In a 2021 radio interview for BBC Radio 2 (via Music-News), Lipa admitted she has already started thinking about her upcoming third album and has started "playing around" to figure out the project's next direction. "It feels good, I am excited. I just hope I grow and mature as an artist and just make music that people enjoy and resonates with them and makes them happy," she said. All we know is, the world is ready for another Dua Lipa takeover.
Source: Read Full Article