video
Reimagining Disney 'Splash Mountain' ride could take over a year: Former imagineer
Eddie Sotto on Splash Mountain, reopening parks
Hard core Walt Disney World fans who are mourning the closure of the iconic Splash Mountain ride now can remember the attraction- but for a hefty price. Used water from Walt Disney World's now-closed Splash Mountain ride is being sold on eBay, with some listings asking for thousands of dollars for a small container of the "limited" water.
Listings began popping up on resale and auction site, eBay, after the beloved ride officially closed its doors on Sunday, Jan. 22. 
One listing titled "Disney's Splash Mountain Water 1/22/2023 Last Day Running! 16.9 oz bottle" is going for $10,100. As of Tuesday evening, there were 39 bids.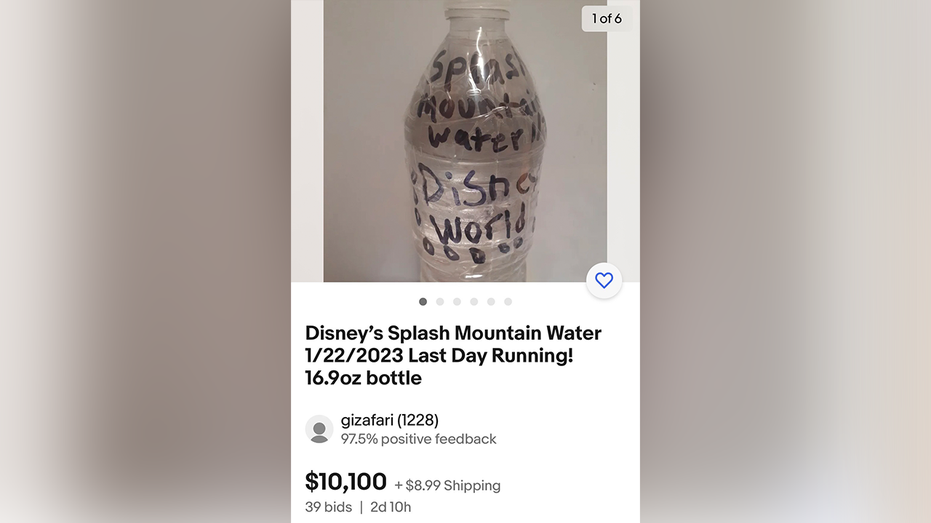 Walt Disney World's iconic Splash Mountain ride is officially closed, but hardcore Disney fans are going to creative lengths to keep pieces of the attraction forever. (EBay / Fox News)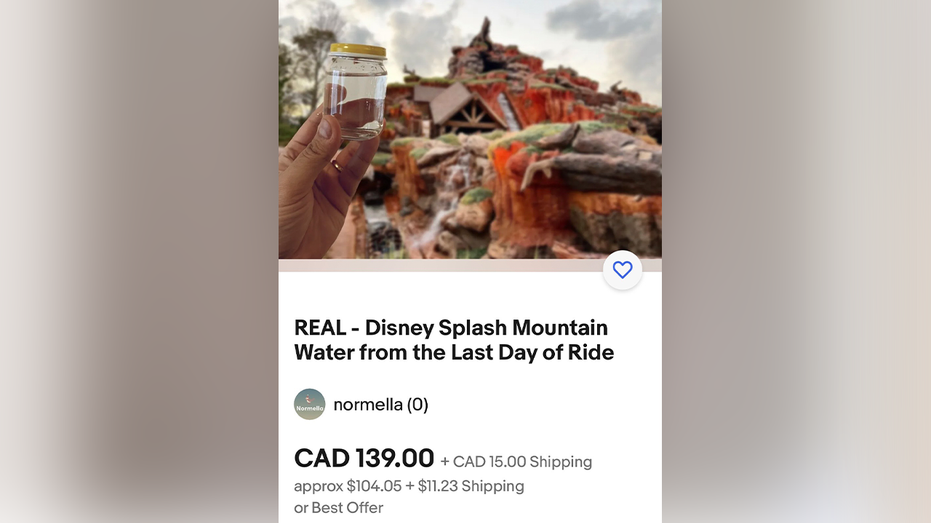 Hoping to cash in on nostalgia, some people are even trying to sell "Splash Mountain water" on eBay. (EBay / Fox News)

Dozens of similar listings were also posted with prices ranging from 99-cents to thousands of dollars for jars, containers, or plastic water bottled filled with used ride water.

According to fans on the Walt Disney World Annual Passholder's Facebook page, riders cheered as they took one last splash. 

"So sad to say goodbye to Splash Mountain. This ride holds so many memories for me, my family and Disney friends," one nostalgic rider wrote. 

SOME FAMILIES GOING INTO DEBT TO VISIT WALT DISNEY WORLD, STUDY SHOWS

Splash Mountain opened at Florida's Walt Disney World Magic Kingdom Park in 1992, but in 2019 Disney faced backlash after people called for Splash Mountain to be re-themed because of its connection to the 1946 Disney film "Song of the South," which has been the subject of controversy as many critics have described the film's portrayal of African Americans as racist and offensive.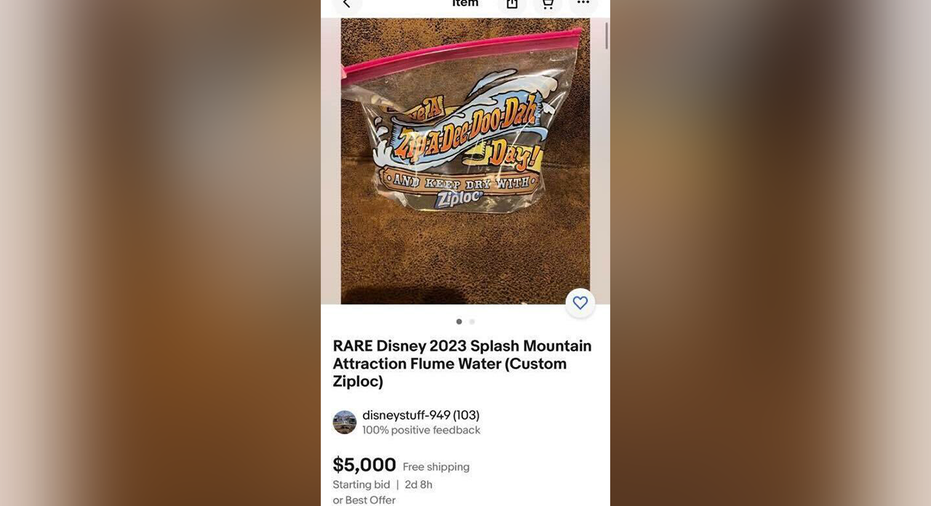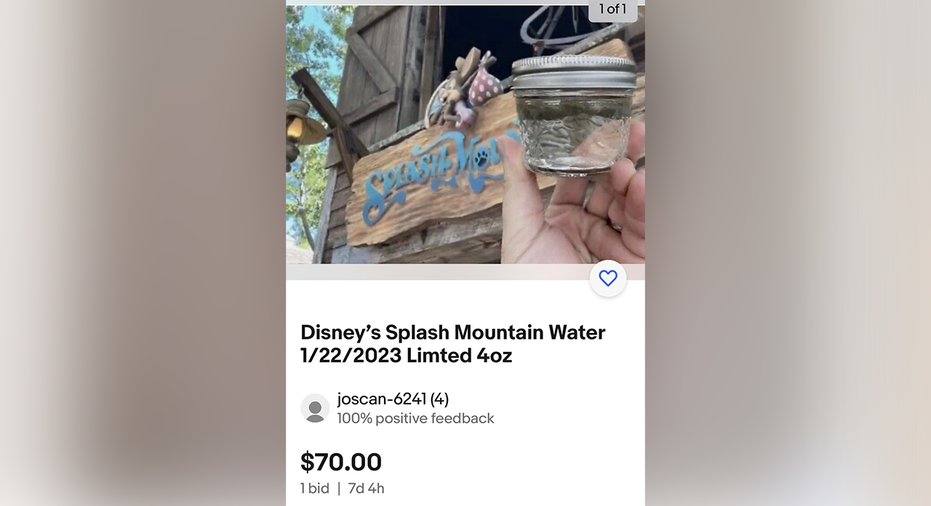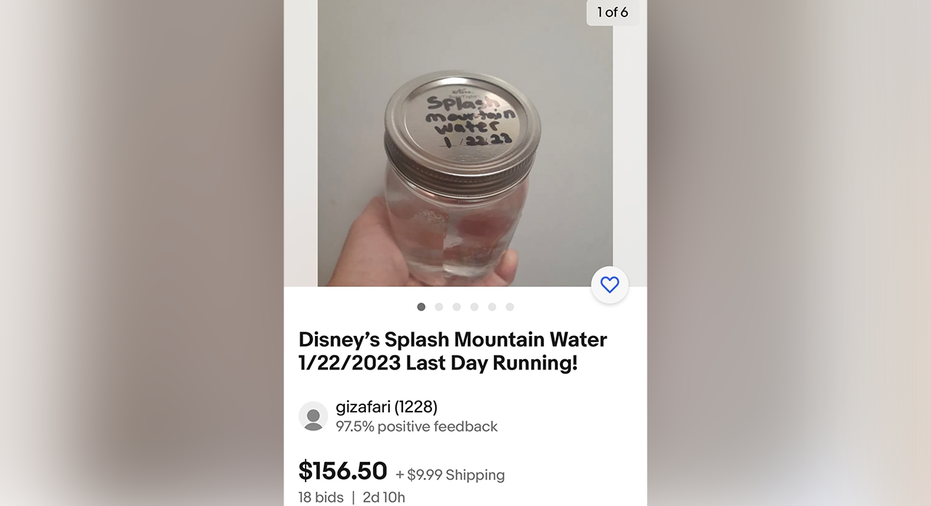 Image 1 of 3

Other sellers have seized the opportunity to sell Splash Mountain paraphernalia, including plastic bags with Splash Mountain branding | Fox News

In June 2020, Disney announced that the attraction at Walt Disney World in Florida and Disneyland in California was going to be re-themed around "The Princess and the Frog" — a beloved animated film that features Princess Tiana and her friends. 

Since then, the entertainment giant has given updates on the upcoming overhaul of the attraction, which will be called Tiana's Bayou Adventure. 

FILING REVEALS EYE-POPPING AMOUNT FORMER DISNEY EXECUTIVE EARNED DURIGN HIS BRIEF TENURE 

According to Disney, guests will be taken on a journey inspired by the story and characters from the hit film, picking up where that story left off. Disney said that the ride, which is set in 1966 New Orleans, will pick up after the final kiss of the film.

Naveen and Louis will join Tiana on her latest adventure and host a one-of-a-kind Mardi Gras celebration. Original music inspired by the songs from the film will be used as riders encounter both old and new characters.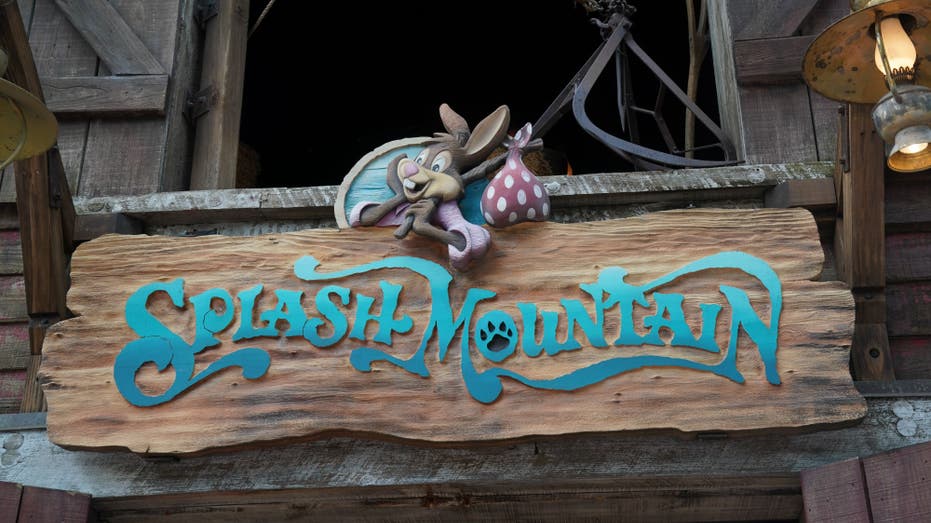 Views of Splash Mountain are seen at Walt Disney World Resort's Magic Kingdom. (Bryan R. Smith/AFP via Getty Images / Getty Images)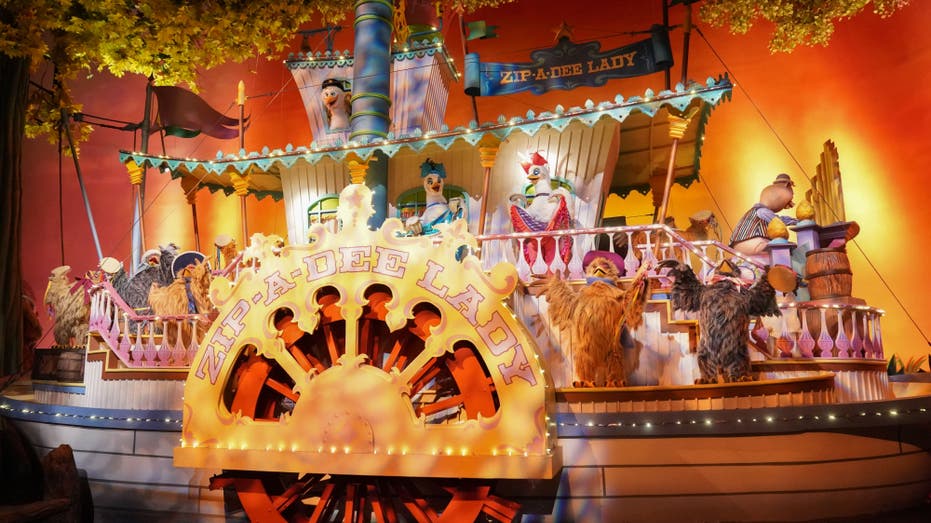 "Splash Mountain" rides at Disney theme parks will be rebranded with a film featuring the company's first black princess, it said on June 25, 2020, after petitions drew attention to the log flume's racist history. (BRYAN R. SMITH/AFP via Getty Images / Getty Images)

In a previous statement, Disney said, "With this longstanding history of updating attractions and adding new magic, the re-theming of Splash Mountain is of particular importance today. The new concept is inclusive – one that all of our guests can connect with and be inspired by, and it speaks to the diversity of the millions of people who visit our parks each year."

GET FOX BUSINESS ON THE GO BY CLICKING HERE

Along with the updated ride, Tiana's story will also continue in a Disney+ series that follows her after the events of the 2009 movie. Disney has not released its premier date, but it is expected sometime in 2023.

Source: Read Full Article