Australian designer Brodie Neill has created a collection of furniture for Sotheby's London auction house, which sees the designer's approach to materiality and sustainability applied to high-end, collectible furniture. Named Material Consciousness, the collection is made up of nine pieces that each focus on an area of material research that the designer has been focusing on: ocean plastic, reclaimed timbers, and circular metals. Collectively, the collection represents "over a decade of design research into material circularity and the redefining of waste," the designer says.
Ocean plastic, a material that many designers and brands now make use of in their work, has been transformed into "ocean terrazzo", a material produced by fragments of the polluting waste. Neill first developed the material for the Australian Pavilion, during the London Design Biennale in 2016. It was the result of rigorous research and experimentation, which saw the designer collaborate with scientists, environmental experts, beachcombers, engineers, artisans and manufacturers.
For his limited-edition collection on sale at Sotheby's, he has used the material to create two tables – one named Flotsam, and the second Jetsam – and a wall piece-cum-tabletop named Gyro Second Wave. The latter is based on the circular form of 19th century tabletops, but brings it into the contemporary realm through the use of Ocean Terrazzo. The fragments left over from Gyro Second Wave went into the creation of Jetsam – a green-hued triangular dining table. Flotsam takes more of a blue hue, with its microplastic fragments backed in a black material.
"The environmental issue of ocean plastic is vast and complex," Neill says. "Plastic is a material built to last yet carelessly discarded after a single use. My aim is to recapture that material potential with each piece of microplastic forming the building blocks to a better future, where each coloured fragment forms a pixel to the bigger picture."1 of 5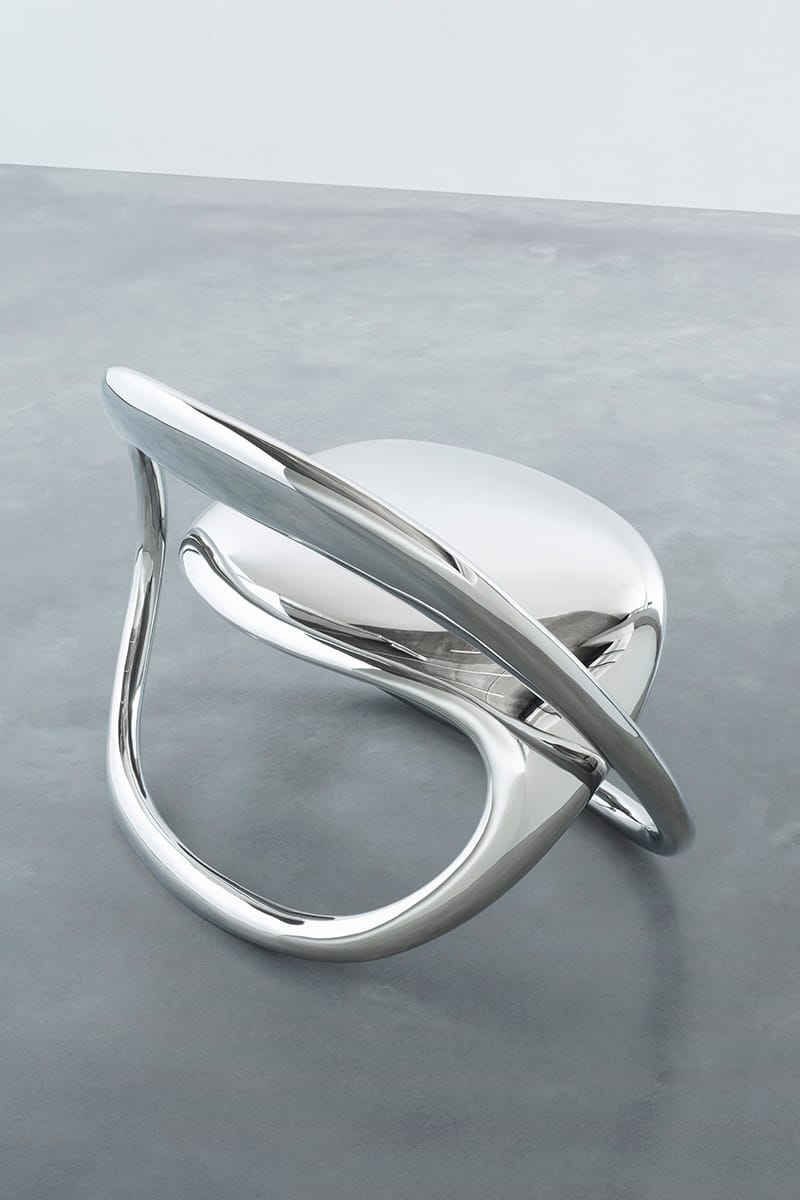 Angela Moore2 of 5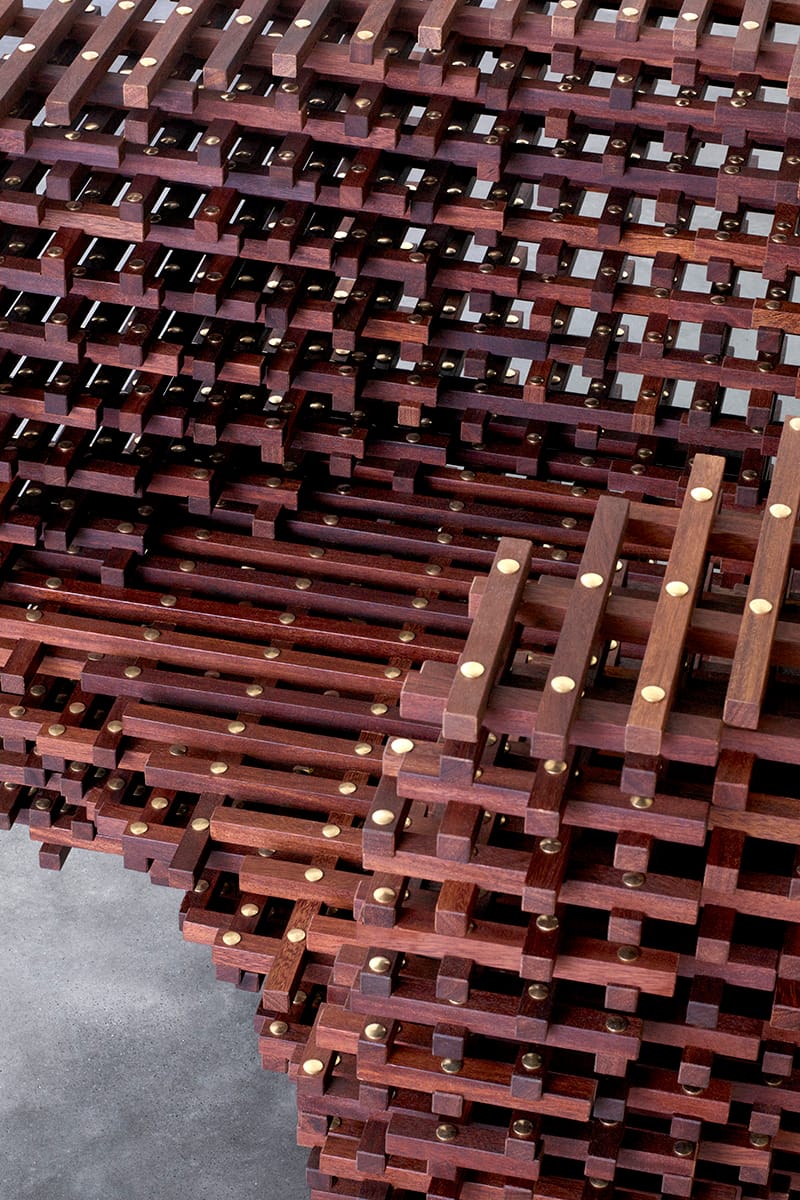 Angela Moore3 of 5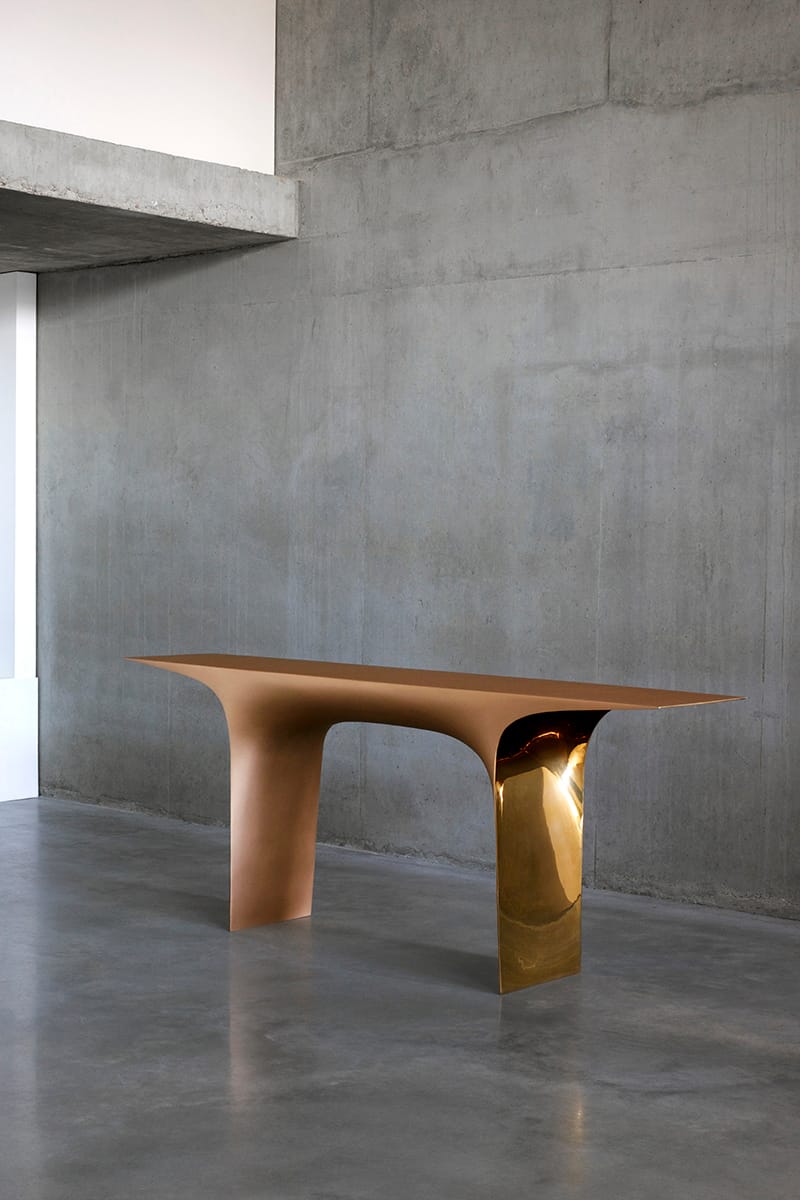 Angela Moore4 of 5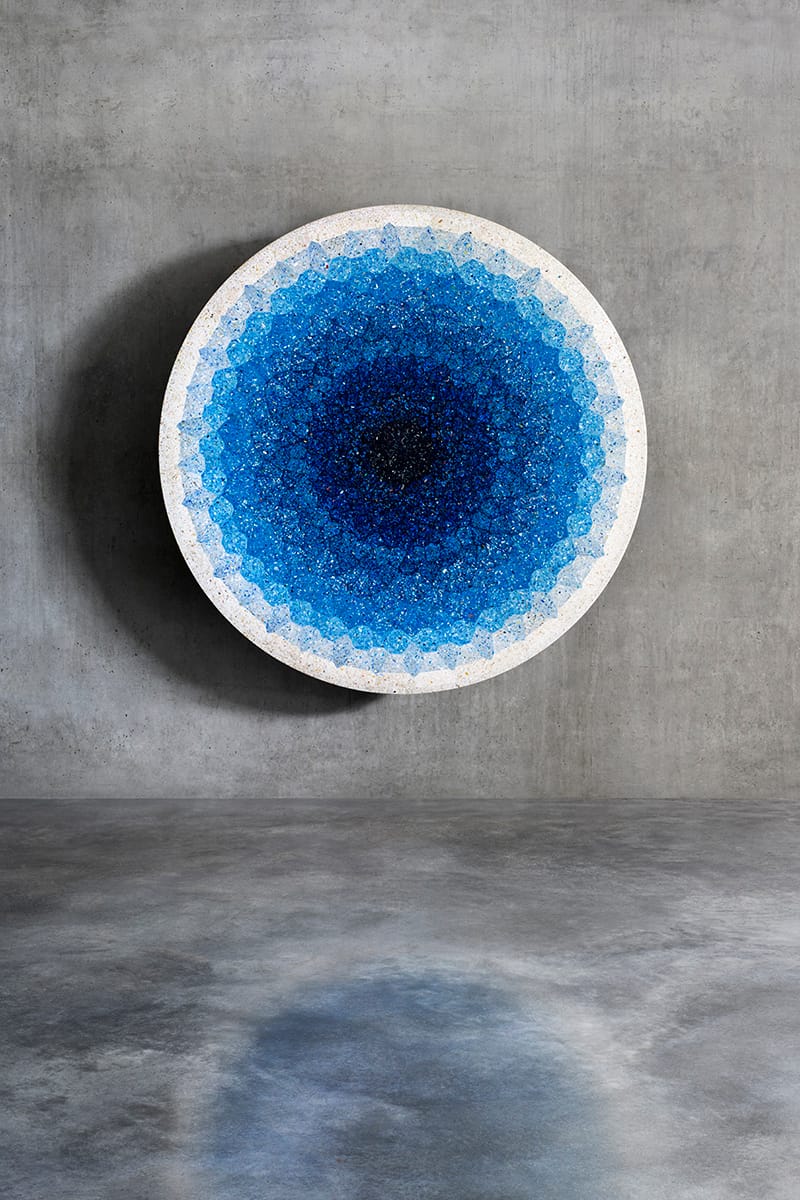 Angela Moore5 of 5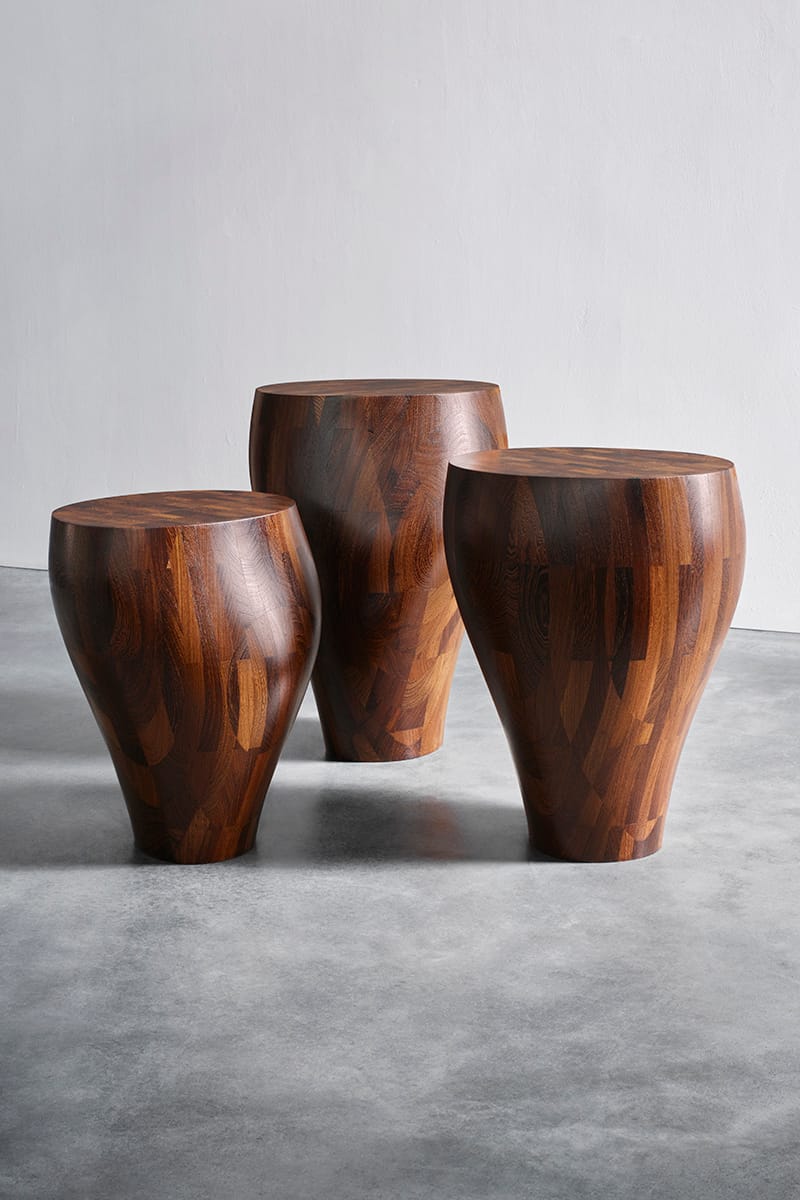 Angela Moore
When it came working with timber, Neill wanted to explore the effects of deforestation and its undeniable part in the climate emergency. Using reclaimed woods found in various UK locations, such as Mahogany and Panga Panga, he is utilising what is already in circulation, and in the case of this collection, has created three pieces: Torso, Longitude, and Altitude. Torso is a series of side tables that make use of a rare tropical hardwood salvaged from a school in Leicester where it was once a Herringbone floor. The Longitude bench saw Neill use Rhodesian Mahogany salvaged from floorboards used in a hospital in Hastings.
Finally, Neill turned his focus to metals, and opted to work with two of the most recyclable metals in circulation – stainless steel and bronze. The Atmos Desk and Atmos Console both feature mirror-polished, ultra-reflective internal surfaces, paired with with satin-smooth exteriors. The collection is completed by Neill's 2008 @ Chair, which has been produced in a mirror-polished stainless steel that enhances its seamless form.
"What is captivating about Brodie's work is his creation of beautifully crafted designs realised through the development of innovative processes," said Elena Checci, Specialist in 20th Century Design at Sotheby's London. "From salvaging, transforming and ennobling abandoned materials to plastic waste, recyclable metal and reclaimed wood.
The Brodie Neill Material Consciousness exhibition is on show at Sotheby's London from May 6 and will end on May 19.
Sotheby's
34-35 New Bond Street
London W1A 2AA
Source: Read Full Article