To the naked eye, the brick houses and pruned gardens of Wallace Avenue in Murrumbeena look like a peaceful slice of middle suburbia.
But the white dotted line that runs up the middle of the street has become a new source of contention, having just been defined as the boundary line for the catchment of one of Melbourne's most sought-after state secondary schools.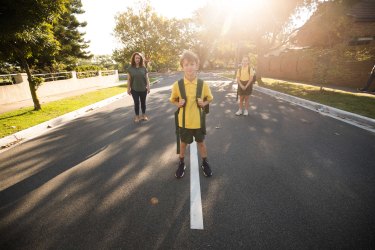 Caroline Baird (left) and her children Jack, 7, and Hannah, 9, have just been zoned to their third closest state secondary school.Credit:Jason South
School zone boundaries for 2022, announced last week, have brought the south side of Wallace Avenue into the coveted zone for McKinnon Secondary College.
Residents on the north side have been zoned either to Bentleigh Secondary College or South Oakleigh Secondary College, depending on which end of the street they live in.
It's a crucial distinction: home values inside the McKinnon zone were on average $167,500 higher than outside the zone last year, research by the Real Estate Institute of Victoria found.
But it's another set of numbers that has riled Caroline Baird, who lives on the north side of the avenue.
Ms Baird, who has two children in primary school, has been shifted out of the Bentleigh Secondary College zone and into South Oakleigh's, even though Bentleigh is closer to home. In fact, South Oakleigh is the third closest school to the family home.
McKinnon and Bentleigh – the school she had hoped to send her children Hannah, 9 and Jack, 7, to – are both closer.
"McKinnon is the beast that no one will ever get into so I'm not even going to take on that argument, but I will take on the argument of equity in education and by allocating my family to the third closest school, they're not adhering to that," Ms Baird said.
According to Victoria's Education Department, a designated local government school is "generally the public school within closest proximity to the student's permanent residential address".
For the Baird family, that school is McKinnon, 1.8 kilometres away, followed by Bentleigh at 2.7 kilometres, then South Oakleigh at 2.9 kilometres.
But the journey to South Oakleigh also involves a 45-minute one-way trip on two public buses, a demanding journey Ms Baird likens to that taken by many private school students.
"That's fine, because you're paying for that and you're going into that with your eyes wide open, but at a government school I think you have to go by different standards," she said.
It's not a journey she wants to subject her daughter Hannah to twice each day, even though she says South Oakleigh is a good school.
"I just want guaranteed access to my local school," she says.
McKinnon is one of a small number of Victorian government schools that has a "restricted zone", such is the level of demand to enrol there. Its zone will expand in 2022 because a new campus is due to open to ease the load on the school.
The Sunday Age asked the Education Department for a list of restricted zone schools but received no answer.
McKinnon's restricted zone status has led the department to include parts of Murrumbeena inside South Oakleigh's zone, even though Bentleigh is closer. The department declined to say why.
A spokesman said the state government's investment in new schools and upgrades to existing schools was enabling the department to reduce the number of restricted zones.
School zones are reviewed each year and published on the findymyschool website, which was launched in 2019.
The department said 22 school zones had been changed for 2022, but declined to provide a list of them.
Among the schools due to open next year is Fishermans Bend Secondary College. Its zone will include Southbank and Port Melbourne, easing the pressure on Albert Park College, which faced a council vote last month to deny its students access to Gasworks Park.
Saltwater P-9 College in Point Cook will also begin accepting secondary students, easing the extraordinary pressure on Alamanda P-9 College, which has grown from 1233 students in 2015 to 2949 last year.
Most of the zone changes involve the opening of new schools in outer suburban growth areas, including Greenvale, Melton, Clyde North, Kalkallo, Wollert East, Deanside and Gisborne.
"We will deliver 100 new government schools by 2026 and when a new school opens, the zones around nearby schools have to change to accommodate it," Education Minister James Merlino said.
Start your day informed
Our Morning Edition newsletter is a curated guide to the most important and interesting stories, analysis and insights. Sign up to The Sydney Morning Herald's newsletter here, The Age's here, Brisbane Times' here, and WAtoday's here.
Most Viewed in Politics
From our partners
Source: Read Full Article