With "Keeping Up With the Kardashians" coming to an end, a lot of juicy secrets and behind-the-scenes details are finally being revealed. Particularly to Andy Cohen, who is hosting the reunion special. Of course, people want answers when it comes to Kourtney Kardashian's relationship with her ex Scott Disick — a couple that not only fans have wanted back together for a long time, but even the Kardashians themselves. 
You could say fans have been invested in Kourtney and Scott from day one. They first got together in 2006, a year before they appeared as a couple on Season 1 of "Keeping Up With the Kardashians." The two were then on-and-off for almost a decade, before they officially called it quits in 2015. During their relationship, the couple had three children, Mason, Penelope and Reign. It appears that it's being parents that keeps Kourtney and Scott very close to this day. 
It's that close relationship that gives fans and apparently Kourtney's family hope that she and Scott will one day get back together, despite each continuing to date other people. However, in the series finale, Kourtney revealed to her sisters (via People), "When Scott and I broke up, I set certain boundaries with him." She added, "I put it back on him and say the things that I've asked of you to do since we broke up have not been done."
So what happened between Scott and Kourtney that led to their break up in the first place? Apparently, Kourtney partially blames the show.
Kourtney Kardashian revealed her deal-breaker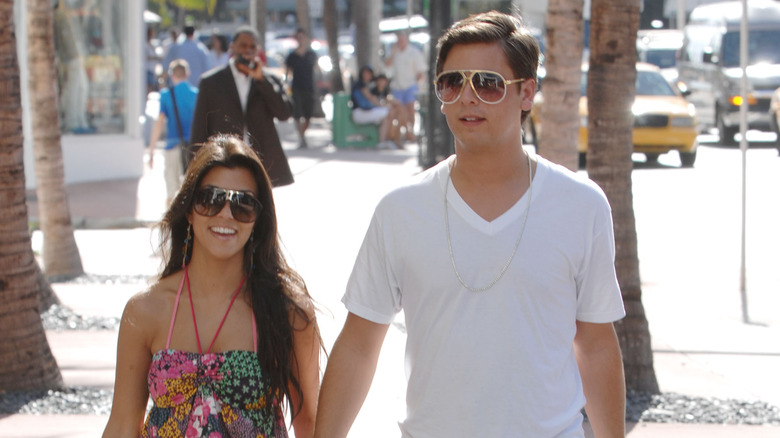 Reality star Kourtney Kardashian revealed that she might still be together with Scott Disick to this day, if their relationship didn't appear on "Keeping Up With the Kardashians." On the show's reunion special, Andy Cohen asked her directly, "Do you think your relationship might have turned out differently if you hadn't shared so much of it?", to which Kourtney replied, "Probably." The mom-of-three's answer appeared to have surprised sister Kim Kardashian, who then exclaimed, "really?"
Kourtney elaborated on her answer though, saying, "But I think the substance abuse was the deal-breaker." Scott then chimed in, "I was pretty irresponsible." Fans of the show have watched Scott struggle with alcohol, in particular, over the years, all while dealing with the death of his parents. The "Flip It Like Disick" star checked himself into rehab twice in 2015 and again in 2020. 
Despite fans' hopes of a reconciliation, both have moved on. Kourtney is in a relationship with Blink-182 drummer Travis Barker, whom she appears to be super smitten with. The two are constantly gushing about each other on Instagram, and Barker even has a tattoo of Kourtney's name. Fans will find out in the reunion if Scott gives Kourtney's new relationship his blessing.
While fans believe Scott must be crushed by Kourtney's new romance, he himself is taken. Scott is dating influencer Amelia Gray Hamlin, who is 18 years his junior. Even though he and Kourtney aren't together romantically, it appears that Scott will always be part of the Kardashian family.
Source: Read Full Article