Ree Drummond has been the star of The Pioneer Woman since 2011. She shows viewers how to whip up hearty meals and get food on the table in no time. Here's what she said about an embarrassing moment she had during the first episode of The Pioneer Woman.
Ree Drummond was hesitant about being on television
Drummond, who started as a food blogger, was initially hesitant about appearing on television. She was used to remaining the scenes. She spent her early days posting blogs about life on the ranch and sharing her latest recipe. The first recipe Drummond posted was how to make a steak, and it became an instant hit.
Drummond initially started the blog so she could keep in touch with family and keep them posted on her life. However, as her followers grew, the site became much bigger than she anticipated. Drummond also dedicated part of her site to stories about how she met her husband, Ladd Drummond. Those stories turned into the book Black Heels to Tractor Wheels.
The Food Network star's blog led to her popular cookbooks. Drummond's first book, The Pioneer Woman Cooks: Recipes from An Accidental Country Girl, was released in 2009.
Ree Drummond talks about an embarrassing moment on 'The Pioneer Woman' TV show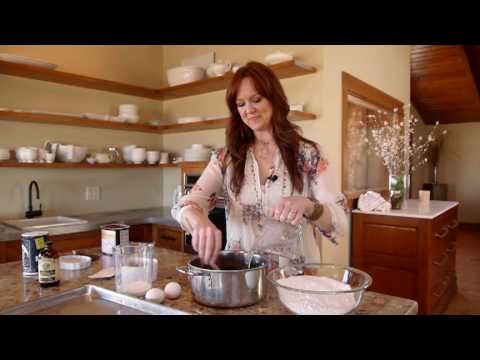 It took some time for Drummond to become comfortable with being on television. She revealed an embarrassing moment she experienced on The Pioneer Woman during her first episode. She says there was a moment when Ladd picked her up and threw her over his shoulder. She says he had a habit of randomly sweeping her off her feet.
During the first episode, Ladd is filmed picking Drummond up and carrying her over his shoulder. She describes this as an "authentic moment" between them. However, this time, Drummond says she was embarrassed because the camera showed a peek of her body shaper underneath her blouse. She thought the clip the production company sent her was unflattering.
"The reason I was wearing the camisole is that I had to wear one of those bulky mic packs and wearing a body-shaping camisole was the only way to keep the bulky mic pack securely in place," says Drummond on The Pioneer Woman blog. "So, when the production company sent me this portion of the first episode a couple of weeks ago (they just wanted me to get a sneak peek), it was not pretty."
The Pioneer Woman joked she didn't want to do more Food Network episodes
There was one more thing Drummond didn't like about the clip. She says when Ladd put her back down, the camera caught an image of her "bottom." She didn't like how she looked at that angle.
"Then Ladd set me down with my back square to the camera and my bottom at one point took up the whole frame," says Drummond. "Remember that scene in Bridget Jones when she slid down the pole? Exactly." Drummond jokes that she emailed the production company and told them she didn't think she should do television anymore.
Toward the end of her post, Drummond thanked her fans for supporting her and her family and helping her feel a little less nervous about making her TV debut.
"During a time when I could have been frenzied and nervous, your support has buoyed and sustained me," wrote Drummond. "Just knowing so many of you are going to virtually be holding my hand as my family and I appear on a TV show tomorrow has really helped me just enjoy this week for what it is—a fun adventure I'm so glad I decided to try."
RELATED: 'The Pioneer Woman' Ree Drummond Reveals Her Show Almost Didn't Happen
Follow Sheiresa Ngo on Twitter.
Source: Read Full Article