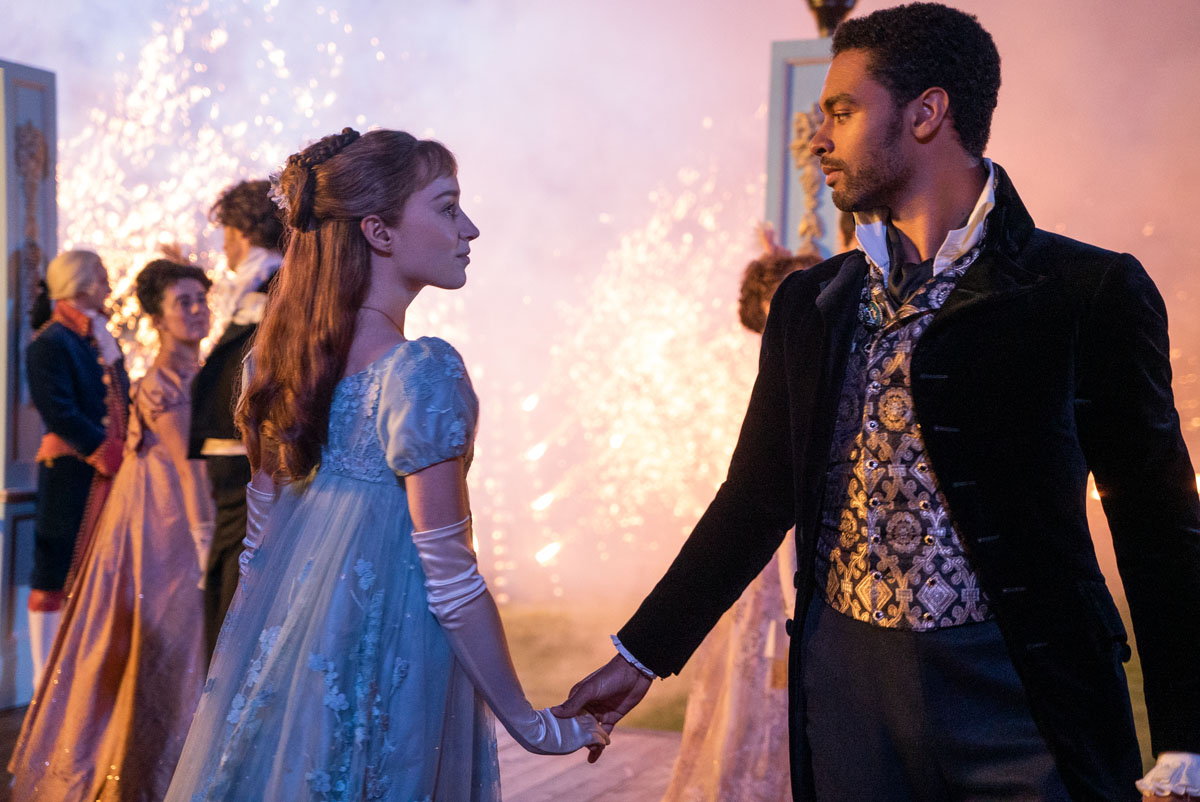 It's been damn near five months since Bridgerton made women drop their proverbial panties with its lusty romps in the rain, in libraries, and on stairwells. Those romps are so memorable that folks are STILL talking about them. Some assume the use of a intimacy coordinator on set made the steamy love scenes more realistic. But according to Phoebe Dynevor, who played Daphne Bridgerton, that was the intent. While speaking on a panel with Deadline [via People], Phoebe said that she, Rege-Jean Page, and showrunner Chris Van Dusen wanted Daphne and Simon's relationship to go through a sexual evolution. Phoebe also discussed how she and Daphne were similar. The intimacy coordinator for the show, Lizzy Talbot, is quoted saying that filming the scenes was akin to an "intimacy circus." Below are a some highlights via People:
"There are a lot of differences between me and Daphne but I think she values family, which I also value, and at a time when women had only one option, she was as determined to make that happen as I am in my career I guess, and I think that was sort of my way into Daphne," Dynevor, 26, said.

"I admired her more because she made it happen but she called the shots, and she also found love," the actress continued. "Their sexual evolution was very important to the storyline and something me, [showrunner Chris Van Dusen], Regé and everyone involved really wanted to tell truthfully and in a way that was safe for everyone."

Earlier this year, the intimacy coordinator for the show, Lizzy Talbot, opened up about filming the scenes depicting Daphne and Simon's "sexual evolution," revealing that it was not as seamless as it seems onscreen.

In a conversation with Insider, Talbot said it "was a bit of an intimacy circus" to film the scenes where the newlyweds go for a days-long romp around his rural estate.

"There's so much going on there," she told the outlet with a laugh. "We were in loads of different locations all over the country. We were inside, outside, up ladders; we were everywhere!"
[From People]
I include myself in the middle-aged thotiana crew that truly enjoyed Bridgerton. Yes, there were some problematic themes in the show but it was definitely the fun I needed after such a long dark year. Not to mention Rege is just nice to look at. But the sex scene montage in episode six was hilariously drawn out and Rege and Phoebe couldn't escape being asked about that in interviews. Ilove that people are poking fun at it like Leslie Jones did for the MTV Awards, but there was more to the show that I actually enjoyed. Lady Danbury, Queen Charlotte and the blind casting for a regency era fantasy show were huge draws for me. I also loved that the show focused on the female gaze and pleasure. This needs to happen more often in film and TV. And of course Rege-Jean Page. Ya'll know I am not going to sit here and lie and say that man wasn't my main draw to the show. Shonda Rhimes and her team truly know how to pick hot men.
As far as a sexual evolution between Daphne and Simon, I would think that was obvious, seeing that Daphne was a virgin going into the marriage. I was hoping the show would spend some time on Daphne exploring her own sexuality and body. I am looking forward to season two and falling in love with Anthony Bridgerton and Katie Sharma. I am sure season two will take even more, um, liberties.
— Movie & TV Awards (@MTVAwards) May 17, 2021
https://www.instagram.com/p/CLpX0A1DMbG/
A post shared by Bridgerton (@bridgertonnetflix)
https://www.instagram.com/p/CMA4YTCj_28/
A post shared by Bridgerton (@bridgertonnetflix)
https://www.instagram.com/p/CLR2Zy9jfDU/
A post shared by Bridgerton (@bridgertonnetflix)
Photos credit: Netflix/Liam Daniel and via Instagram
Source: Read Full Article