Kelly Ripa and Mark Consuelos have been married for more than two decades and have three children together. The pair got their start in TV with roles on the soap opera All My Children. Today, Consuelos owns a New York-based production company called Milojo and since 2001, his wife has been co-hosting the syndicated talk show Live! The couple resides in a Manhattan townhouse not too far from where Ripa films the morning show.
Here's a tour inside Ripa and Consuelos' fabulous New York City digs.
Ripa and Consuelos are currently empty nesters
Ripa and Consuelos' eldest son, Michael, was born on June 2, 1997, followed by his sister, Lola, on June 16, 2001. The couple then welcomed their second son, Joaquin, on Feb. 24, 2003.
In August 2021, Joaquin left for college and Ripa spoke about her plans as an empty nester.
"I'm truly going to be running through the house naked," Ripa told Entertainment Tonight. "I want everybody to know that. I'm going to be sitting on every piece of furniture naked. Be warned before you come over. That's what I'll be doing in my spare time."
Inside their beautiful Manhattan townhouse
For anyone who wants to know exactly what house the TV host will be running around nude in looks like, here's more on all its stunning features.
Fans have gotten glimpses inside the Big Apple townhome via some photos Ripa has posted on Instagram including the foyer that is grand on its own.
In 2013, Ripa and Consuelos dropped $27 million on the property located in Manhattan's Upper East Side and had it completely renovated. The townhome is massive spanning nearly 7,800 square feet and boasting five bedrooms and six bathrooms. It has high celings, two fireplaces, as well as two living rooms. One room has a large cream area rug and cream sofas while the other has velvet sofas. There's also a formal dining room, rooftop terrace, an elevator, and a huge kitchen with marble countertops as well as an island and top-of-the-line stainless steel appliances.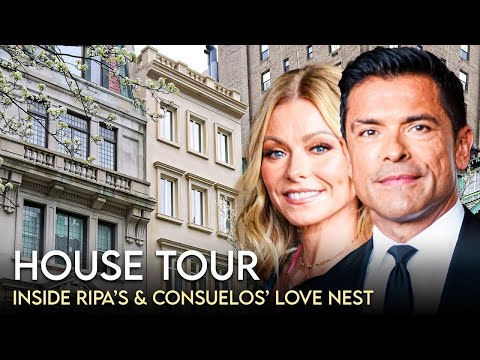 The couple has other residences in the Hamptons and Colorado
While the Manhattan residence is where the duo spends most of their time, they also have other homes in the Hamptons and Colorado.
They bought their Hamptons mansion in 2003 for just over $2 million. That residence is just over 5,500 square feet and has five bedrooms inside. The outside features a large backyard with a perfectly manicured lawn as well as a pool and several lounge chairs.
Ripa and Consuelos call the state of New York home but as Hello! noted, they also own a vacation house in Telluride, Colorado too. Consuelos previously spoke about their Rocky Mountain retreat telling People: "Sometimes our schedules get pretty hectic. So we like to step away and take weekend getaways with friends and family."
Source: Read Full Article