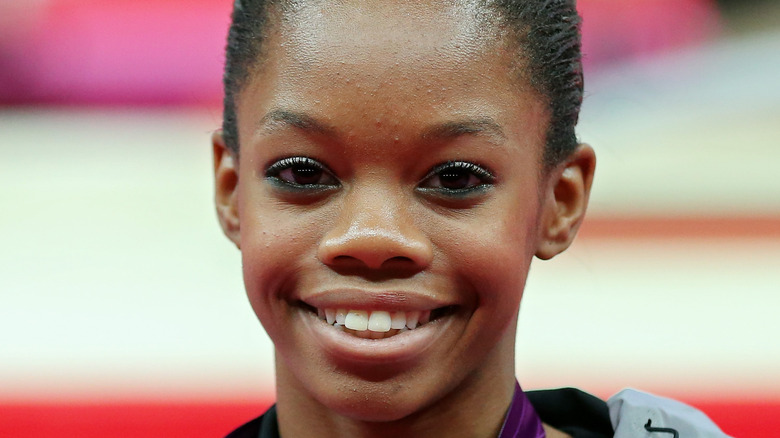 With her radiant smile and gravity-defying moves, gymnast Gabby Douglas captured the world's attention when she made history at the 2012 London Olympic games. There, she became the first American to win gold medals in team and individual all-around events, and the first African-American person in history to score gold in the individual all-around event (per Britannica). And while she's continued to rack up more gymnastics accolades along the way, she's also become a household name and role model off the balance beam. In 2017, her icon status was forever molded into the form of a Barbie doll as part of their "Shero" collection. "It looks exactly like me!" she told USA Today, saying becoming a Barbie was "a really fun process."
Though she didn't head to the 2020 Tokyo Olympics, Douglas hasn't formally retired from her sport. In the meantime, she's kept herself quite busy during her break from the uneven bars. Besides penning books, she's also taken control of her own narrative by executive-producing a biopic and reality series chronicling her life. And then there's the acting, dancing, and hosting duties that have kept her a constant in pop culture. Here's a look at what America's "Flying Squirrel" has been up to lately.
She's published two books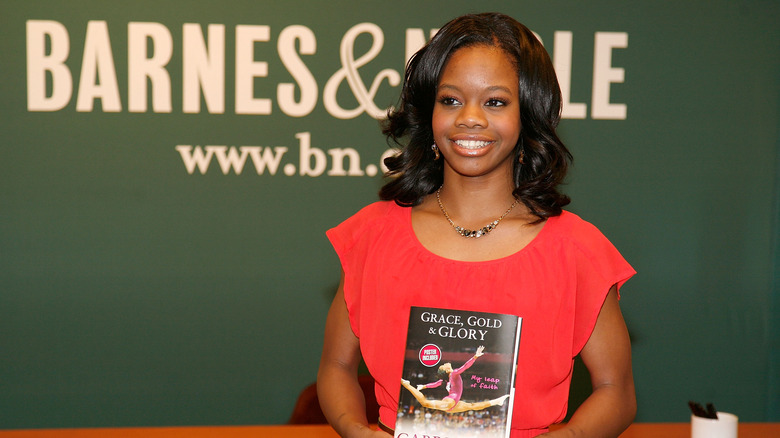 At 16, not many people have enough life experience to fill an autobiography. But that was hardly a problem for teenage Gabby Douglas. Though she sometimes journaled during her youth, she only wrote down her story in spurts. "I had kept many diaries," she told L.A. Watts Times, "but I would start one and not finish it, and then start another one and not finish it." After the 2012 games, she apparently gathered her thoughts and worked with co-writer Michelle Burford to release "Grace, Gold & Glory: My Leap of Faith," which recounted in full her road to the Olympics.
"I hope readers will be motivated and inspired by my book, because it shows that I went through hardship," she told Publishers Weekly. "Even though you are going through that, you can still achieve your dreams, and it doesn't matter how much money you have or what your nationality is, if you believe 100% in yourself."
A year later, she authored a mixed media book for kids titled "Raising the Bar," which featured photos, letters, and fun facts about the gold medalist (via Fox News). It included an inside peek into her life after London for fans, with fun details of what it was like to walk a red carpet and all the relatable favorite things she still held near after finding fame.
Gabby Douglas has become a fixture in popular media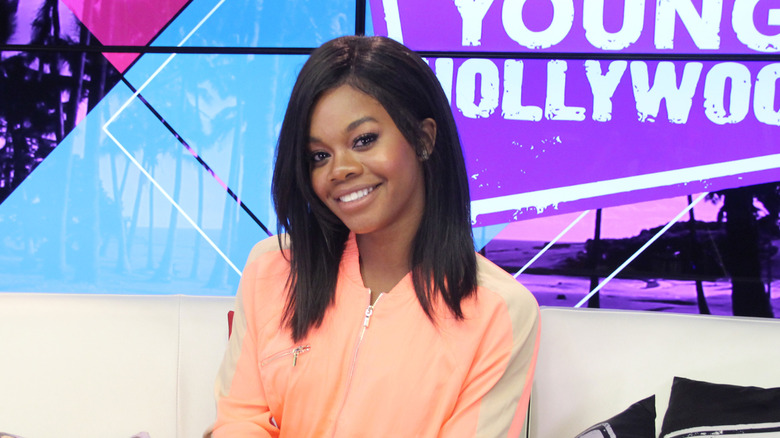 Gabby Douglas' fame after the 2012 Olympics made her an instant cover girl and a popular guest on TV shows. Whether she's providing commentary on sports or surprising beloved fans, seeing Douglas shine just makes for good television. Having a compelling life story doesn't hurt either. A few weeks shy of her 17th birthday, she appeared on "Barbara Walters' 10 Most Fascinating People," and Walters said she couldn't remember a story similar to Gabby's, calling her "a tiny, tiny girl with a big, big smile."
Per her IMDb page, Douglas has hit every major late-night show, from "The Tonight Show" to the "Late Show." She even appeared on the cheekier "The Colbert Report." And she's been all over daytime TV as well, including "Today," "Good Morning America," and "The Wendy Williams Show," where she taught Williams how to walk on a balance beam. Oprah Winfrey even got on a beam with Douglas for an episode of "Oprah's Next Chapter" centered on the gold medalist.
But Douglas hasn't only been siloed into interviews and profiles for her amazing story. She's a popular guest host and judge and makes regular appearances at award shows. She's been a guest judge on "So You Think You Can Dance" and presented at the MTV Video Music Awards, Nickelodeon Kids' Choice Awards, the ESPY Awards, and the BET Awards, to name a few.
She produced and starred in a Lifetime biopic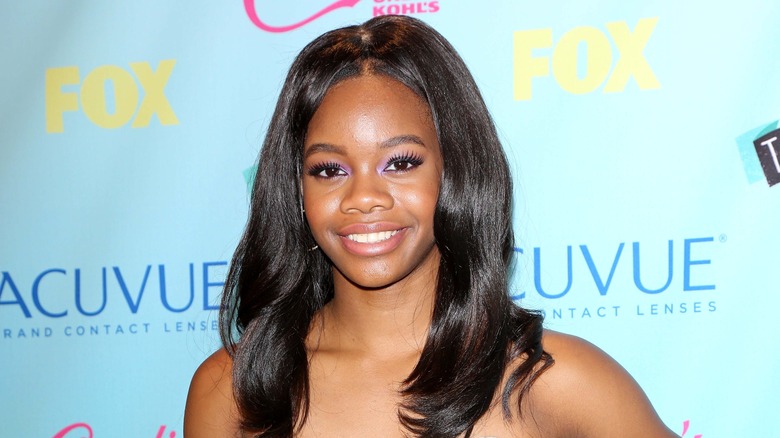 Before Gabby Douglas even flew home from the 2012 London Olympics, studio executives were clambering for her story. The Washington Post reported that filmmakers Zev Braun and Philip Krupp were struck by her performance and the details they learned about her life. "This is a movie," Braun said to Krupp, showing him Douglas on the front page of the Los Angeles Times. They immediately reached out to contacts at the Lifetime network and cold-called Douglas' agent. Both Douglas and her mother, Natalie Hawkins, were reluctant, but eventually came on board, making it an authorized biopic.
In 2013, Lifetime greenlit the movie, and filming began. Regina King was cast as Hawkins, while Sydney Mikayla and Imani Hakim played Douglas at different times in her life. Douglas and her family spent two weeks on set in Winnipeg, where seeing their lives played out by actors was bizarre for the family. Hawkins recalled, "Every time they said my name I was like, cringing. My kids felt the same, everybody all the way down to Gabrielle, they all felt the same. They were like, 'This is really awkward.'" Douglas concurred, but told USA Gymnastics that she enjoyed learning about how films were made.
The movie premiered in 2014, and according to Hawkins, the family's seen it quite a few times. "Whenever we're at my dad's house, he's like 'Let's watch the movie!'" she said. "He DVRs it and watches it over and over again."
She got real in the Oxygen series Douglas Family Gold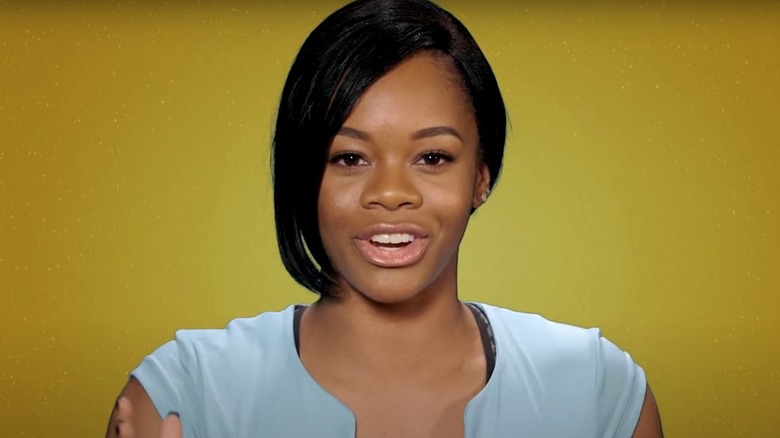 Viewers got a peek into Gabby Douglas' personal life as a young adult in 2016 when the short-lived reality series "Douglas Family Gold" premiered on Oxygen network. Produced by Douglas, mother Natalie Hawkins, actor Wilmer Valderrama, and more, the show aimed to capture Douglas' family dynamic as she trained for the Rio Olympics.
"We want people to take away a lot of laughter and supportive family time," Douglas said, per It's RobinLori Now. "Also just strong inspiration to see what it takes for you to accomplish your goal and the hard work, sacrifice and bonding with your family. I want people to draw that inspiration and be a fighter and go out there and keep fighting!"
The series had some lighthearted moments, showing Douglas' playful side as a prankster with an affinity for water balloons and pies in the face, letting the world know "not to mess with a prank-master." In the third episode, Douglas got candid about her dating life, or lack thereof. "I was already in a relationship, and his name was Jim … nastics," she quipped (via Romper). Douglas opened up, saying that between traveling, training, and competing, her schedule made dating impossible. "I'd feel bad for the guy," she said.
The series lasted for six episodes and ended up not getting continued for a second season.
Gabby Douglas tried out acting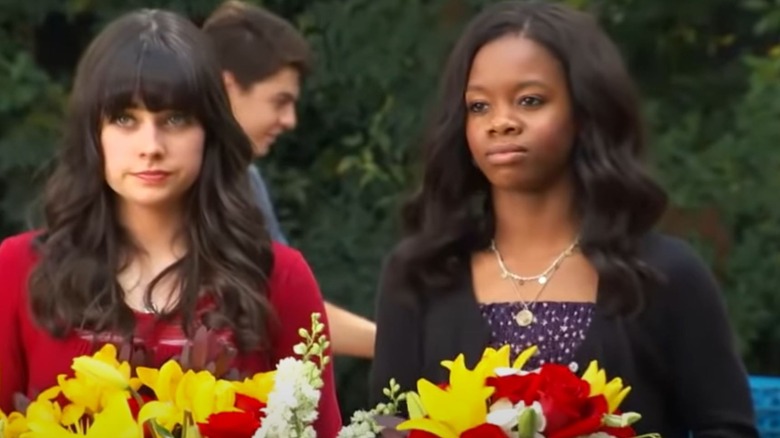 With lenses trained on her since her early Olympic days, Gabby Douglas fortunately has a natural ease in front of the camera. Her poise in interviews and while performing lends a runway to the next thing the gold medalist hopes to conquer: acting.
In 2017, Douglas told NBC Sports that she wanted to take acting classes, with the ultimate goal of appearing on the big screen. "It's the same, but different," Douglas said, comparing acting and gymnastics. "You have to expose your vulnerability a little bit in acting classes."
Along with formal training, she's had some practice by just jumping right in. In 2012, she guest-starred on one of her favorite television shows, "Vampire Diaries." Entertainment Tonight filmed Douglas on set. "I was so nervous to meet you guys!" she gushed to star Nina Dobrev, adding that she had trouble deciding what to wear on the exciting day. 
Her other credits include the TV movie "Love, of Course," the show "Nicky, Ricky, Dicky & Dawn," and the film "Same Difference."
Gabby Douglas won the first season of The Masked Dancer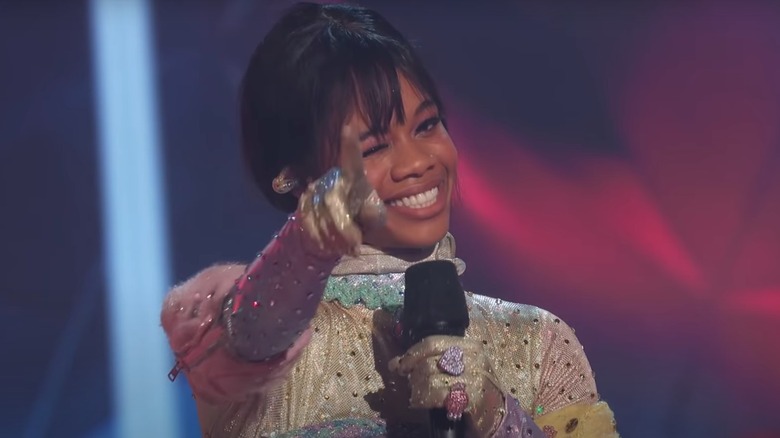 In December 2020, a spinoff of the reality competition "The Masked Singer" aired with a focus on dancing in disguise: "The Masked Dancer." Gabby Douglas was a contestant, alongside a diverse cast including TV scientist Bill Nye, rapper Ice-T, and boxer Oscar de la Hoya. No one, not even Gabby's family, knew which fully concealed, costumed persona she performed as.
On "Today," host Al Roker asked Douglas, who competed as Cotton Candy, how she kept her role on the show a secret from her loved ones during quarantine. "Honestly, I love being mysterious and it was no problem for me," she replied. "I tell my family I could have been like a CIA agent or an undercover agent."
Douglas ended up taking home the top prize, and it required hard work to get there. "Every single number, I went home and practiced it for like another four hours. I was up at like 12:00 a.m., 3:00 a.m. practicing these numbers," she told People. "Because it was so beautiful and so dynamic. And I was like, 'I have to do every single piece justice. I have to get all these details right.'" She even ranked winning on par with receiving her gold medals: "I would say it's neck and neck, to be honest."
Source: Read Full Article