Yaya Mayweather's relationship with rapper NBA YoungBoy is nothing if not complicated. The two have an off-and-on romance that tends to make headlines for all the wrong reasons. But no one anticipated the news that broke on April 4. That day, multiple outlets reported that Mayweather had been arrested after allegedly stabbing another woman over the controversial rap star.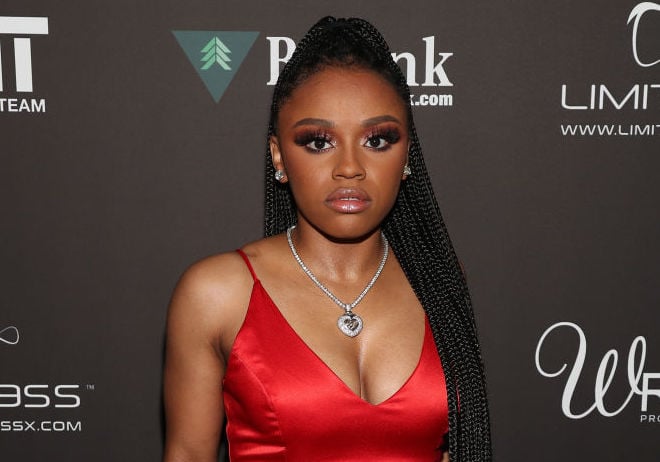 What to know about Yaya Mayweather and her relationship with NBA YoungBoy
She was born as Iyanna Mayweather to boxing champion Floyd Mayweather and entrepreneur Melissa Brim in 2000. She seemingly began dating NBA YoungBoy, a 20-year-old rapper from Baton Rouge, Louisiana, earlier in 2019. A father of at least four, he is best known for his 2018 single "Outside Today."
Their relationship ended dramatically towards the end of 2019 when an incident led to Mayweather allegedly sliting his tires and NBA YoungBoy dissing her in the song "Dirty Iyanna." But they appeared to make up just before the start of 2020.
https://www.instagram.com/p/B9uY4AGhXtv/
Despite ongoing rumors about infidelity on NBA Youngboy's end, Mayweather showed that she was in it for the long haul. She wrote on Twitter in February that she and NBA YoungBoy were "locked in [for life] through thick and thin" and continued to show off an apparent engagement ring from the rapper.
The next month, NBA YoungBoy admitted on Instagram that he did not have a girlfriend but stated he keeps multiple women close to him.
Yaya Mayweather's alleged arrest
TMZ reports that Mayweather was arrested in the wee hours of April 4 for felony aggravated assault. Police told the outlet the alleged victim is a woman named Lapattra Lashai Jacobs.
Officials said Jacobs had been at the rapper's home in Houston when Mayweather allegedly arrived, introduced herself as NBA YoungBoy's fiancée and told Jacobs she needed to leave.
Eventually, the conversation grew heated and the women moved to the kitchen, where Mayweather allegedly grabbed two knives. She reportedly lunged at and stabbed Jacobs at least two times after Jacobs stepped towards her. TMZ reports that Jacobs is now in a hospital in an unknown condition. Meanwhile, Mayweather has reportedly claimed that she was forced to defend herself after Jacobs allegedly pulled her hair.
What NBA YoungBoy said about the rumored incident
NBA YoungBoy has yet to directly comment on Mayweather's alleged arrest. However, he shared a couple of tweets that people believe are about the drama. In two messages shared on April 4, he referred to an unknown situation as "unprofessional" and said he knows some people are tired of him "cuttin up."
While the world awaits more of a response, fans have been on Twitter expressing their disappointment with Mayweather.
"Yaya Mayweather is a perfect example of a girl who has it all & gives it up for a boy. Money don't mean sh*t, teach your daughters to love themselves & not put boys before themselves!!" read one tweet.
"I hate seeing that Yaya just ruined her life over that boy … Love will really make you do crazy sh*t," commented another. "I feel bad for the girl in critical condition and hope she pulls through."
Another echoed those sentiments, writing about how "sad" it is that Mayweather allegedly stabbed someone over a man they say has shown on "multiple" occasions that he did not care for her.
Oof. Well, stay tuned to see what happens from here.
Source: Read Full Article