California native Saweetie raps, models, and holds a degree from USC. Though quarantine affected her tour schedule for 2020, she's been working on music and staying cozy with her fellow rapper boyfriend. The debut of her new single, "Tap In" has people talking, but unfortunately, all the chatter is not in her favor.
Saweetie has had a few radio hits on her rise to stardom, and her longtime fans hold certain expectations when it comes to her songs. This new one is turning people off and making them vocal about "tapping out."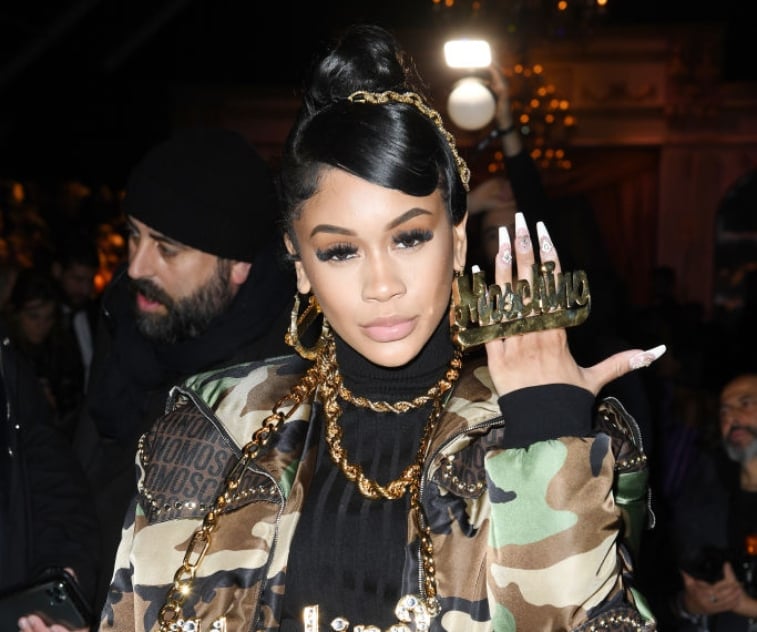 When did Saweetie blow up in hip-hop?
"ICY GRL" is the song that put Saweetie on the map, and it sampled Khia's "My Neck, My Back." Before that blew up in 2017, Saweetie was becoming popular on social media for her car raps where she rhymed over old school hip-hop beats.
She was also sharing songs on SoundCloud. In interviews, she's cited Lil' Kim, Foxy Brown, and Nicki Minaj as some of her musical influences.
In 2018, she debuted her EP High Maintenance after signing with Warner Bros., and followed that up with 2019's Icy EP. That project spawned the single "That's My Type," which took off and utilizes a sample from "Freek-a-Leek" by rapper Petey Pablo.
Since then, she's stayed in the public eye, working on fresh music and dating Quavo of Migos.
Saweetie dropped new single with a new sample
Saweetie's latest is "Tap In," which samples Too Short's "Blow the Whistle," a song that's considered a classic party jam. It will be on her next album, Pretty B*tch Music, which she feels really embodies her as an artist.
Saweetie told Paper Magazine she wants her fans to see her growth and feel inspired by this latest project. She also said she worked hard on honing her craft and it will show on the new album.
She told the outlet:
People don't understand that I rap great over other people's beats with no chords, no bridge, no hooks, because I love to just write straight bars. I wasn't used to writing in song format — like, song format was foreign to my brain. Now that I finally got the gist of it, I can portray what I was giving in my car raps split into songs. So I am very excited about that.
Why fans want the rapper to quit
After "Tap In" hit the web, people took to social media toexpress their approval or disapproval. Criticism was heavy, and at one point,Saweetie addressed a comment directly.
Fans on Twitter and Instagram saw Saweetie's response and co-signed on the commenter's sentiments, saying "No, she's speaking for all of us." Many agreed they'd prefer if the rapper stopped rhyming over sampled beats, or just quit altogether.
One commenter called her style "kindergarten rap." The threads on social media are filled with critiques with this "Blow the Whistle" beat at the center.
This person sprinkled some love into their criticism: "No she's right! I like your original sound! Like from the Ep; High Maintence; like B.A.N. and GOOD GOOD or Hot Boy from Icy! Like we the people agree you need to STOP USING SAMPLES for now; we want your original sound! I'm being honest cause I care and love ya aura."
On Instagram, people called her music trash and said sheshould go into modeling. Oneperson wrote, "She should stop making music all together. Cuz it's trash." Another commentersaid, "Saweetie we love you sis, but just stick to being fine 😍 Rap ain't it."
People are still showing love to Saweetie (and praising her looks), but some are unsure if rapping is her lane. Her fans want her to take the constructive criticism and turn it into something. or rap like she did on her original beats.
She has high hopes for Pretty B*itch Music, and some are willing to give her another chance. But if Saweetie ever decides she wants to tap out of the hip-hop game on her own accord, she also has a college degree to fall back on.
RELATED: Here Are Some of Saweetie's Famous Entertainment Industry Relatives
Source: Read Full Article