Joe Jonas isn't covered head-to-toe in tattoos, but he sure does have a lot of cool body art and just added another design to the mix.
Yesterday, the Jo Bro revealed his new ink on his Instagram Stories, and it's an image of a woman looking out of a keyhole, which is placed on the back of his neck. Not gonna lie, it's super cool but also super creepy. It's like having eyes in the back of his head but freakier because it looks like a women in his vertebrae. Like, imagine standing in line behind Joe at Whole Foods or whatever grocery store he frequents and having this looking back at you. Unnerving, but also really cool.
A few tat facts: Los Angeles-based artist NAL created this masterpiece, which was heavily inspired by the Pierre Fornasetti work, as Elle pointed out. That said, fans are convinced that these eyes were heavily inspired by Sophie Turner. One fan even suggested that it symbolizes their daughter, Willa, as well, commenting, "If Sophie's eye is the lock then Willa's eyes must be a key, @joejonas get another tattoo done ✔️ 👁🗝🔑."
Keep in mind, Joe hasn't actually said anything about the inspiration behind this tattoo or if it represents Sophie in any way, but, hey, it certainly is possible.
This neck tattoo could also be connected to the series of Fornasetti-inspired portraits Joe has inked on his arm. Last week, Sophie posted a pic showing off Joe's three black and white tattoos of a woman covering her eyes, face, and mouth, which reportedly signify the "see no evil, hear no evil, speak no evil" motto.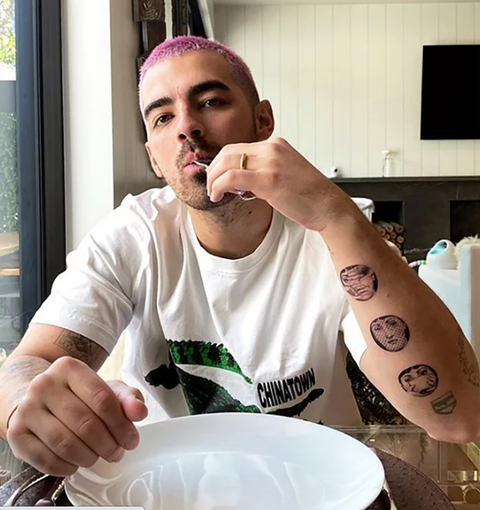 Whatever this neck tattoo means, it looks pretty damn awesome.
Source: Read Full Article